What Kind of 'ocracy Do We Have?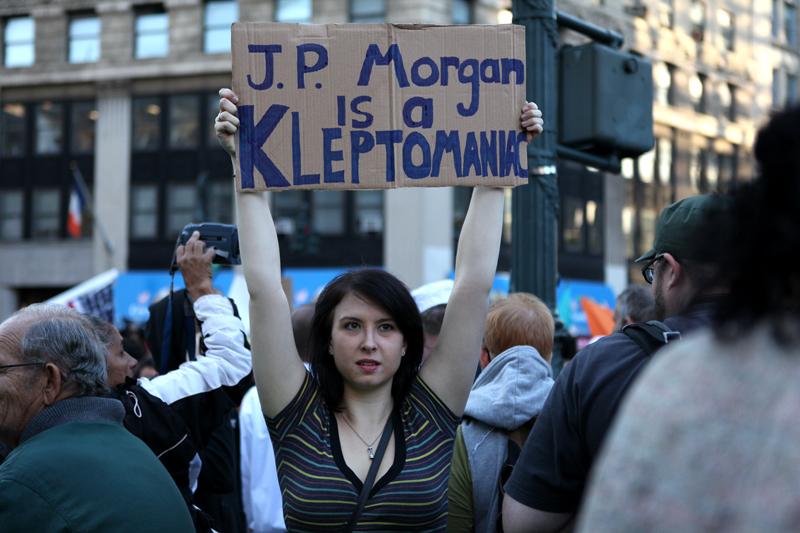 Welcome to Politics Bites, where every afternoon at It's A Free Country, we bring you the unmissable quotes from the morning's political conversations on WNYC. Today on the Brian Lehrer Show: A recent caller said she thinks we live in a "madisonavenue-ocracy." What kind of ___ocracy do you think we live in?
Hyp-ocracy? A idi-ocracy? Maybe an influence-ocracy? How about a pharm-ocracy? A medi-ocracy? An I'm-broke-ocracy? Here are some ideas from callers for re-naming our current political system:
Manipulative-ocracy… not only is trade manipulated and our currency here, but even jobs.
A Corporate-ocracy, a democracy controlled by huge… corporations that are buying the Madison avenue advertisements.. the lobbyists and the politicians who are receiving donations.
Blood-suck-ocracy… because banks can borrow at the fed's window at zero percent and then lend at ninety-nine percent interest on the mortgage.. and pay us one percent interest on our savings.
A corporate plutocracy.
A bank-ocracy.
A someone-else-to-blame-ocracy.
A K-Street-ocracy.
A gerontocracy, because who else has time to vote on a Tuesday?
A post-democracy. We have no democracy any more, and the country is going down the drain.
A lobb-ocracy, because we're getting what the lobbies want, whether it's good for the country or not.
A dancing-with-the-ocracy—a society drenched with fifteen-minutes of Kardashian crap.
Apoth-ocracy, an inequit-ocracy, that's why we #occupy.
A kakistocracy, ruled by the worst!
A democracy! I agree with so much of what I've heard, but you know democracy is an experiment that goes back to 500 BC, and the experiment continues, right here on your airwaves, with the freedom to express everything that your callers are saying. And it only works if we protest, on Wall Street and around the country. It only works if we vote.
Some texters sent us the following ideas:
| | |
| --- | --- |
| Kaare | Percentocracy -- governance of by and for the one prevent. |
| Kathy | money |
| Kevin | Give it to me now-ocracy |
| Kim | Mega ego ocracy |
| Kimmarie | Cauc-ocracy.  Mostly White and male. |
| Kristen | Finger-poinotcracy |
| Kristin | a corporate plutocracy -Kristin from Theatre Reverb |
| Lauri | Short-attention-spanocracy |
| Leonardo | I live in a Feminocracy because women rule my world. |
| Leonid | Idiocracy |
| Lisa | A dow jones ocracy  |
| Lord | Technocracy |
| Luke | Someone else is to blame ocracy |
| Lynn | Hypocritocracy |
| Marc | DemocraZY.  Elected politicians totally out of touch with their constituents needs |
| Mark | An advertocracy. |
| Mark | I'm working for the weekend-ocracy. |
| Mark | gridlocracy and FEAROCRACY |
| Matt | FWIW, Brian, technically we don't live in a DEMOCRACY, it is a DEMOCRATIC REPUBLIC.  There's a difference.  Most notably the Electoral College. |
| MATT | Mediocracy |
| Matt | We live in a greedocracy. |
| Matt | I would've said plutocracy, but Madison-Avenue-ocracy is probably closer to the mark. It needs a snappier name, though, if we expect it to take. |
| Maureen | Lobbyocracy |
| Max | Aspire2-1% ocracy |
| Meghan | Kardashianocracy |
| Michael | Idiocracy |
| michelle | corporate |
| Mike | Coporat |
| Molly | Ignocracy |
| Monique | Klept.  And Mend |
| Mordechai | Dem |
| Nick | Idiocracy! |
| Nilita | It's a mockracy plain and simple |
| Onderdonk | Dumbingdownacracy |
| Patty | A 1% theocracy where money is the new golden calf |
| paula | K street ocracy |
| Raj | Paranoiocracy. Fearocracy.  MeMeMeocracy. |
| Ralph | Idiocracy! |
| Re | Re: Sthenocracy = rule by the strong. From Greek -sthenos, or strength as in  word callisthenics. |
| Rebecca | Consumocracy |
| Rich | We live in a NO-cracy we are adrift and failing. Usury and greed have ruined us. Rich in Brooklyn. |
| Roger | Vicious humidorocracy |
| Rogerio | We've been living in a SELFISHNESSocracy |
| Roman | Kardashian |
| Ryan | Imbrokeocracy |
| Samantha | After seeing the documentary GASLAND last night, I definitely think we live in an OILocracy. (Or is that a Halliburocracy?) |
| Samm | The Haves and The Have-Nots - ocracy |
| Sanjay | Them-ocracy where all the power lies with "them" |
| Saro | Corporate-ocracy. |
| Seth | Mediocracy |
| Shelly | Mediocracy. |
| Stephanie | Manipulativeocracy. |
| Stephen | Nerocracy: Bank execs play fiddle with the US Congress while the global economy burns.... |
| Steve | Minimocracy. We've cut taxes to the point that government fails to work when there's even a minor disaster. |
| Steve | Celebritocracy-.a world where rules and norms dont apply to the famous 15 secs or otherwise. |
| Susan | We live in a WEALTHocracy. |
| Tahl | Capitalistocracy = must-have-more-stuffocracy |
| Tanner | Apathocracy & inequitocracy that's why we #occupy |
| this | we're living in a dollar ocracy |
| Tim | Jesus-o-cracy |
| Tisha | Money-ocracy. (he or she who has the most makes the rules) |
| Toby | Spectaclocracy |
| Tommy | Gotcha-ocracy |
| Tracy | Debt-ocracy |
| U | classocracy |
| Wendy | Goldmansachsocracy |
| Wendy | A Marketingocracy. It's all selling, all the time. |
| What | Biznocracy The forces of business are faster, more nimble, more modern, better skilled, more international than any govt. They wield power govts can't match |
| Will | Entertainmentocracy, i bet more people know who gaga is then leo panetta and more people saw the dark night then voted in 2008 |