Brownsville Parents Urge Chancellor Not to Close Their Schools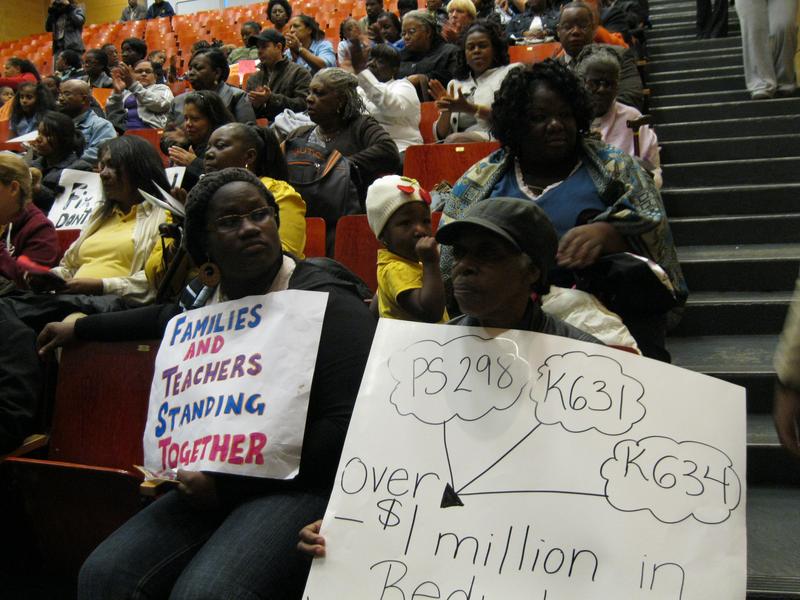 With fresh concerns that the city will close three of their schools for poor performance, more than 100 parents and teachers turned out for a town meeting in the Brownsville area of Brooklyn, Wednesday night, with Schools Chancellor Dennis Walcott.
Sue Hackshaw had one big question for Walcott.

"We want to know if you will spend one day at each school before you make a final decision," she said, referring to three schools in the neighborhood that the city may close because of poor performance.

"We have not indicated to any of the schools on the list here, or throughout the city, that they're going to close or phase-out," Walcott told the crowd of more than 100 people in the auditorium at P.S. 156 Wavery. He said he wasn't ready to make a commitment to visit any schools, and went on to describe a careful engagement process involving the schools and department staffers before any decisions are made.

Hackshaw asked him again if he'd visit the schools and he repeated, "I cannot make a commitment," but said his staff will visit them.

"Parents, are you in agreement with him?" Hackshaw shouted into the microphone. The crowd yelled "No!" and several people followed her out in protest, joined by City Councilman Charles Barron.

Hackshaw, who said her son attends P.S. 631 General D. Chappie James Elementary Science School, was among the parents and teachers who said the schools in this low-income community need more resources to improve rather than budget cuts.
Events like these have become a seasonal tradition. Each fall, the department of education issues progress reports with A-F letter grades. Then it picks those schools that get the lowest marks and considers closing them, if officials don't think the schools can improve.
The Panel for Educational Policy voted to close more than 20 schools this year. The schools don't really close right away, but instead phase-out gradually as new schools open in the same buildings to serve incoming classes.

The three schools in Brownsville that could be closed are P.S. 298, P.S. 631 and M.S. 634.
In addition to concerns about its schools, Brownsville has been hit hard by violence. Late last month, 34 year-old Zurana Horton was shot to death while picking up one of her children from P.S. 298, which is among the three schools in Brownsville being considered for closure. She was caught in the crossfire of competing groups of youths.  
Mavis Yon, who teaches fifth grade at P.S. 631, told Mr. Walcott "this community is in crisis," because of families who can't read, or who have trouble with drugs.
The chancellor reminded the audience that he had previously headed the New York Urban League. He said he's working with the police to provide more safety. But in a time of budget cuts, he couldn't promise to restore school libraries and other services that have suffered.

"It's not just closing schools or phasing schools out, it's a complex structure," he said. "Also making sure whatever the family structure is or wherever that child is going home to, that they're able to reinforce that on a regular basis. And that's the dialogue we need to have."
For more on this story go to www.schoolbook.org