Newly Acquired Wealth Gives Occupy Wall Street Opportunities and Challenges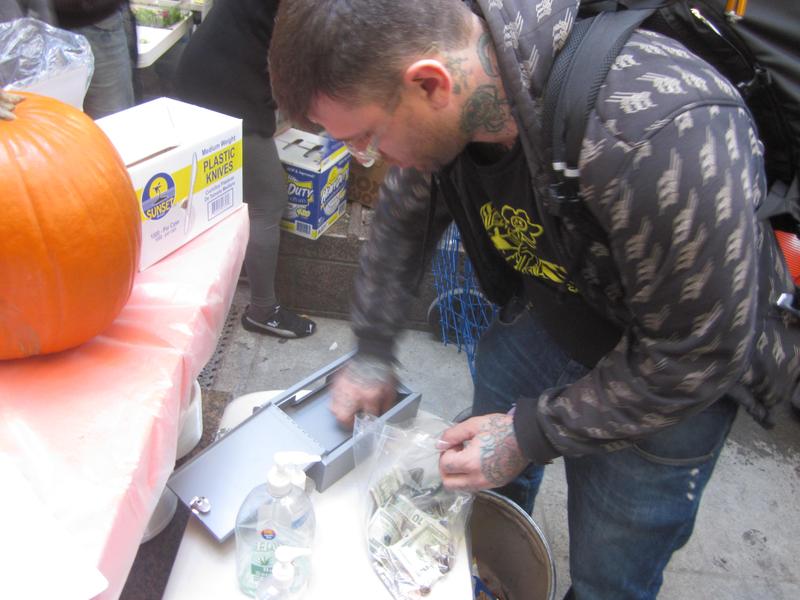 Having raised approximately half a million dollars, Occupy Wall Street now sits atop more wealth than most protesters ever expected — presenting some opportunities for organizers, as well as some challenges.
One of the most sought-out and beleaguered protesters at Zuccotti Park is Pete Dutro, a 36-year-old former tattoo artist from Brooklyn whose arms and neck are covered in ink. On any given day you can find people crowding up to meet with him — usually at his folding table under a tarp — because he's the guy with the money. Sometimes he ends up handing over a few bills, often he ends up telling people, as politely as possible, that they don't have the necessary paperwork to get cash.

"There's the looming threat of audit," noted Dutro, who's obtaining a degree in business technology management. "So we've been trying to make it as clear as we possibly can so that when it happens we walk away squeaky clean."

Dutro is one of a handful of people in charge of Occupy Wall Street's finances. That makes him a central player, perpetually weighed down by the task of keeping the movement's books in order. He is constantly reminding people to turn in receipts, and has to cajole others into going through the right channels.

"The most challenging thing is that a lot of people don't want to follow the process," he said.

Donations Flooding into Zuccotti Park

Earlier this week Dutro and others released Occupy Wall Street's first financial report, detailing the movement's expenses and revenues from September 16 through October 18. By that point it had earned more than $450,000, the bulk of which came in by checks or credit card payments made online. But more than $120,000 comprised cash donations, dropped into little metal lockboxes scattered across the park. About $24,000 went to cover online processing fees and costs for the protest's fiscal sponsor, The Alliance for Global Justice. The protesters also spent $55,000 during that time, including more than $20,000 on computers and cameras, and nearly $19,000 thousand on food.


That doesn't, however, include all the food that's been donated, from supporters around the world, and companies like Ben and Jerry's, which has supplied the occupation with copious amounts of ice cream.

Protester Bill Buster ,said asked for cold weather supplies on his twitter feed and one donor responded by sending in 125 sleeping bags. But Buster has scaled back twitter requests, saying some people at the camp take the donations for granted. "They have a feeling that if they stick their hand out, 'Alright I need another sleeping bag. I don't know what happened to the other one,'" he said.
(Photo: Donated ice cream is passed out to protesters. Arun Venugopal/WNYC)
Some argue it's time to scale back to a leaner, meaner protest.

"Are we going to start babysitting people that can't take care of themselves?" said Brendan Burke, who created the security team. "Or at some point is this going to not be a protest or a demonstration but a large outdoor soup kitchen?"

With Money Comes the Question of What is OWS?

Occupy Wall Street has so much money on hand that many protesters feel it only makes sense to share that wealth, with other occupations. They've already approved a $20,000 wire transfer to Occupy Oakland, which was raided by police officers last weekend. But some protesters opposed that move, fearing it would set a precedent. Others argued that basic needs still aren't being met in New York.

Perhaps the most telling aspect of the protest's evolution is the debate over whether Occupy Wall Street should apply for 501(c)(3) status and officially become a nonprofit. Wylie Stecklow, an attorney working with the protesters, is examining the issue with other lawyers. One advantage of nonprofit status, he said, would be that it wouldn't lose the 7 percent of each donation that currently goes to the Alliance for Global Justice, the nonprofit in DC that acts as the occupation's fiscal sponsor. The downside, said Stecklow, is that nonprofits cannot get involved in political elections.

One protester, Elaine Brower, argued that becoming a nonprofit would require that the occupation have stability and a core team in place. Occupy Wall Street has neither.

And then there are those who oppose nonprofit status for entirely different reasons. As one protester argued, Occupy Wall Street is supposed to be a revolution. What kind of revolution, he fumed, applies for nonprofit status?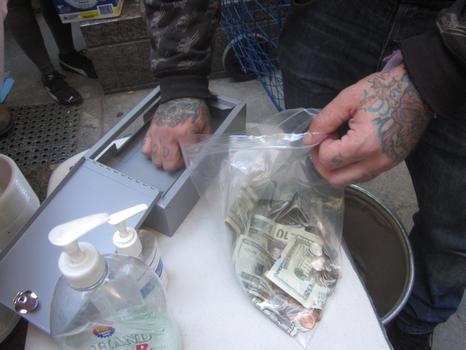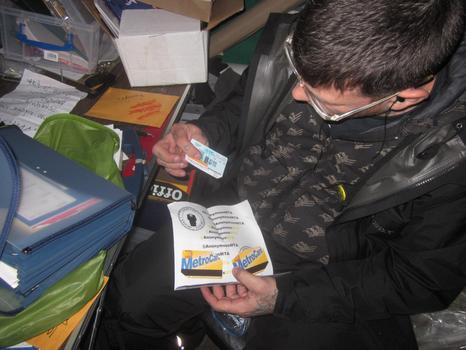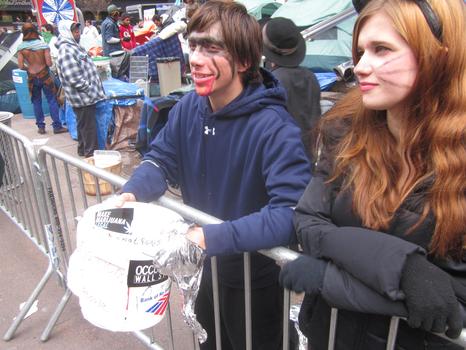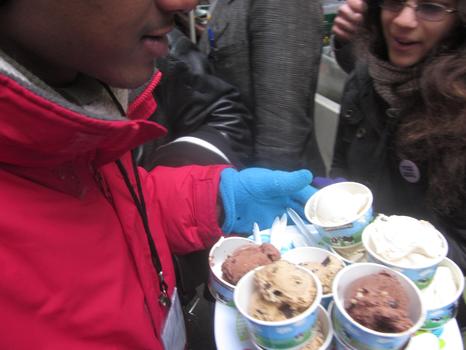 of