Senate Approves $15M for Trans-Hudson Rail But Future Remains Uncertain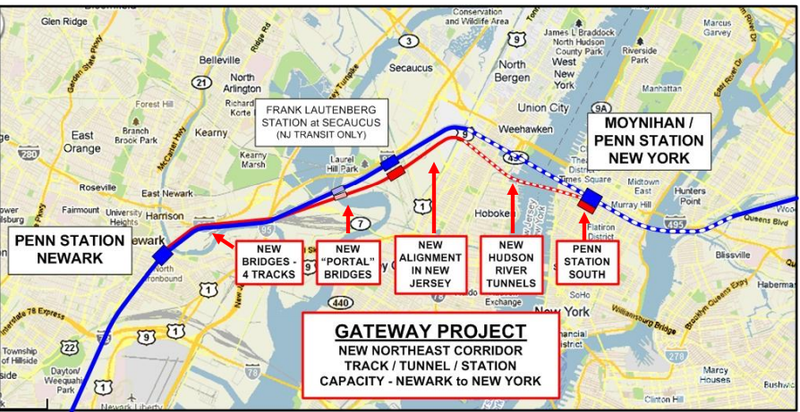 A trans-Hudson alternative – the Gateway Tunnel – won a small victory Tuesday when the Senate approved $15 million for Amtrak to begin design and engineering work on the project.
Gateway would require the creation of two rail tunnels in New Jersey underneath the Hudson River that would terminate just south of Penn Station. Its goal is to alleviate the biggest rail bottleneck in the Northeast: trans-Hudson capacity in and out of Penn Station.
Amtrak had initially wanted $50 million for the study, but received $35 million less then it requested.
"Today's announcement also brings us one step closer to Gateway's desired goal: expanding track and station capacity necessary to enable Amtrak's next generation high-speed rail plan and support improved service for thousands of Amtrak and New Jersey Transit passengers traveling between New York and New Jersey each day," Amtrak said in a statement.
The Gateway Tunnel is one of a number of proposals for increasing rail capacity between New York and New Jersey in the wake of the ARC tunnel cancellation last year. The total cost of the project is estimated to be $13.5 billion.
But just how much closer the $15 million really brings it to fruition is unclear. Although the Senate has approved the funding, the bill must now be reconciled in an Amtrak-unfriendly House. It also remains uncertain how the total cost of the project would be funded.
 "The ARC tunnel was primarily… regional commuter rail with side benefits for inter-city rail," said Petra Todorovich, the director of infrastructure group America 2050. "The Gateway Tunnel is more of a project focused on inter-city rail with side benefits for commuter rail."
 New Jersey senators Frank Lautenberg, Robert Menendez along with New York senators  Charles Schumer and Kirsten Gillibrand emailed statements of support for the project.
Read more on Transportation Nation, a site that combines the work of public radio newsrooms and our listeners as the way we build, rebuild and get around the nation changes.