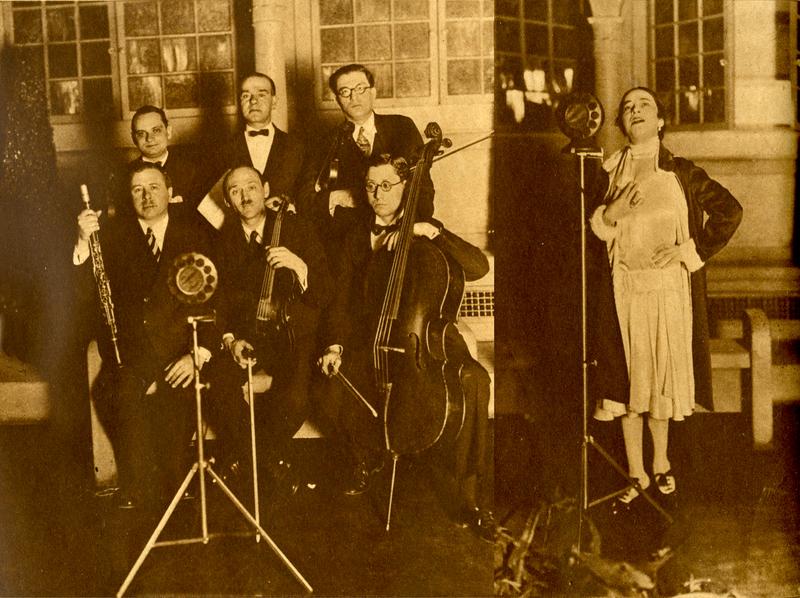 Contrary to prevailing belief, the Jewish Daily Forward's first radio program was not on WEVD (a leader in Jewish and Yiddish radio programming in the 1930s and 40s), but on WNYC!  The Yiddish newspaper marked the May 21, 1926 broadcast nine days later by printing the photos on the left with the following caption:
"The First Forward Radio Concert --Isa Kremer, the world famous balladiste, who was the featured soloist of the Forward radio hour May 21, from WNYC. (Left) The famous Stringwood Ensemble, which rendered a program of classical music."*
No Gathering of Lightweights 
Isabelle Yakovlevna Kremer (1887-1956) [1] was a well-known Russian-born soprano who traveled extensively through Europe in the 1920s and 30s singing folk songs in half a dozen languages, including Yiddish. As a teen she wrote revolutionary poems that impressed Odessa News editor Israel Heifetz, who invited her to Odessa and underwrote her musical studies with the famed Professor Ronzi in Milan, Italy. She sang opera for a brief time, debuting as Mimi in La Bohème opposite Tito Schipa in Cremona in 1911, and then toured czarist Russia as a star of the Imperial Opera of Petrograd. 
Kremer first came to the United States in 1922 and signed on with impresario Sol Hurok, debuting at Carnegie Hall on October 29th of that year. She appeared regularly in concerts at Carnegie Hall and the Manhattan Opera House trhough the 1930s and 40s, making her final New York appearance on December 3, 1950 at Carnegie Hall. Kremer made her vaudeville debut at the Palace Theatre in September, 1927. That year she also appeared in some Vitaphone films. In 1932, the singer debuted on the Yiddish stage in The Song of the Ghetto by William Siegel and music by Alexander Olshanetsky at the Downtown National Theater. She also recorded with Brunswick and Seva Records.[2]
The Stringwood Ensemble was organized in 1924 and made their first New York City appearance at Aeolian Hall on March 2, 1925. The founding members were Josef Stopak and Samuel Kuskin, first and second violins; Michael Cores, viola; Abram Borodkin, cello; Simeon Bellison, clarinet; and Arthur Loesser on piano. Reviewing their Aeolian Hall performance, Olin Downes wrote in The New York Times, "These are not only gifted individual performers; they play with a true sense of ensemble: their tonal balance and mutual understanding betoken a new concert organization which should prove of value to the musical public."[3]  On October 23, 1929, the ensemble played Town Hall with renowned concert pianist Nadia Reisenberg.[4]
In 1927 writer Gdal Saleski described the Stringwood Ensemble as having "established for itself a permanent place in the musical life of America, for this ensemble is not limiting itself to the execution of purely Jewish music (although it does give more attention to this than any other existing organization of its kind in the United States), but plays with equal facility and perfection the chamber music works of the past and present masters of all climes: Brahms, Mozart, Glazounoff, etc."[5]
Both Simeon Bellison and Michael Cores were soloists with the New York Philharmonic, and Arthur Loesser (brother of Frank Loesser) was a concert pianist who performed with the New York Philharmonic, the Minneapolis Symphony and other leading orchestras. Stopak would later put down his violin and pick up the conductor's baton. In 1942 Billboard referred to him as one of the finest conductors heard on the air.[6]
___________________________________________________
*It is interesting to note that the display advertisement in The New York Times promoting the broadcast, (shown above), says the performers appear courtesy of Brunswick-Balke-Collender Company under the auspices of the Jewish Daily Forward.
Special thanks to Chana Pollack, Photo Archivist at the Forward newspaper.
[1] Isa Kremer, Wikipedia and Jewish Women's Archive
[2] Isa Kremer sings in Russian on these Brunswick Recordings.
[3] Downes, Olin, The New York Times, March 3, 1925, pg. 21.
[4] "Chamber Music Concert," The New York Times, October 24, 1929, pg. 24.
[5] Saleski, Gdal, Famous Musicians of a Wandering Race, The Barnes Printing Co., New York, 1927 , pg. 446.
[6] Billboard, October 24, 1942, pg. 8.
________________________________________________________________________________________
Broadcast on WNYC Today in:
1959: Ahmed Sékou Touré, the founder and President of Guinea, delivers ad address at a City Hall reception in his honor.
1964: Republican candidate for President Barry Goldwater concedes defeat in the 1964 election.