Occupy Wall Street Releases First Financial Report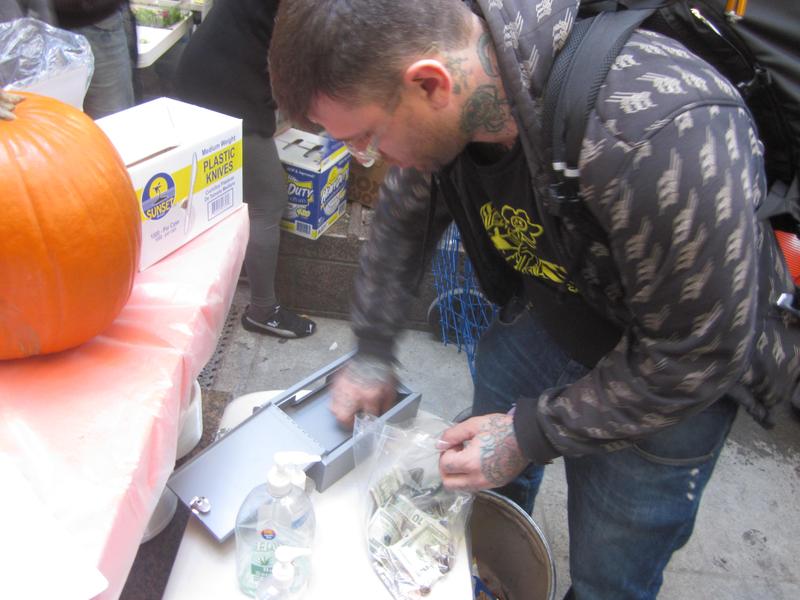 In a bid to remain transparent as it amasses hundreds of thousands of dollars in donations, Occupy Wall Street released its first financial report Monday. The report, compiled by the OWS Finance working group, covers revenues and expenses from September 16 through October 18, during which time the protest raised $454,437.47 in donations.
The majority of those donations, $333,199.95, came in through checks and credit card donations made online. The balance, $121.237.52, was comprised of cash donations made at a variety of lock-boxes scattered across Zuccotti Park.
Pete Dutro, a member of the finance working group, noted that expenses for the period totaled $55,131.85. The largest expense was $20,407.81, for communications and computer equipment used to broadcast the protest to the world.
"They bought a couple of teradeks," Dutro said. "They bought cameras, microphones, cables, so that they can properly produce their live streaming. And that was an expense that was well worth it. I think it's already paid us dividends, in the way of getting our message out there, getting people aware of what's going on."
The protesters also spent $18,985.80 in food, although that figure does not include all the pizza and cookies that have been donated since the occupation began on September 17. Another $3,504.98 was used for office supplies and $7,127.05 on generators, tarps, furniture and equipment used to keep the park clean.
Dutro suggested that the next financial report would include some major expenses, including $5,000 for bicycle-powered generators, and possibly $20,000 that the protesters are considering sending to Occupy Oakland, which was raided by police last week.