'Three Lives' Intersect at the Matthew Marks Gallery
A show depicting photos and self-portraits of three gay male New York artists is on view now at the Matthew Marks Gallery.
"Three Lives: Peter Hujar, Paul Thek, & David Wojnarowicz" is 30 photos and self-portraits taken by Peter Hujar from 1958 through 1985. Both Thek and Wojnarowicz were Hujar's lovers at different points. This contemplative set of photographs is a testament to the profound intimacy and community that grew in and around their relationships.
Though the images are not somber in tone, the show, when taken as a whole, is imbued with premature loss. Hujar, Thek, and Wojnarowicz each succumbed to the grip of HIV/AIDS in New York, passing away from it between 1987 and 1992. Exhibitions highlighting the personal and professional bonds between artists are not uncommon, but the echo here of a bygone New York, in which gay men found themselves scared, silenced and disappearing, lends this show a specific gravity.
Hujar was born in Trenton, New Jersey and after moving to Manhattan, he became a fixture in the city's downtown arts scene in the '70s and '80s. He is best known for his 1974 black-and-white image of "Candy Darling on her Deathbed." The photo of the transsexual actress (and muse of Andy Warhol and the Velvet Underground) shows Candy glamorously made up in her hospital bed. (The image appears on the cover of the now widely distributed 2005 Antony and the Johnsons album I Am a Bird Now. You can also see the image in the slideshow below.)
A second well-known work is Hujar's 1975 shot of his close friend Susan Sontag, who appears on a bed in a ribbed turtleneck, gazing contentedly past the camera with both arms crossed under her head. Both works show what Hujar was best at: portraits in which his subjects looks estranged from the world, yet filled with grace and self-possession.
Hujar's photos share many formal qualities with Diane Arbus. But unlike in her works, Hujar's outsider subjects never appear objectified. Rather, they are full participants in their own portraits. (Hujar often subjected himself to the gaze of his camera as in "Peter Hujar at the Dentist," taken in 1969.)
He might also be compared to Robert Mapplethorpe, who died of AIDS two years after Hujar did in 1989. Both shot in medium format, black-and-white film and their work plays with themes of gay male desire, homoeroticism and transvestitism. However, Mapplethorpe was obsessed with perfect exposure and lighting in his work. Hujar's images, though less technically perfect, are driven by a quieter curiosity and tenderness. Some are even playful, like his 1966 series of four photographs called "Nude Self Portrait #1-4." They depict Hujar, disrobed, dancing and running in front of his own camera. One captures the photographer shooting into a mirror, a large flash illuminating from his crotch.
"By virtue of their subjects, "Three Lives" also pays homage to Thek and Wojnarowicz. Both artists worked in sculpture, film, painting and video, and left behind immense, influential and diverse oeuvres. Paul Thek had a retrospective at the Whitney Museum last year and Wojnarowicz's controversial video "Fire in My Belly" will be on view at the Brooklyn Museum in November. It's a film, it so happens, that Wojnarowicz made in response to the death of his friend and lover Peter Hujar.
"Three Lives: Peter Hujar, Paul Thek, & David Wojnarowicz" is on view at the Matthew Marks Gallery, which represents Hujar's estate, through December 23.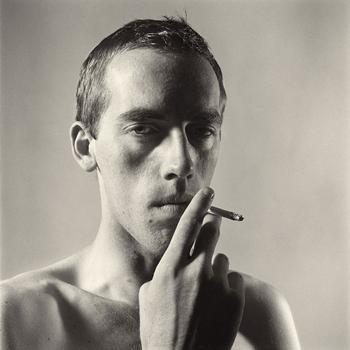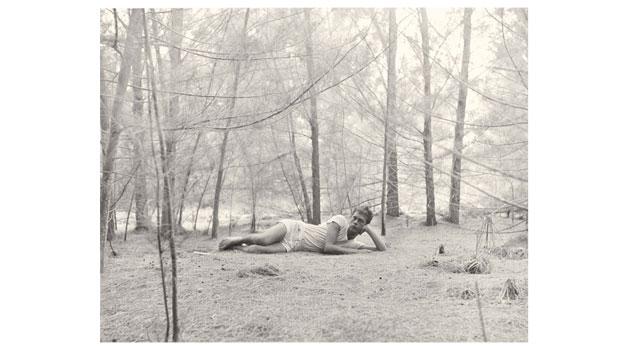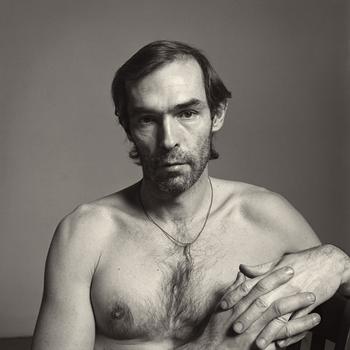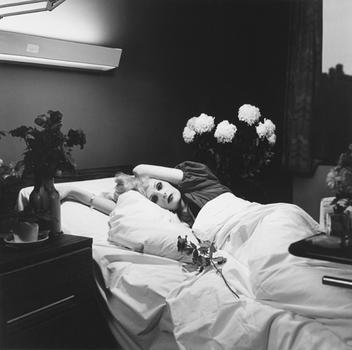 of