Rain, Snow Test OWS Protesters
As New York City endures a record-breaking, unseasonably early winter storm, those camping out in Zuccotti Park as part of the Occupy Wall Street protests are getting their first taste of what conditions may be like when the seasons officially change.
Dozens of tents filled the park on Saturday as people tried to figure out ways to stay warm and dry. Although officials from the Fire Department of New York removed generators and gas cans from the park on Friday morning, several large donations of Mylar blankets, coats, socks and hand warming packets were being distributed across the park on Saturday.
Ray Kachel, 53, ate a hot baked potato from the food tent as water poured off his yellow rain slicker Saturday afternoon. He came from Seattle to New York about three weeks ago to join the protest and has spent the majority of that time camping in the park. He said his biggest mistake today was getting out of bed.
"I had a tarp wrapped around a sleeping bag up on the stairs here," said Kachel, "I was toasty warm and dry and decided to get up and now I'm cold and wet."
He said if the weather gets too bad, he may spend the night riding the subway.
Bobby Cooper, 30, has been staying at the park since about five days after the protest started. He began preparing for the bitter weather on Friday, setting up a tent, covering it with a tarp and layering insulation under it.
"Layers of whatever I could find that was insulating material," said Cooper, "trying to do the best I could knowing today would be really, really brutal."
Many expressed concerns about hypothermia. A medic walking through the park checking on protesters said more than a dozen people had been treated for symptoms of hypothermia, a potentially fatal condition that occurs when the body loses heat faster than it can be produced and results in abnormally low body temperature.
Even as protesters hunkered down in their tents, some volunteers were encouraging people to find shelter for the night. Haywood Carey, 28, was working at the group's information tent. He said many of the tents set up across the park were not fully winterized.
"There are folks out here who think they have outdoors experience, but haven't really faced the elements especially in a place like New York City."
While he was telling others to find a place to go, he also saw Saturday's wild weather as a test for the days ahead.
"From what I understand, and I'm from North Carolina, but from what I understand, it's kind of a freak event, so this is a good learning situation for what's going to come next."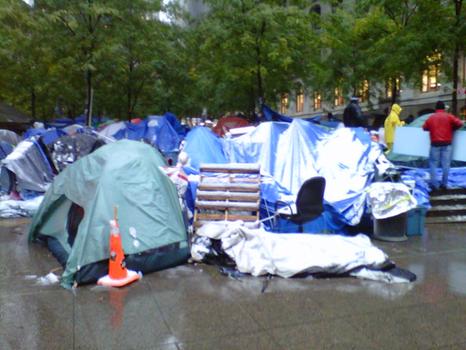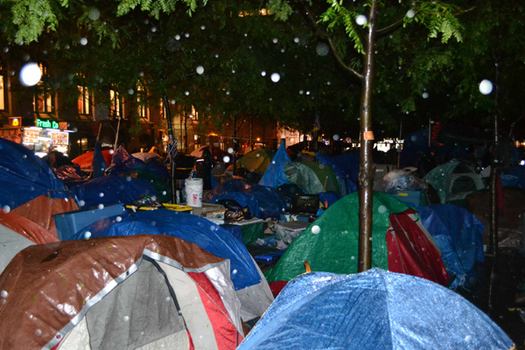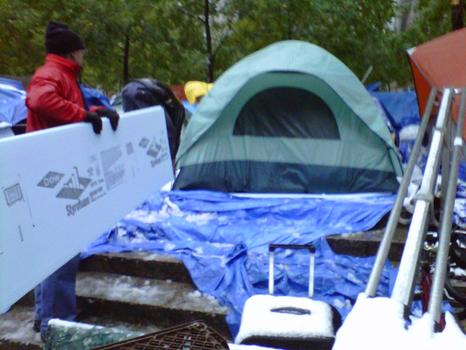 of