As Weather Changes, the Search for Indoor Tennis Venues Begins Anew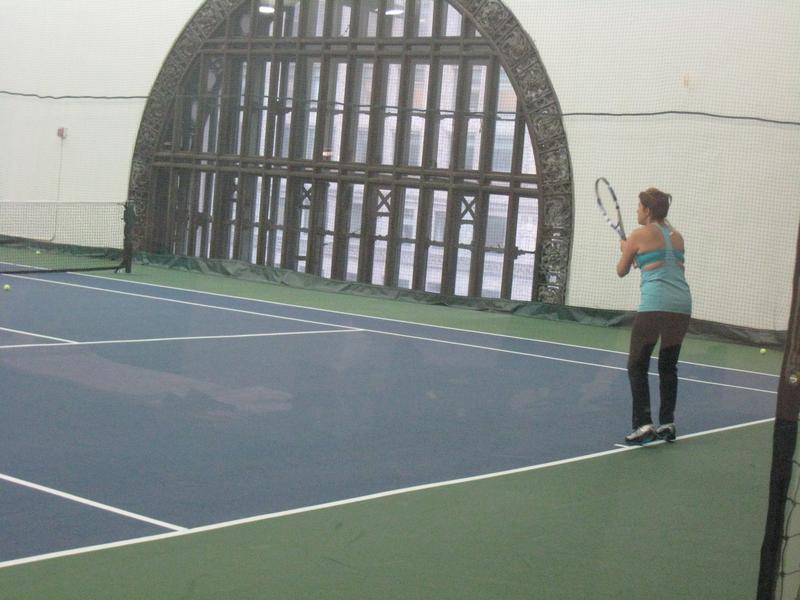 [Disclosure: This reporter played at Vanderbilt Tennis Club earlier this month and got instruction from head pro Eldad Zvulun. He also offered his thoughts on my food blog about hummus.]
The increasingly cold weather marks the changing of the tennis season — from outdoor to indoor playing.
The first new indoor tennis venue in 15 years opened in Manhattan six weeks ago. The Vanderbilt Tennis Club at Grand Central Terminal is the first new indoor facility in the city since Sportime on Randall's Island opened in 2009.
Grand Central Terminal seems an unlikely place for tennis. But MetroNorth's chief architect, George Monasterio, said tennis courts have been a part of the transportation hub since 1965, when a Hungarian immigrant Geza Gazdag built two courts in the third-floor attic of the cavernous terminal. He said the space was once used as a CBS television soundstage in the 1940s.
Those courts were one of the best-kept secrets in the city — and for good reason. They were used by the well-to-do, celebrities, and tennis pros in town for the US Open.  He says rates began around $150 — "and that was for 2 or 3 in the afternoon" — and it was a cash-only operation.
The club closed in 2009, when the Metropolitan Transportation Authority reclaimed the space for showers, lockers and a lounge for Metro-North conductors and train engineers.  
In the process, the MTA added a fourth floor, and leased the space to Anthony Scolnick, who also operates the Sutton East Tennis Club and the Yorkville Tennis Club.
"We like the idea of having a sports venue in the terminal," Monasterio said.  "It's the continuation of a tradition."
The Vanderbilt Tennis Club has a full-sized court, two practice courts and a small fitness center. The practice courts are equipped with ball machines that have an automated ball retrieval system.
New York City has seen more courts close than open in the last 10 to 15 years, including the loss of 40 courts at Tennisport and the East River Tennis Club in Long Island City, Queens.  Manhattan players have lost Wall Street Racquet Club, Crosstown Racquet Club, Murray Hill Racquet Club and Village Courts.
Scolnick, who charges full-court rates of $90 to $250 an hour at the Vanderbilt Racquet Club, said he knows the secret to bucking the trend that have caused many a court to fall on hard times: "Location, location, location," he said.
He feels the steady drumbeat of recent court closures is more a cautionary tale about location than it is about the economy.
"We used to operate a tennis center in Alley Pond Park, in Queens, for 10 years," Scolnick said. "We had a lease, and we didn't want to renew. The reason being, different location, different economics.  When the economy goes bad, tennis is the first thing people pull back on. But Manhattan is different."
Scolnick said his courts are 30 to 40 percent filled, after six weeks in operation. He said he's confident that, by the end of the year, "we will be very busy."  
Besides Vanderbilt, Sutton East and Yorkville Tennis Clubs, here are some other options for tennis during the fall and winter:
•    Midtown Tennis Club, 341 Eighth Ave., Manhattan (between 26th and 27th Streets).

•    Eastside Tennis Club, 220 East 75th St., Manhattan (btn Second and Third Aves).

•    Harlem Tennis Club, Harlem Armory, 40 W 143rd St., Manhattan (near Lenox Ave).   

•    Roosevelt Island Racquet Club, Roosevelt Island, near the tram.  Pricey for non-members.

•    Sportime, Randall's Island.  

•    CityView Racquet Club, 43-34 32nd Place, Long Island City, Queens. Near the No. 7 train.

•    Mill Basin Racquet Club, 2350 East 69th Street, Brooklyn.

•    Bridgeview Racquet Club, 9000 Bay Parkway, Brooklyn.

•    West Side Tennis Club, 1 Tennis Place, Flushing, Queens. ‎