Niche Market | Halloween Costumes
New York is a city of specialists from foodies to academics, laborers to shopkeepers. Every Wednesday, Niche Market takes a peek inside a different specialty store and showcases the city's purists who have made an art out of selling one commodity. Slideshow below.

New York Costumes/Halloween Adventure
104 4th Avenue
New York, NY 10003
What do you want to be for Halloween?" asked Erick Hinde, a salesman sporting "angelic blue" contacts.

"I don't know," whimpered Crystal Cornish, who said she hadn't dressed up in years.

"Do you want to be something gory, do you want to be something cute, sexy?" Hinde volleyed back.

"I was thinking Jon Snow, a character from 'Game of Thrones.'" Cornish admitted. She knows she wants a sword. "But what's a costume that I could work in colored contacts?"
Such conversation is par for the course during crunch time at Halloween Adventure. Sixty percent of sales occur between September 1 and November 1, and right now there are 14 registers cha-chinging out hundreds of $45 costumes a day.

Customers slowly amble through the 20,000 foot space, facing identity crises every few minutes — "do I really want to be a zombie doctor?" The store is conveniently split up into sections: masquerade masks, hats, funny costumes, good and evil, horror, clowns, kids, superheroes, wings, capes, adult, make-up, Harry Potter, etc. Amid the spooky music soundtrack, kids and adults, letting out their inner-child, shriek and laugh, and occasionally cry ("Seriously, Mom, why can't we just get it?!"). Manager Tony Bianchi, "The king of Halloween" according to his employees, designed the store to feel like a  Halloween "jungle," anywhere you look — up, down, to your side — there is something staring at you, going "Boo!"

Bianchi, an artist, started with pop-up Halloween stores 20 years ago, and for the past 15 he's been running the zoo here. During the season, his daily work uniform is strict: batman shirt, cape sewn out of a pirate flag, goth rings on each finger, and a sprightly feathered hat pinned with yearly add-ons (googly eyes, horns). "I'm sort of like a baseball player. I don't wash this stuff for two months. Not that I smell, but it's part of good luck," he said, adding that the feathers are helpful because they make him easy to spot in the crowd.

Bianchi said his costume store can stay open year round because of New York's unique mix of subculture and industry. "You've got all the TV shows and all the movies that are made here and all the theater, plus there are so many people who have parties and they're going to have their favorite celebrity party or your superhero party or your dead celebrity party," he said. Plus, all the film students constantly need effects. "We sell gallons and gallons of blood," Bianchi noted, and "you'd be surprised how much mustaches we sell. It's crazy."

Bianchi claims not to like horror or gore, but he appreciates the creativity.

Halloween is a funhouse mirror for ordinary life — so whatever is hot in the press will also go hot off the shelves — with a pinch of fake blood. There's the requisite Barack Obama and George Bush masks, the 2011 silver-screen superheroes like Captain America, and the Angry Birds costumes which sold out. Zombies are also huge because of TV smash-hit "The Walking Dead." Bianchi said zombies are a cheap date.  "If you're going be a zombie, you can wear ripped clothes and things like that, you don't need a costume, but you'll need the make up and maybe the cut-off body parts you want to gnaw on," he chuckled, "brains and hearts." Such Halloween accessories, decorations and toys are for sale as well. Basically, the only costumes not for sale are the ones you make at home, and certain licensed characters, like Barney.

Melvin Wright roamed the aisles with his two daughters, shaking mock doo-doo at them for a scare. He loves Halloween, and is planning to be Elvis this year. "When you hide behind the costume you can be silly, you don't have to be cool if you're a cool person, you don't have to be a geek, you're just whoever you want to be behind that costume," he said. His daughter Madison felt the same way, plus, she likes the candy.

Not everyone in the store was in the Halloween spirit though. Q. Strong, head of security, said nine years working at Halloween Adventure had ruined the holiday for him. Strong was constantly accosted by giggling customers.

"Where's your Alice in Wonderland costume?" a girl asked him. "How old are you?" he countered. "Nineteen," she said. "Ok, there's a sexy Alice and Wonderland downstairs, but if you want the traditional Alice in Wonderland it's upstairs, right hand side, in the Disney Section by the shoes."
(Photo: Tony Bianchi in "uniform" at the store./Sarah Kate Kramer for WNYC)
Interview with Tony Bianchi, manager of Halloween Adventure.
Why do you wear this outfit?
Somebody says I'm like a cartoon character and that's what often Halloween is, when you dress in a costume you become a cartoon character or some kind of icon like Dracula or Cleopatra or Lady Gaga or Amy Winehouse or Elvis or Michael Jackson, so you become frozen in time, and it represents some kind of icon.  Halloween deals with icons. You have superheroes this year, Thor and Captain America and Green Lantern, icons that people buy and that's standard for Halloween. You always have some new one based on a new movie or a sex scandal is always good for us. V for Vendetta is selling like mad because of the march on Wall Street. So a lot of times the left-wing is lampooning the right-wing or the right-wing is lampooning the left-wing, it's connected to pop-culture and pop-culture is not much different in a Halloween store. When Clinton had a scandal or OJ had a scandal — I heard rumors there's Weiner masks, but nobody really cares.
How does this store survive year round?
You're going to do 60 percent of your business around Halloween, but we're in New York, we're in the center of the world and you've got all the TV shows and all the movies that are made here and all the theater, plus there are so many people who have parties and they're going to have their favorite celebrity party or your superhero party or your dead celebrity party. And then out of this we go right into Christmas. Then we have Mardi Gras. Then we go into Purim, the Jewish Holiday is a big holiday for us. Then we go into Easter, which is passion plays. You've got these spikes of business. You're not going to do the business you do at Halloween but there's always demand. Where are you going to buy a spiderweb in January? You're going to buy it here. And people need it, because sometimes they're doing photo shoots, they're being creative in other ways, or there might be an advertising agency that needs a Halloween shot and where are they going to get that stuff?
What kind of people work here?
I have a lot of creative people, some of them are writers, some are comedians, a lot are musicians, a lot of make-up artists, people who do that for a living, people who work for movies, for horror movies, I have some at my Gothic Renaissance store who are seriously goth, they dress like that with all the jewelry, it's their lifestyle. There are people who go to Renaissance fairs — Rennies — that culture, there are people who are just geeks, Star Wars buffs, Comic-Con was just here and they go to that. My staff is like that. I like creative people, because they can figure out, if someone comes in and they ask for a particular wig they know what icon it represents.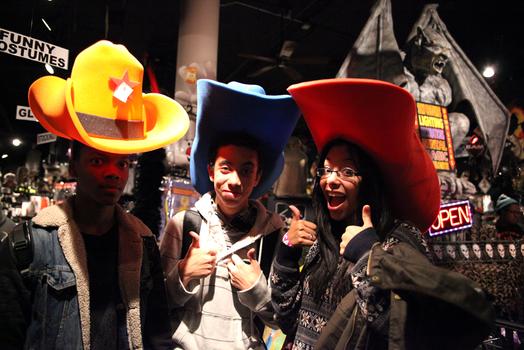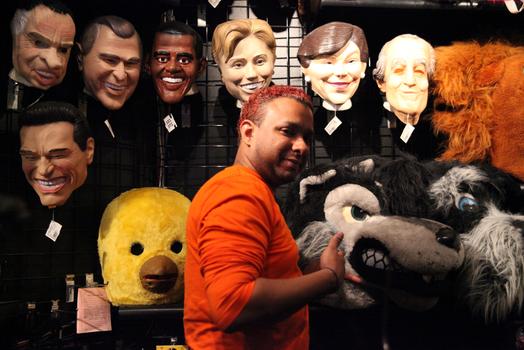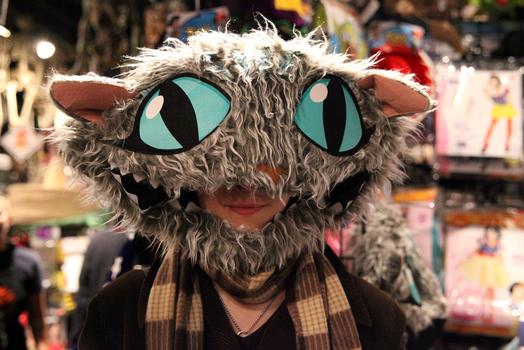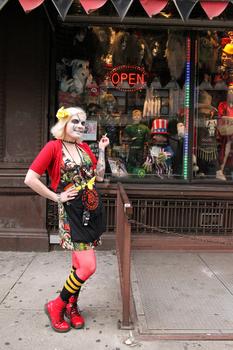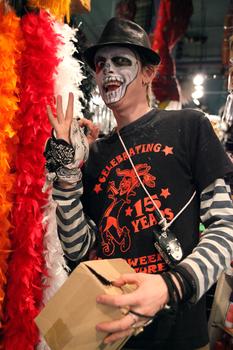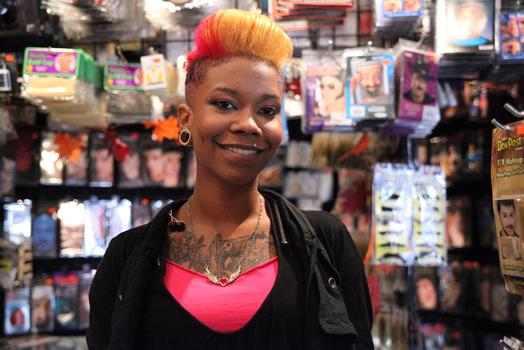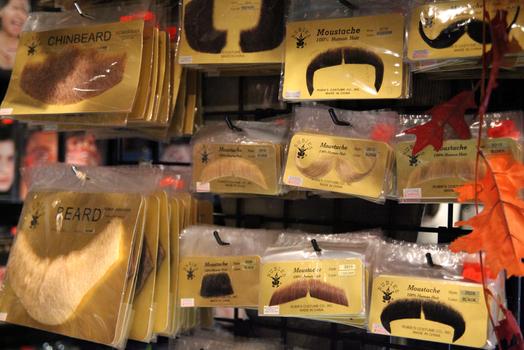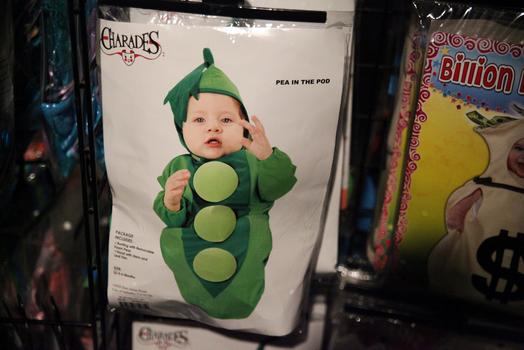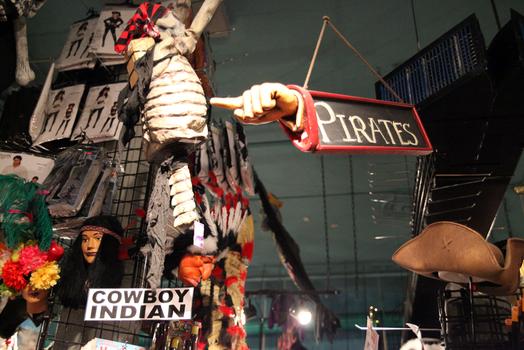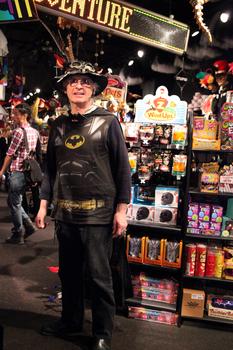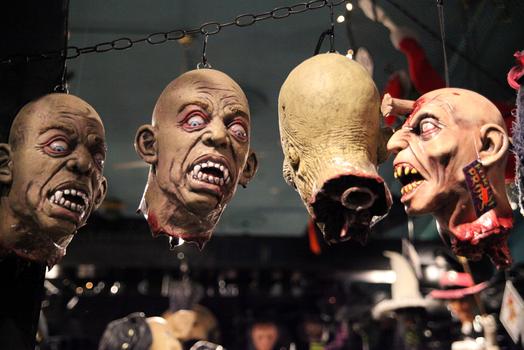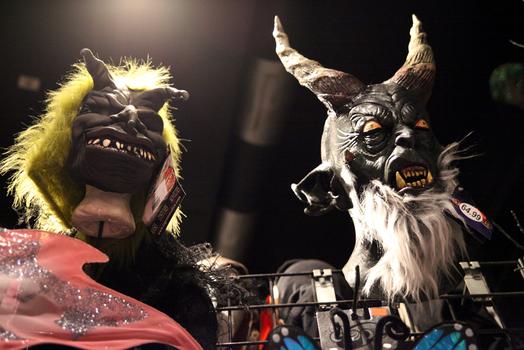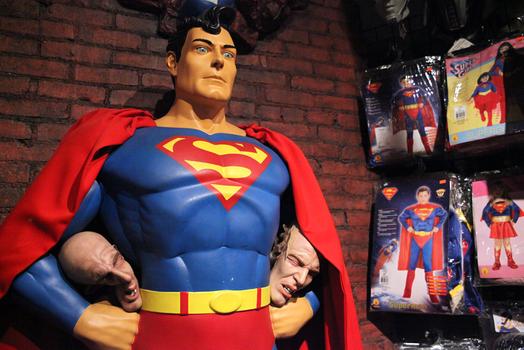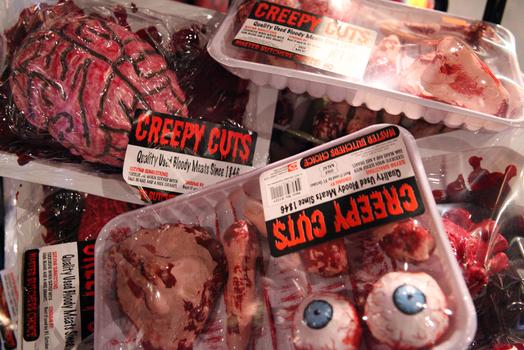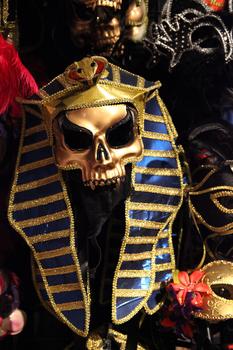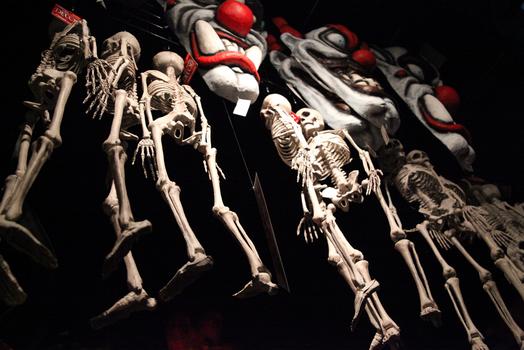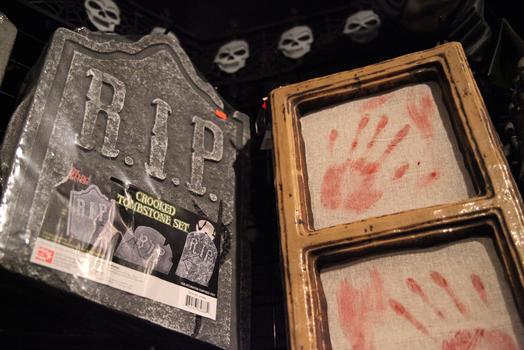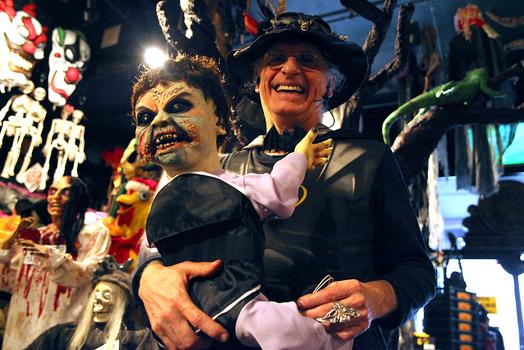 of