Libya Declares Liberation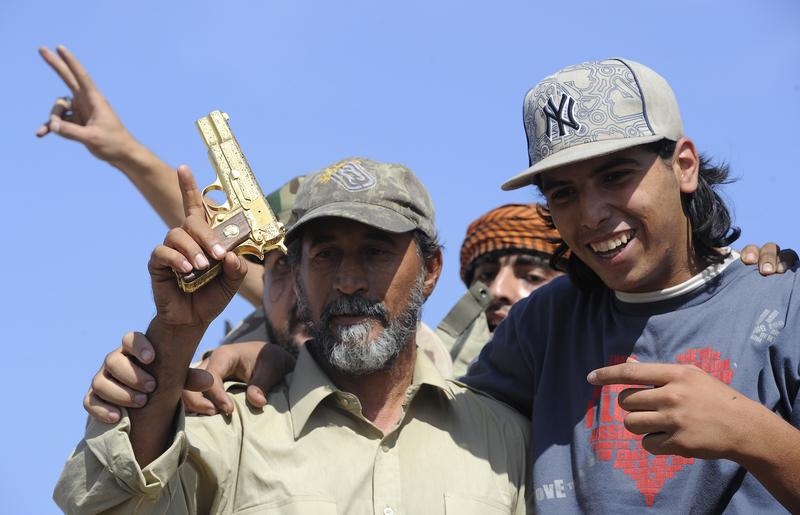 Libya's new leadership officially declared liberation in Benghazi, the revolution's birthplace, on Sunday. It officially brought to a close the civil war that ended Moammar Gadhafi's rule over Libya and marks the start of a two-year transition to democracy.
Transitional government leader Mustafa Abdul-Jalil set out a vision for a post-Gadhafi future with an Islamist tint. He said Sharia law would be the "basic source" of legislation and that existing laws that contradict the teachings of Islam would be nullified. "This revolution was looked after by God to achieve victory," he said.
Under the changes new banks would be set up to follow the Islamic banking system, which bans charging interest.
He also thanked military personnel and civilians who took part in fighting against Gadhafi by promoting them to one rank above their existing one. He said a package of perks would later be announced for all fighters. "Thank you, thank you to the fighters who achieved victory, both civilians and military," he said. He also paid tribute to the Gulf Cooperation Council, the Arab League, the European Union and NATO. 
The declaration starts the clock for elections and let the National Transitional Council move forward with efforts to transform Libya from country that was ruled by one man for 42 years to a democracy.
The transitional leadership had previously said it would declare a new interim government within a month of liberation and elections for a constitutional assembly within eight months to be followed by a parliamentary and presidential vote within a year.
The news, however, has been marred by questions over how Gadhafi was killed after images showed he was found alive. On Sunday, Libya's chief forensic pathologist said an autopsy had confirmed Gadhafi was killed by a shot to the head. Dr. Othman al-Sintaini added he would not disclose any further details until he delivers a report to the attorney general.
The Misrata military council, previously had said prosecutors and the NTC would decide if an autopsy of Gadhafi was necessary.  At least four groups of doctors have examined the body and determined the cause of death was a bullet to the head and stomach. Gadhafi's body was laid out, along with the bodies of one of his sons and ex-Defense Minister Abu Bakr Younis, in an emptied out freezer, as Libyans lined up to view the bodies.
Many family members of the Lockerbie bombing victims had hoped Gadhafi would stand trial so that information about Libya's involvement in the bombing of Pan Am Flight 103 would come to light.
Still, in Tripoli, some residents were relieved that the one-time dictator was killed, enabling the country to transition to democracy without fear. "If there was a trial, it would take some time," said oil worker Hosni Bashir, who was attending the first meeting of a new political party in Tripoli. "Now, they (Libya's new leadership) can start."
A 45-year-old fighter in Misrata, Mohammed Misrati, said it was time to move past Gadhafi and look to the future. "We need to look ahead and start building and developing," he said. "We deserve that after all of the struggle we had to go through and so the sacrifices won't go in vain."
On Saturday, acting Prime Minister Mahmoud Jibril said he planned to resign after the liberation. He believes the interim government "should last until the first presidential elections."  He also said the NTC should move quickly to disarm rebels who helped overthrow the regime and ensure that huge caches of weapons are turned in over the "next few days."
Gadhafi's hometown of Sirte was the last to fall, but his son and one-time heir apparent, Saif al-Islam, and many of his fighters escaped, raising fears they could stir up trouble.