A Newspaper to Accompany a Protest: The Occupied Wall Street Journal Readies Next Issue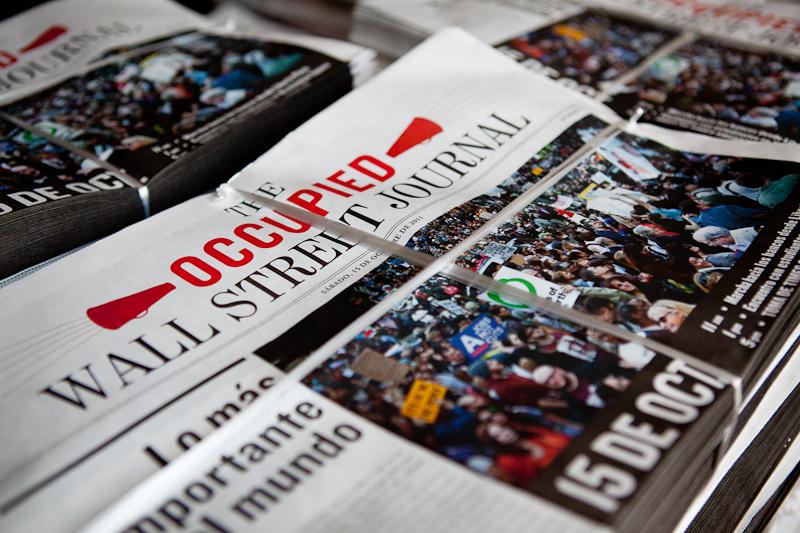 From the Wall Street protests has emerged the irregularly published Occupied Wall Street Journal, a four-page broadsheet that editors claim has a circulation equivalent to a small town publication.
The protests in Zuccotti Park have spread their message across the country in part because of a robust web presence. But a small group, not considered the official mouthpiece of the movement, has also relied on old-school methods of spreading the word about the protest.

"We're doing our own thing," said Ryan Wood, 26, one of the paper's editors. "We're occupying media space."

Four editors who volunteer their time produce the broadsheet at a ramshackle office at an undisclosed location in the West Village, with overhead pipes exposed, where various mementos from leftist movements of the past hang.

The first edition came out on October 1, with funding from a Kickstarter campaign, which, as of Thursday had received $75,690 from 1,696 supporters — most recently from local unions, although the editors declined to specify which ones have contributed funding.

The editors of the Occupied Wall Street Journal say they receive a large volume of submissions, but prefer to work with more experienced journalists and writers. The paper is printed in a union shop in Queens.

They are now working on a third edition, which they say will have an initial run of 50,000 copies to be distributed locally and another version, which will be distributed nationally. A paper filled with colorful posters is expected to be released soon as well.
The editors of the Occupied Wall Street Journal, (from left to right) Jed Brandt, Ryan Wood, Prisilla Grim and Michael Levitin (Stephen Nessen/WNYC)

The Occupied Wall Street Journal has been translated in Spanish and has featured articles by Naomi Klein and former New York Times journalist Chris Hedges.

"It's only four pages, but it is quite large, try opening that on the subway and you get people's attention," said Michael Levitin, 35, another editor. "This has lasting impact, lasting value. There's nothing like seeing people read on the subways and in the parks."

The paper could be mistaken for a parody of the Wall Street Journal. The paper has nearly the same font but that's where comparisons end. Editors did receive advice from one of the Yes Men, activists who put out a fake edition of the New York Times.

The Wall Street Journal declined to comment on the paper.

Although the editors have all spent time at the park they are not part of the general assembly, the loosely knit collective of regulars that prides itself on making decisions collectively.

On a recent afternoon, at the make shift library at Zuccotti Park a red dolly carries a stack of the Spanish language edition of the paper; the other versions are long gone.

One of the volunteers there Sean Allingham, 30, had no idea where the paper actually came from, but met one of the editors earlier that day. "We were happy to finally meet someone who was writing for it because it was all a bit of a mystery," he said.

At the press section of the park, Julian De Mayo, 27, said many people ask him about the paper, assuming it's produced at the park. He tells them, "its just one voice among many at Occupy Wall Street."

"We really encourage people to start off their own publications, their own zines to diversify the kinds of media that's being produced here," De Mayo said.

Across the park Mike Griffiths, 21, sits at the Spanish language booth. He helped translate an article for the last edition and said he's received calls from people asking for a French and a Hebrew edition of the paper (there are no plans yet for either) and friends in Spain asking if he could send copies to them.

"It's an easy read," Griffiths said. "It makes us seem more official, more organized, it adds a lot of credibility to the movement. And it wipes out the fact that these are just a bunch of hippies out there. It looks pretty professional."