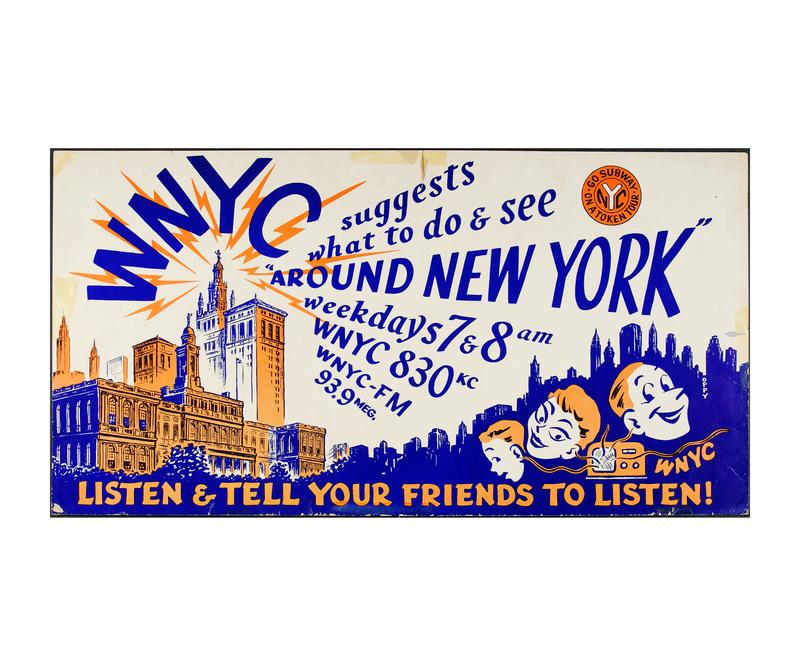 WNYC and WQXR kicked off our fall pledge drive on Monday, and among the tote bags and mugs offered as premiums there appears a charming poster from the Archives (with thanks to the New York Transit Museum). The poster, which originally appeared in the city's subways, was designed in the early 1950s by the illustrator Oppy. Set against the city skyline and WNYC's then-home, the Municipal building, the poster promotes the show "Around New York."

Well, what was "Around New York" like? To give you an idea, we have posted two examples of "Around New York" from the era. The brief morning show, which started around 1936, featured a variety of hosts informing locals about things to do and see "around New York" --from upcoming theater and musical productions to special holiday events and interviews with members of area clubs.
In our first example, from 1952, an "Around New York" host interviews Leopold Stokowski, the legendary conductor of the New York City Symphony Orchestra, the New York Philharmonic and the American Symphony Orchestra --plus of course Disney's 1940 classic Fantasia. 
Stokowski discusses his upcoming concerts at the Museum of Modern Art, noting that with these concerts he hopes to "do for music what [The Museum of Modern Art] has done so wonderfully for painting and for sculpture." 
In another example, from 1949, a member of the "Around New York" staff takes a tour of New York aboard a Northwestern Airlines Boeing Stratocruiser. The reporter captures the sounds of the long range airliner, as well as the voices of the flight attendant and captain aboard the plane.
In the 1980s and 1990s, "Around New York" became the name of an unrelated, one-hour arts show hosted by Steve Sullivan, John Schaefer, and others.
Audio courtesy of the NYC Municipal Archives WNYC Collection.