The Takeaway
Replacing Bulldozers With People: Deconstructing Detroit
America's shrinking cities might want to take note of a new alternative bubbling up from Detroit's ongoing battle with blight. In truth, the idea is more old school than new: Why demolish when you could deconstruct and re-purpose the remains of ruin into a job creation tool?
Detroit is besieged with at least 60,000 reasons to consider the question. That is the number of abandoned homes and buildings around the city, depending on who's counting. In fairness, the question belongs to a number of American cities where demolition has long seemed the only alternative. But the concept of deconstruction is rising to challenge that conventional notion in the city perhaps most synonymous with decay. 
Deconstruction is exactly as it sounds: a brick-by-brick, plank-by-plank dismantling of buildings and homes, all for the sake of preserving reusable materials and of rebuilding a skilled workforce. The concept has even spawned a popular slogan: Deconstructing Detroit.
But it's the untapped economic potential that deconstruction proponents say they are most anxious to see spread.
"The rafters of an old house, the floor joists, the studs the decking, all of the structural elements,'' says Chris Rutherford, " that's a market for conservation and job creation.''  Rutherford heads training and programing for the WARM Training Center in Southwest Detroit, a nonprofit specializes in energy efficiency education for communities. "By the truckloads, these materials, are going to landfills everyday, crushed into splinters. Senseless.''
While WARM focuses on workforce education through weatherization and placement programs, the curriculum has expanded of late to include elements of piece-by-piece removal and repurposing.
"If Detroit were to make this viable and bring to scale, there no other city that couldn't do it. Detroit's got the best housing stock of materials to make it happen, '' says Rutherford.
By design, deconstruction is more labor intensive than deploying a bulldozer.
"With demolition, we'll have a guy with excavator or a bulldozer come in and take the house down,'' said James Willer, who leads deconstruction site projects for WARM. "Another guy stands around and sprays water on the house while it's being removed. They're not separating out materials, looking at options for recycling. All of that material just goes into the landfill and there it sits.''
Currently, Willer is overseeing two deconstruction projects: a nearly 3,000 square-feet home in Franklin, Mich., a nearby upscale suburb, and a 900-square-feet brick house in Southwest Detroit.  In each instance, the property owners are funding the deconstruction costs. Rutherford is lobbying to have cities and local government view deconstruction as a progressive alternative. To date, the progress is small, they've created just 15 jobs but training continues, along with new partnerships with construction companies interested in cross-training their workers.
"With deconstruction, we're talking a 75 to 80 percent waste diversion rate. Every material that we divert from a landfill that's a job for somebody; whether it's turning scrap wood into mulch, that's putting landscapers to work,'' Willer said, during a tour of the Southwest Detroit house where trainees were starting to rip open the roof and preserve its shingles to be used as asphalt. "With all of this older growth wood, this is valuable material for finishes and new construction or for furniture of for art projects,'' he said. "This is a great opportunity for a kind new niche in manufacturing sector that can feed into what really drives this country. One of the largest contributors to the gross domestic product is the construction industry.''
Jasonn Parnell started learning the construction trade at age 15, while taking vocational classes in high school. Specializing in drywall installation and painting, Parnell says he's always been able to find work. But through deconstruction he says, he's found a sense of purpose for his skills.
"There are so many homes, so many properties that have become eyesores, nests for crime, just dangerous to communities,'' the 33-year-old says. "It feels good to think that just by using a different mindset to the way we see these houses, you can create jobs and you're doing something that can help save the environment.''
Twenty-seven-year-old Adonus Dixon says learning the principles of deconstruction delivered him from to relying on jobs from temp agencies.
"Just from working with this first house, I can see how taking a home down and not just tearing it down can be good," Dixon says. "You learn a lot everyday about how it's made and how maintaining some of the things on the inside really have value. All this stuff, it's was garbage to me before.''
On this day, Dixon's primary job is the surgical like removal of windows and trim. But he's already thinking into future.
"I got three vacant houses on my block. If all goes well," he says, "I can have my own company doing this and make it look like a whole brand new Detroit.'' 
A few real world hurdles temper the optimism surrounding Detroit's burgeoning deconstruction movement. Deconstruction requires training and hiring teams, as opposed to assigning contract demolition crews. The process can stretch anywhere from two to six weeks, slowing down the rate at which some cities would like to demolish abandoned properties.
But Willer insists that critics willing to take the long the view, will inevitably see the potential returns.
"Let's say the city wants to pull down 3,000 houses a year, but if they go for deconstruction, we're only pulling down 2,000, it's still doing more good, creating much more benefit. What's the difference between 3,000 and 2,000 homes, if we're creating 10 times more jobs?" And potentially also denting crime in the process. "There's already a big industry, lets call it, of scrapping houses out. To us, that's kind of like deconstructing. Our goal is to get this legitimized and get those people out there vandalizing illegally into real paying jobs. They already have some skill.''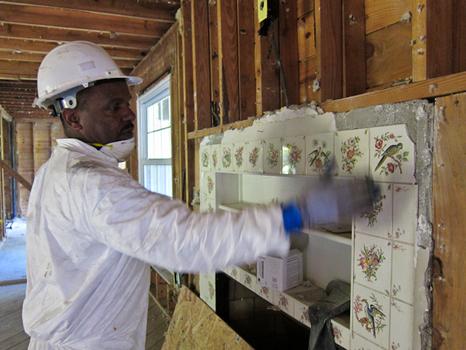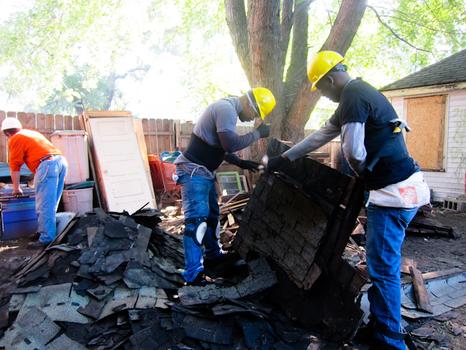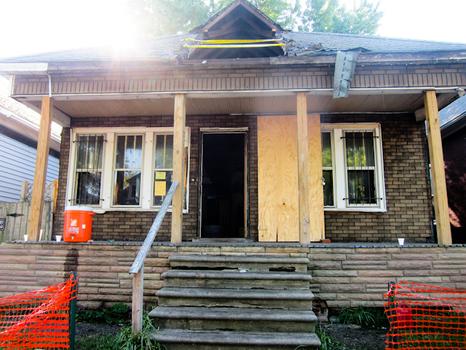 of