Groups Call on NY to Continue Its Surcharge on Millionaires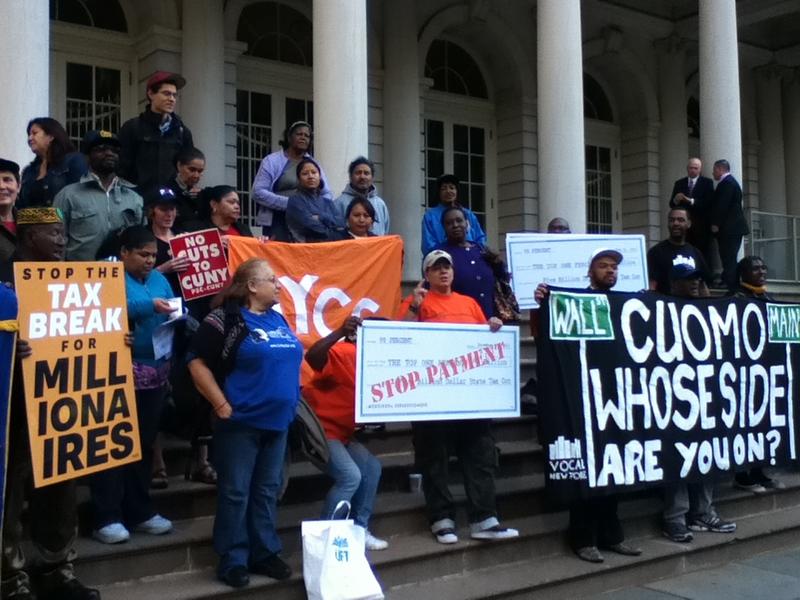 A coalition of community groups and labor organizations, calling themselves "99 New York," gathered on the steps of City Hall on Monday to renew a campaign to extend the so-called "millionaires tax" beyond its December expiration date.
The tax is effectively a surcharge on New York's highest earners, but it actually applies to married couples earning more than $300,000 and singles earning more than $200,000.
It is set to expire New Year's Eve, and, if it is not extended, it will return the highest earners back down to the lower tax rate.
Groups under the "99 New York" banner argue that this amounts to a $5 billion tax break for wealthy New Yorkers at a time when the country is in crisis.
"It is unacceptable to allow a $5 billion dollar tax cut to be enacted on December 31st of this year," said "99 New York" organizer Ron Deutsch.
One percent of New York City taxpayers make nearly half of all the income in the city, added Michael Mulgrew, President of the United Federation of Teachers. He said it's unconscionable the state is considering letting the tax expire, particularly when public services are being decimated across the state.
New York Governor Andrew Cuomo said in Albany that he's for taxing millionaires, but only if it's done nationwide as part of President Obama's jobs package. "Because then it wouldn't put any state, and I'm concerned about this state, at a competitive disadvantage," Cuomo said. He thinks extending the tax only in New York would hurt business and cause the rich to leave the state.
The renewed call for the extension of the Millionaires Tax coincided with the one month anniversary of Occupy Wall Street protests.  Dan Cantor of the Working Families Party said that protests had given them an immense gift. "They have shined a light on the coarse inequality that otherwise categorizes American life and especially New York life." Cantor said.
According to a Quinnipiac University poll, 61 percent of New Yorkers support an extension of the state's millionaires tax, including 55 percent of Republicans. The same poll also found that New York City votes agree with the views of the Wall Street protesters by a nearly 3-to-1 margin.
Democrat Speaker Sheldon Silver tried to extend the tax this spring during budget negotiations. Governor Cuomo was firmly opposed to any extension to the tax.
Arun Venugopal contributed to this report.