Niche Market | Typewriters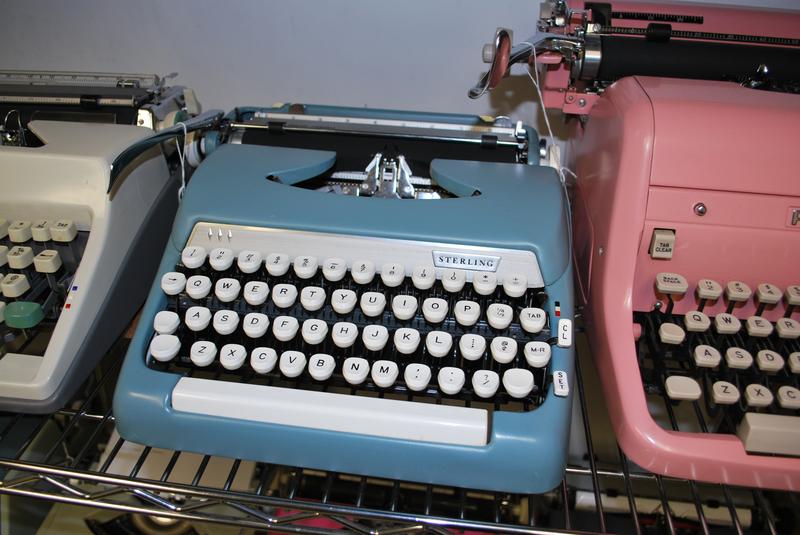 New York is a city of specialists from foodies to academics, laborers to shopkeepers. Every Wednesday, Niche Market takes a peek inside a different specialty store and showcases the city's purists who have made an art out of selling one commodity. Slideshow below.
Gramercy Office Equipment Company
174 5th Avenue #400
New York, NY 10010

In his 52 years of selling and repairing typewriters, Paul Schweitzer has had to adapt to changing technology more than once. In the 1960s, when new IBM Selectrics that applied ink with typeballs instead of type bars hit the market, he learned to fix them. Later, he learned to service laser printers and fax machines to keep the typewriter biz afloat.
Now he's learning to deal with something else entirely: new business.
"It's swinging back around to typewriters," Schweitzer, 72, said. "The younger people are sort of rediscovering an old manual — the Royal, the Underwood, the Olivetti, or a Remington typewriter."
In the mid-2000s, only a quarter of his revenue came from typewriters, but in the last five years, as typewriter shops closed and laser printers were replaced by multi-function machines that could fax, print, and copy, a new, younger customer base emerged. Now 50 percent of his business comes from typewriters, including the five to 10 house calls Schweitzer makes each day — tool bag in hand — to companies from Harlem to the Battery.
"You might see the computers, but there's still occasional typewriters scattered around people's offices," said Schweitzer, who still wears a shirt and tie to work every day. "I go to some of the largest corporations here in the City of New York. Big banks, big insurance companies, publishing houses."
In his two-room office across from the Flatiron Building, Schweitzer works with his son Justin, 43, and one other employee. 
The front room is an all-in-one lobby, showroom and storeroom where 10 to 20 customers drop in each day to browse, drop off machines and talk shop.
"The ribbons I use are kind of growing extinct," said Gregory McGee, a walk-in who needed the part for his Smith-Corona electric typewriter. "These people here are the only people that has the kind of ribbons it uses."
Display cases are filled with portable typewriters — Sterling, Olympia, Remington, Royal and Olivetti models — that sell for $95 to $395. They are blue or pink or black, and all were cleaned and re-calibrated by father and son, including the oldest machine in the room, a 1915 Corona.
The back room, with its fourth-floor windows open to the noise of Fifth Avenue, could be called the heart of the operation.
"This is our workshop," Paul Schweitzer said. "Where we're actually doing the cleanings and oilings of the machines."
Walls of inventory close in around a simple wooden workbench piled with needle nose pliers, screwdrivers, brushes and rags used to calibrate and clean typewriters and their cases.
"Machines could be sitting around for decades," Justin Schweitzer said. "We see machines come in really dirty, really cluttered with a lot of dust and debris." He said some are even filled with cobwebs.
One battered metal filing cabinet is filled with parts for IBM Selectric and wheelwriter typewriters like ribbon plates, tab cords, carriage return cords and screws and washers — parts needed to bring a rusty, old typewriter back to working order.
It's amazing what a chemical bath and new rollers and ribbons can do for a decades-old typewriter that spent years sitting in someone's attic or garage. The Schweitzers believe their attention to detail and customer service is what's kept the business alive all these years.
Justin plans to take over the family business when his father eventually retires.
Interview with Paul Schweitzer of Gramercy Office Equipment Company.
You've been in this space for four and a half years, but you were in the other building for 48 years?
Yes. We spent about 47 years in the Flatiron Building. Of course, my father started this in 1932 and he had a small shop in the Gramercy Park area, and that's where he got the name Gramercy Typewriter Company. Over the last many years, because we've expanded into HP printer, fax machines, we also have the name of Gramercy Office Equipment Company. Fixing the HP printers, I don't want to get a bill from Gramercy Typewriter Company.
Do you like this shop compared to the old one?
I think I've gotten used to this location. I find this to be, maybe, a little bit better than across the street in the Flatiron Building. There in the Flatiron Building, it's a very busy building. With the elevators, there were five elevators, but because there were 20 or 21 floors in the building, you were always waiting for the elevators. It's a busy building. I was up on the eighth floor. I found myself running down eight flights a number of times during the day, just I couldn't wait for the elevators anymore. Here, in this building, I'm on the fourth floor, and the elevator goes a little bit quicker.
How old are some of these typewriters you're doing work on?
A lot of the typewriters are these portable, manual typewriters that we have for some and that people bring in. A great majority are brought in by the younger people, who are sort of rediscovering an old manual — the Royal, the Underwood, the Olivetti, or a Remington typewriter. They bring them to us and they have to be cleaned and washed and completely gone over to put them into tip-top condition, and I'm still doing that. Much to my surprise, a lot of the younger kids still want them.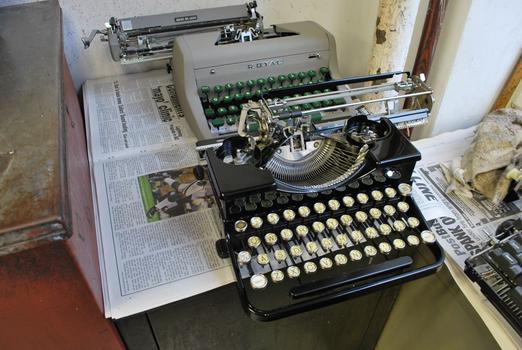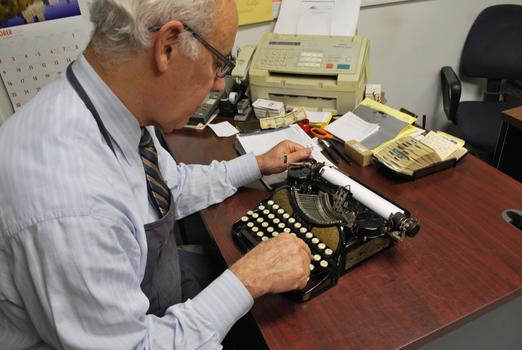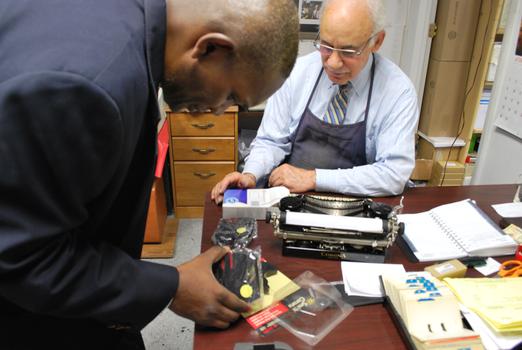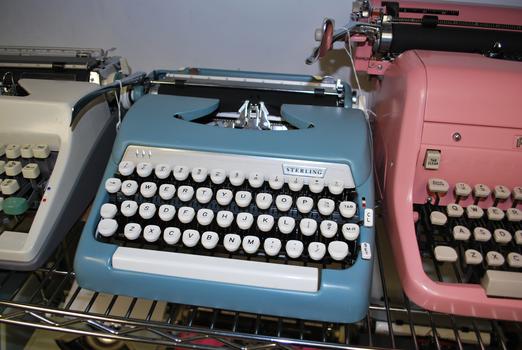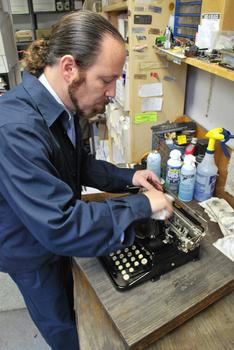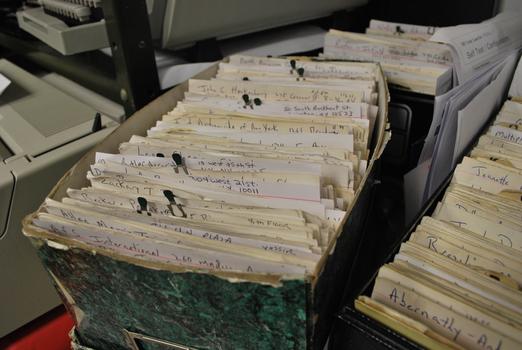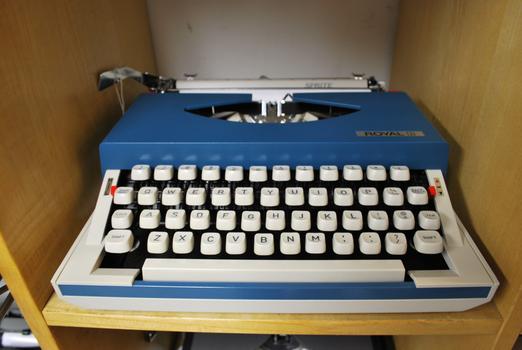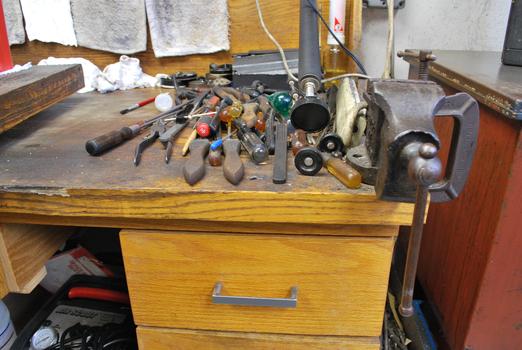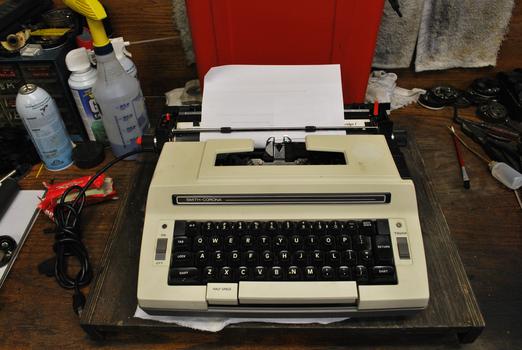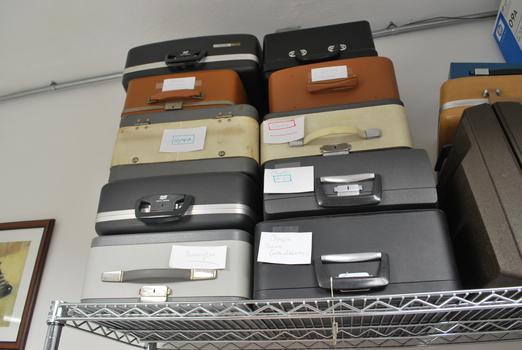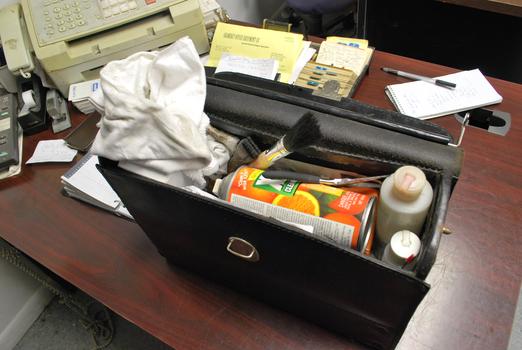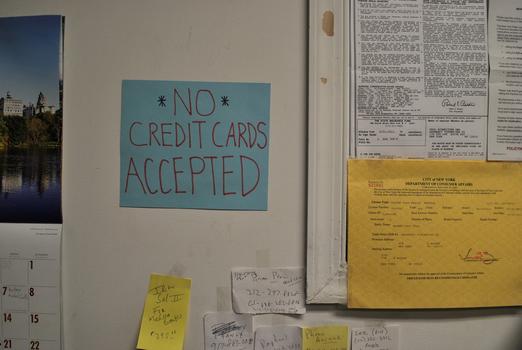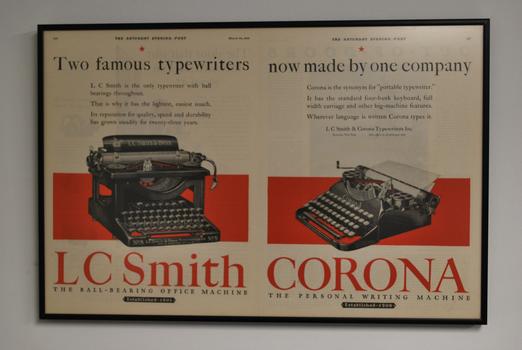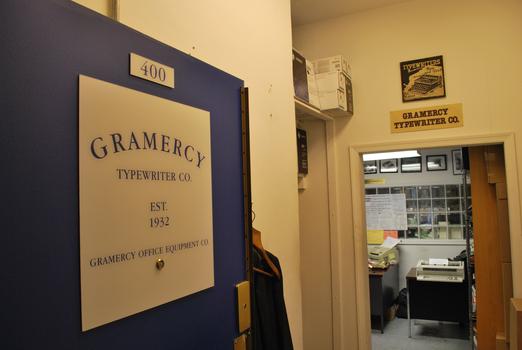 of