Wall Street Protesters Take to the Streets; NYPD Arrest at Least 90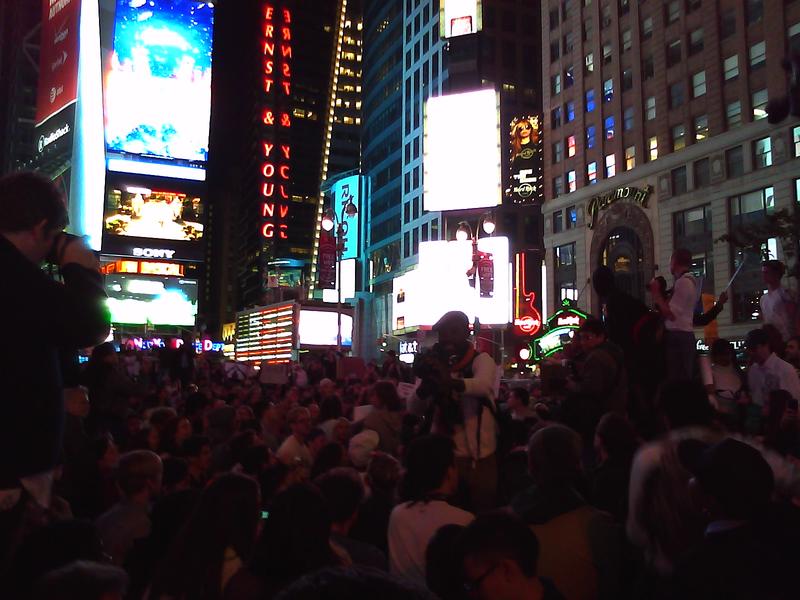 The NYPD said a total of 92 demonstrators were arrested at different locations throughout the city Saturday and early Sunday. Thousands of demonstrators from Occupy Wall Street protested on Saturday against corporate greed throughout the city, including bank branches and Times Square.
Early Sunday morning, 14 demonstrators were arrested in Washington Square Park for remaining in the park past the closing time. According to the NYPD, they had informed all the demonstrators remaining in the park that hey would be arrested if they stayed in the park past the curfew and others did leave. Washington Square Park is a city owned park and is only open from dawn to midnight.
Protester Brendan Burke said the majority of people there were intent on remaining law-abiding, but others were wanted to cause disturbances.
"They're going to jump a barricade here or there, looks like, and they're going to keep this a protest rather than a ballon-carrying sidewalk march," he said.
Several protesters said the group will continue to look for alternative occupation sites in the city in the comping days, even if it means getting arrested.
A large crowd of Occupy Wall Street protesters met in Times Square for an 'Occupation Party' late Saturday afternoon, mingling with the tourists and theatre-goers in the area. Initial estimates put the crowd in the thousands. Despite the large numbers and some arrests, the rally was orderly.
A large police presence was on hand — blue shirts, white shirts, and some riot police officers with helmets that had clear shields over their faces. The NYPD had set up barricades ahead of the rally and orange nets were rolled up and ready for use.
According to Paul Browne, a spokesman for the NYPD, said there were three arrests of hard-core protesters  at 46th and 7th Avenue who tried to take down the barriers. As arrests were made, Browne said, a few protesters began chanting "fight back" but many other protesters did not. According to Browne, two police officers had to go to the hospital after getting injured at the rally.
Around 8 p.m., 42 other people were arrested after the NYPD repeatedly warned a large disorderly group to disperse, according to the NYPD.
The atmosphere in Times Square had been festive, with dancers on stilts and at least a dozen musicians with tubas, trombones and drums. The crowd of protesters stretched down 7th Avenue and Times Square was crammed with protesters chanting, "People united will never be defeated" or "This is what democracy looks like" or "Wall Street, Times Square, occupy everywhere."
Due to the activity in the Times Square, southbound lanes of 7th Avenue between West 57th and West 46th streets were closed to traffic. Crowds began to disperse by 7:30 p.m., but there were still many people in the area.
At the bank, several protesters had entered the bank to close their accounts to protest against the role banks like Citibank played in the country's financial crisis.
Browne added that a small group left the march and were arrested for criminal trespass after they refused the bank manager's request that they leave. Browne said, "With the exception of the one who resisted as he was taken into custody outside after trying to avoid arrest inside, and in contrast to others arrested yesterday, they were compliant and did not resist when they were taken into custody.
(Photo: Police set up barricades in Times Square./Yasmeen Khan for WNYC)
Earlier in the day, demonstrators marched to a Chase bank branch banging drums and carrying signs against corporate greed.
Fifteen people were arrested yesterday in Lower Manhattan on charges ranging from disorderly conduct to assault. Five people were masks were also arrested at 27th and 6th Avenue.
Protests, inspired by Occupy Wall Street, occurred throughout the country and the world. Protests could be found from Baltimore to Denver and Pittsburgh.
Overseas, the protests in Rome turned violent when police fired tear gas and water cannons at some protesters who broke off from the main march and smashed shop or bank windows.
With reporting from Richard Yeh and the Associated Press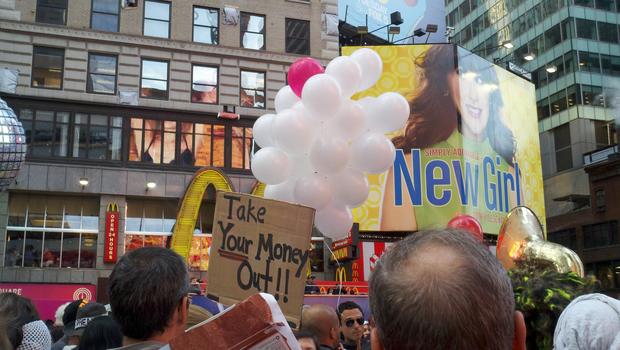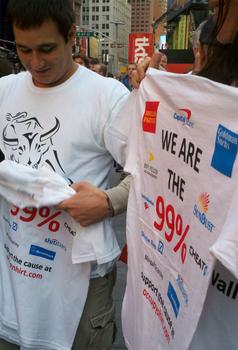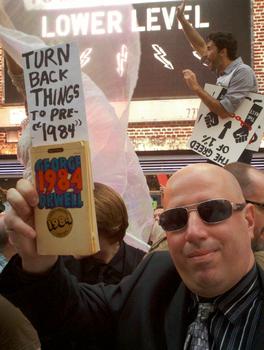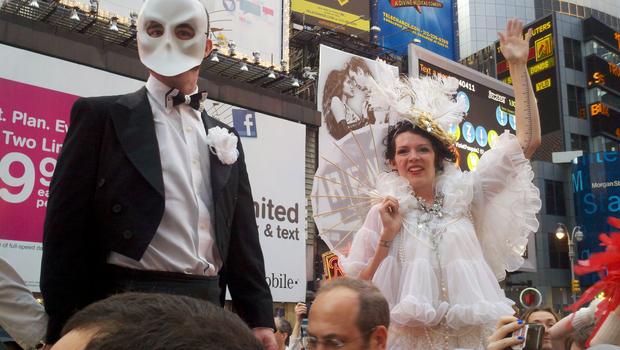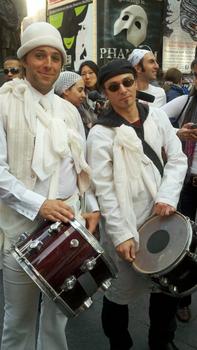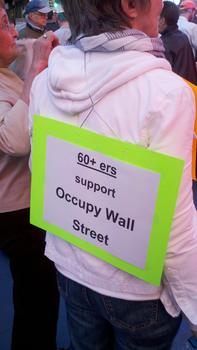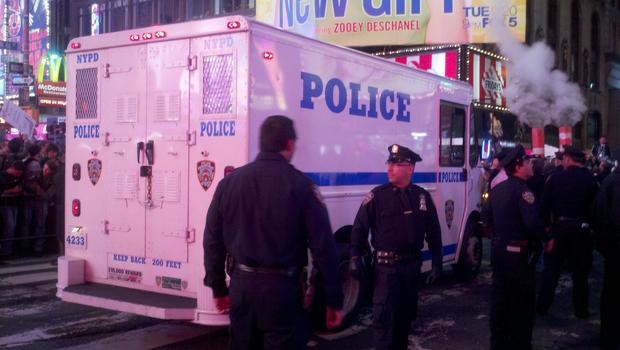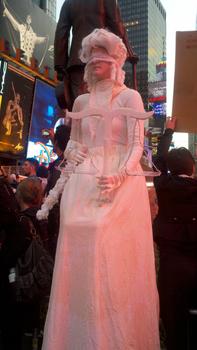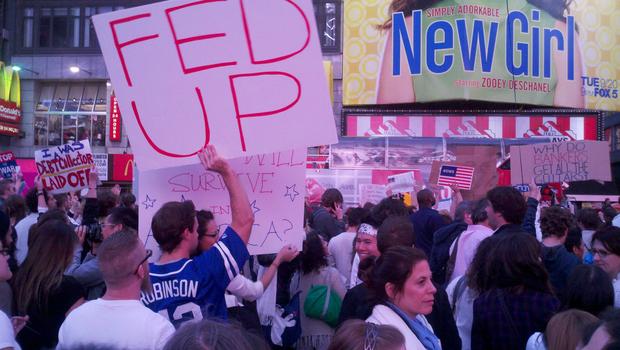 of