New York is a city of specialists from foodies to academics, laborers to shopkeepers. Every Wednesday, Niche Market takes a peek inside a different specialty store and showcases the city's purists who have made an art out of selling one commodity. Slideshow below.

Sukkah Depot of Boro Park
1359 39th St.
Brooklyn, NY 11218
Some go to Home Depot, others go to Sukkah Depot.
Wednesday night marks the beginning of Sukkot, the week-long Jewish holiday that commemorates the biblical story of the Israelites wandering in the desert after the exodus from Egypt. To celebrate the holiday, Jews are commanded to live — including eating and sleeping — in a temporary shelter, called a sukkah.
About 12 percent of New Yorkers claim to be Jewish or of Jewish descent, so it's a week where quite a few temporary structures pop up on balconies, porches and yards in the city — sometimes with controversy. It's also the pop-up month for Sukkah Depot™ stores in dense Jewish neighborhoods. These stores, operated by a large company that claims to have sold 500,000 of their patented Sukkahs worldwide, appear solely for the month between Rosh Hashanah, the Jewish New Year, and Sukkot.
Like many old-testament tracts, design specifications for building a sukkah are rigorous, to say the least. They must have at least two complete walls and a partial third wall; the minimum area must be 7 x 7 handbreadths (a handbreadth is 3.5 inches); the roof, called a s'chach, must be made out of natural materials that are unconnected to the ground (trees canopies are not kosher!); the s'chach cannot touch metal and though the sukkah must provide more shade than sun, stars need to be visible.
If you're DIY inclined and enjoy a challenge, any hardware store is sufficient for sukkah building materials, and that's certainly the cheapest route for urbanites who cannot harvest branches. But for those who fumble with nails and screws, Sukkah Depot's 21st century options are a relief: ready-made, certifiably kosher, 20-minute assembly, waterproof sukkahs. Varieties include the "Classic," the "Royal," the "Easy-Panel" and the "Carry-On." The company catalog explains the shop's mentality: "There has never been a better way to set up your sukkah without breaking a sweat!"
"It's very simple, you don't need any tools, or screws or hammers," explained Moshe Klein, a salesman at the Boro Park location. The sukkahs have hooks for hats, ledges for books, decorative panels that fix exactly into the metal frame and extra-kosher rope to ensure the walls don't fluctuate beyond the biblical definition of a sukkah wall.
Sukkah Depot rents space in warehouses, book stores and houseware suppliers during the Jewish high-holiday season, but its only permanent location is in a warehouse in what's known as the sukkah district: 39th street between 13th and 14th avenues, in Boro Park, Brooklyn. It's a block normally dominated by a huge kosher supermarket, but during the Jewish high-holiday season a temporary sukkah industry transforms it into a traffic-clogged madhouse where entrepreneurs hawk sukkah wares. After shopping at Sukkah Depot or its competitor, Leiter's, Jewish customers often go next door for folding furniture and plastic fruit decorations at Wilhelm's, or across the street for special fruit and branches for blessings at "Esrog 4 U."
Sukkah Depot stores — where you'll just as likely hear negotiations in Yiddish as English — sometimes stay open until 3 a.m. during the Sukkot rush.
Last week, Sam Adler, a retired city inspector, purchased a new "easy-panel" sukkah, a lego-like expandable model made of wooden panels that snap together. Small versions start at $500, huge 20x30 panel sukkahs can cost a few thousand dollars.  Adler, a great-grandfather, came to the depot because his canvas sukkah needed to be replaced. "The one that I had got farschimlt, you know what that means? Moldy. It got moldy," he explained. He needed the sukkah to fit at least 10 people, and 23-year-old Yanky Friedman was drawing specs for it. Friedman, a temporary worker who studies Jewish texts the rest of the year, said most customers are worried about durability. "If hurricane Irene comes, will it fly away? And the answer is yes, probably, it can collapse, but otherwise than that it's a pretty sturdy," he said.
(Photo: Workers "schlepping" a sukkah at Sukkah Depot. Credits: Sarah Kate Kramer)
Interview with Moshe Klein, a salesman at Sukkah Depot.
How are Sukkah Depot's sukkahs different from other sukkahs? 
The difference is that our sukkah, the whole point of it, is that our sukkahs are very easy to assemble and they're very easy to take down, to store, and they're treated. So basically if you go to Home Depot to pick up wood, which you'll see a lot of people do, it takes them many hours to build it, you have to use nails and screws, also it's a lot easier to get ruined if it rains, and over here it rains a lot. Our sukkahs, they're treated against weather, so it's a long-lasting sukkah. We give a basic warranty on the fabric-lock sukkahs of three years and an extended 10-year warranty to anything that happens to the metal, if it breaks, if it rusts, if it cracks, if it bends. So, basically you know when you buy a sukkah that you're set for many, many years and people expand their sukkahs, after 10 years they come and they want to expand it because their family got larger.
What are the different varieties of the sukkahs you sell at Sukkah Depot?
We have two main kinds of sukkah. One which is made out of fabric and metal poles, you connect the poles as a frame and then you wrap the fabric around it, which is very easy to assemble, it's very easy because it comes in boxes, and the roof on top you throw up as a mat. That's one kind of sukkah, it's called an "easy-lock" sukkah, it's two heights, one is the "Classic," it's seven feet high and one is the "Royal" which is seven and a half feet high. The other kind is panels. We have panels made out of MDF wood, which is pressed wood, and a metal, aluminum frame which is very easy to connect, they just click one to another, that you can basically custom make any size you want...Any panel could be either a corner or the addition of a wall. It's a lot more impressive, because you walk in and it's wood, it's a lot more stable, and the roof is the same as the easy-lock sukkah.
Where are the sukkahs manufactured?
I once heard a saying God created heaven and earth and everything else is Made in China.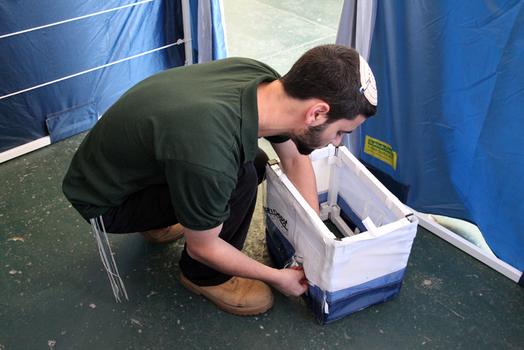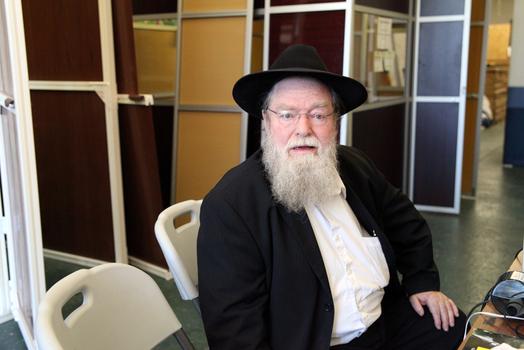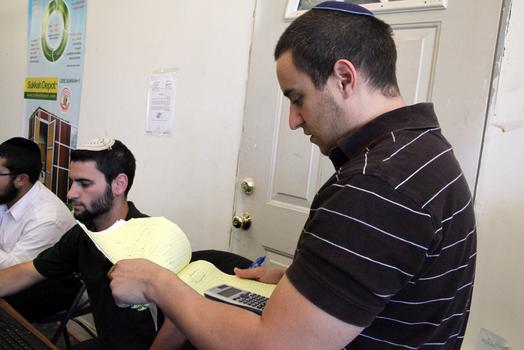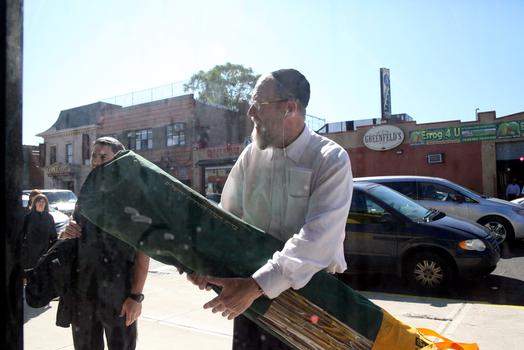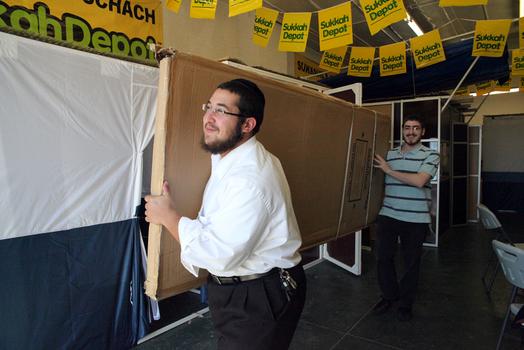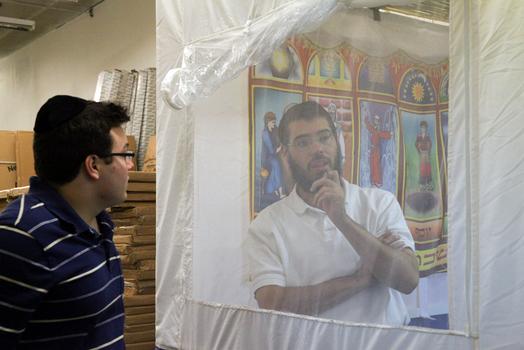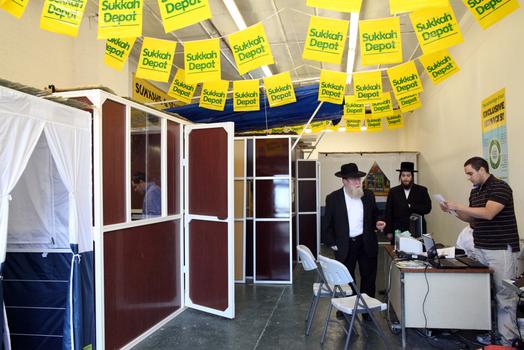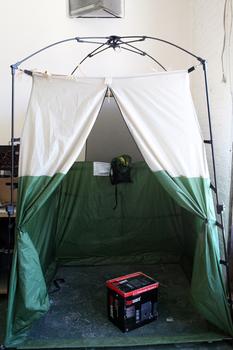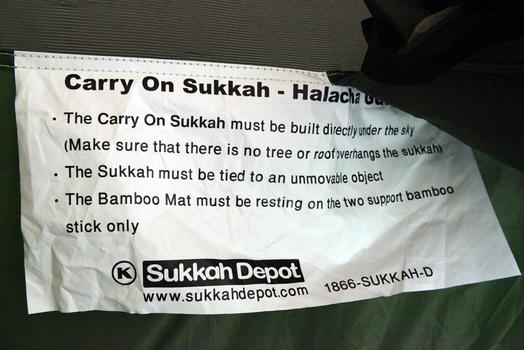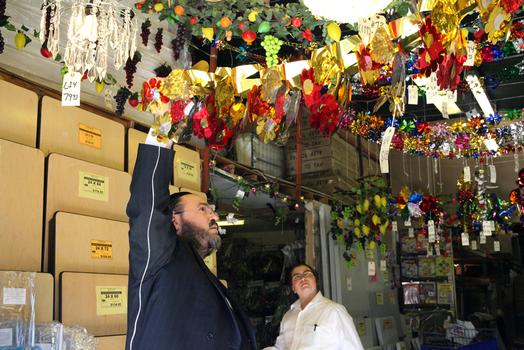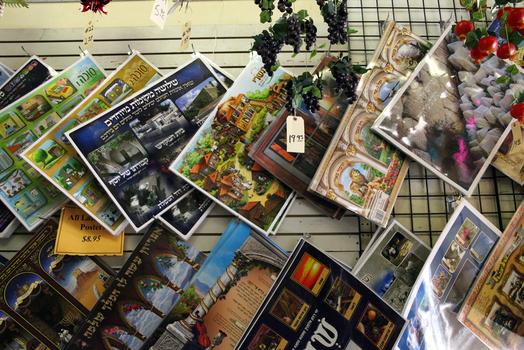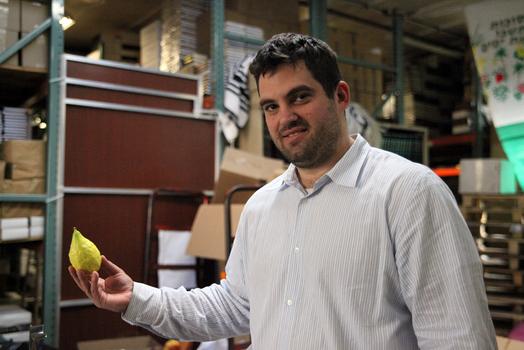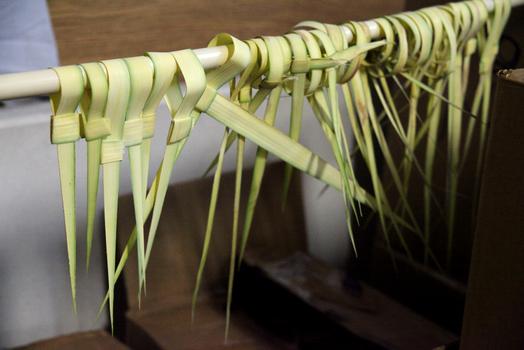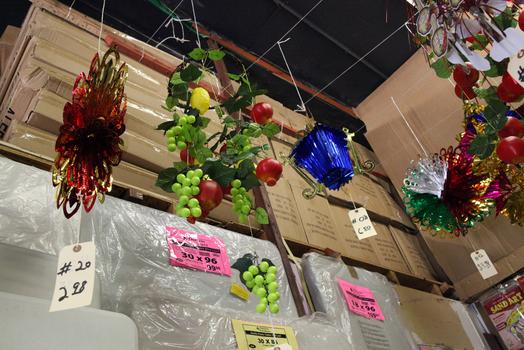 of