Purple Pies and Other Adventures in Baking Sweet Potatoes
When Farmer Lee Jones comes to visit Last Chance Foods, he always brings half his farm's yield with him. As our topic this week was sweet potatoes, I wonder if he had to pay a heavy bag fee at the airport.
On his Web site, Jones offers three types of sweet potatoes (Beauregard, Creamsickle, Diane) and a kind of yam (White) for sale. On the table of our studio booth, he had at least five varieties, including a beautiful purple kind that, when he snapped it in two, had sparkly little light green flecks inside. 
Most of the sweet potatoes on the table were the size of my forearm. My forehand forearm. So, yeah, they were big.
What to do with this haul? I decided to bake.
I made two pies. For the first one, I used an orange sweet potato variety called "Diane." For the second pie, I used a purple variety Farmer Lee had simply labeled "Purple." 
To prepare for the first pie, I roasted the Diane sweet potatoes in the oven. It took about an hour and a half for those monsters to cook through. They were a little dry so I added about a quarter cup of canned pumpkin to it. It cooked up into a creamy, jiggly texture. I don't like pumpkin pie -- it tastes a little bit too much like veggies to me -- but this one benefited from the addition of Diane.
Not wanting to go through another lengthy baking process on such a sunny, warm weekend, I boiled the Purple sweet potatoes. The water turned dark indigo. I put the potatoes through a ricer. They smelled pleasant, like wood smoke, and they had a savory, mushroom-y taste that seemed wrong for a pie.  
I forged ahead, making this one with eggs and a little almond milk. I didn't like the dull purple color of this pie -- too weird -- so I hid it underneath a crumb topping of butter, flour and raw cane sugar. The custard also cooked up in such a way that it looked chunky, not smooth and creamy. NOT my best effort.
I'll try again. I've got plenty of sweet potatoes left! And maybe I'll try this Kyoto-style "sui-to poteto," steamed, flavored with butter and cinnamon, and formed into little round balls. So kawaii!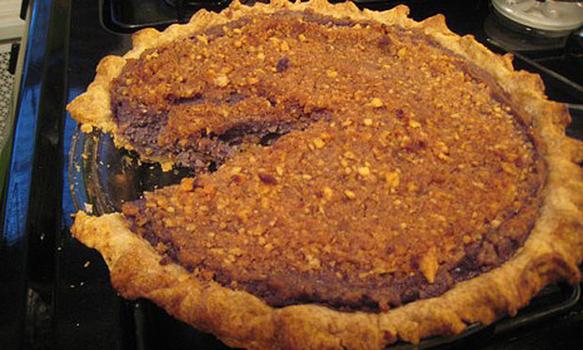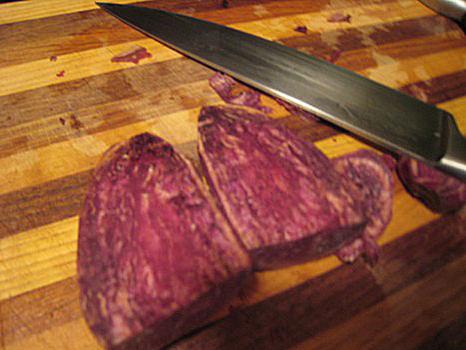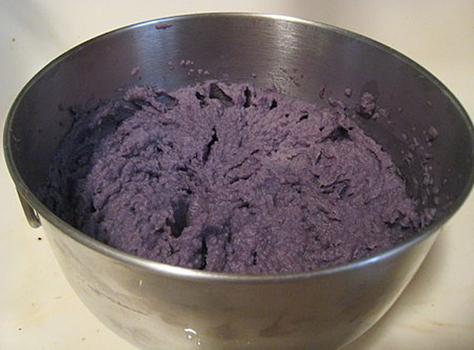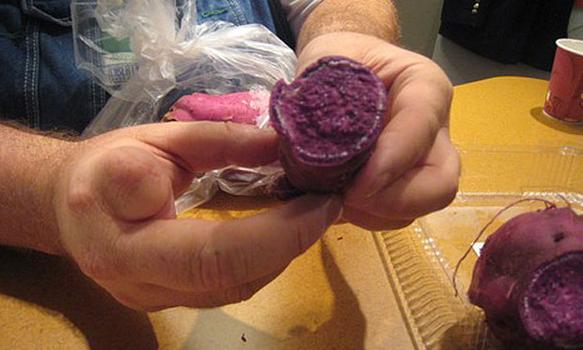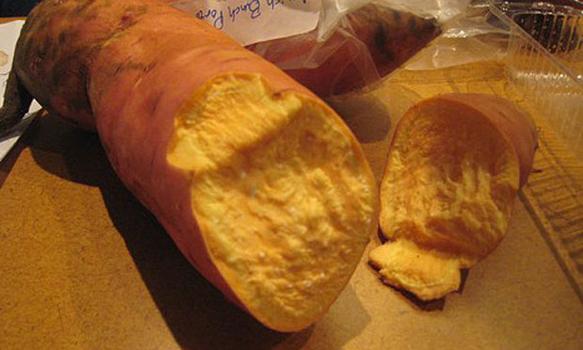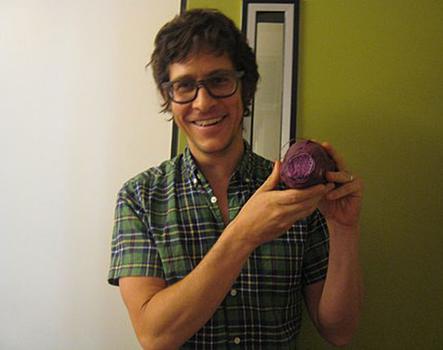 of