Inside Protest Headquarters: A Look at Life in Zuccotti Park
On Thursday afternoon, Larry Left was giving his 13th haircut of the day. A few feet away, peanut butter and jelly sandwiches, carrots and nuts were laid out on top of some clear plastic that was covering one of the park's marble benches. And, in the center of Zuccotti Park, Quasy Cayasso was trying resolve some technical difficulties so that people could continue to watch the Occupy Wall Street protests online.
With help from supporters in the city and the rest of the country, Occupy Wall Street protesters have turned Zuccotti Park in Lower Manhattan into their headquarters and their home — a place where they organize, as well as meet more basic needs.
"There hasn't been shortage of food since I've been here," said Saman Waquad, 28, who's been volunteering in the food area for a couple of days.  She was packing food that had just been delivered from a nearby UPS office into plastic containers. "We support you & are proud of your effort!!!" read the message that accompanied bottles of jam, crackers and cookies. 
It was one of the many packages that people from around the country have been sending, Waquad and other protesters said. Food finds its way to Zuccotti Park in other ways as well: people have been ordering it on the OWS website from nearby restaurants and pizza places, and some New Yorkers have been bringing cooked meals. Those living close to the park have also offered their kitchens for cooks who came to the park to offer their skills. 
Not that cooks are the only ones who have come to help out.
Left, 27, a barber, had been working on protesters' hairstyles for a few days, he said.

"I'm sure I'm gonna like it," said 26-year-old Natalie Cobrapuke as he was getting a haircut, relinquishing the need to look at a mirror.

In the center of the park, Cayasso, 20, a web designer, had taken time off work to work on live streaming and was fixing a slingbox.

Another volunteer, Steve Smith, 24, who had received first responders training in his previous job, sat in the medic area, with a taped red cross on the front of his shirt and on his sleeve. In that part of the park, it was also possible to get help from doctors, licensed medical therapists, acupuncturists and herbalists.

Next to the medic area, a table was designated for more leisurely needs: tobacco was being rolled up for anyone's pleasure. And if people wanted more  intellectual stimulation, on the opposite side of the park, near the entrance, books could be borrowed from "The People's Library."

Protesters had mostly solicited donations of books on social change, said Coby Skolnick, 30, who's been in Zuccotti Park since day two of the protests. Those gifts, like food, clothes and people's time and skills have been one of the greatest things about this protest, he added, because they demonstrated the wide support it has garnered.

"That has been of the most beautiful things," Skolnick said.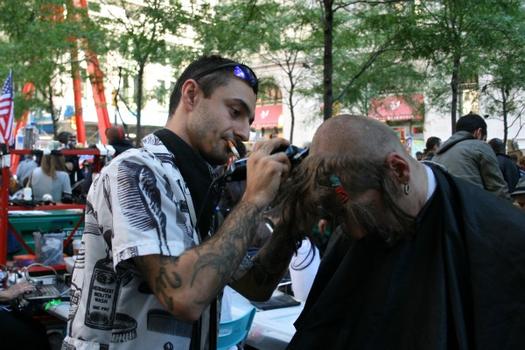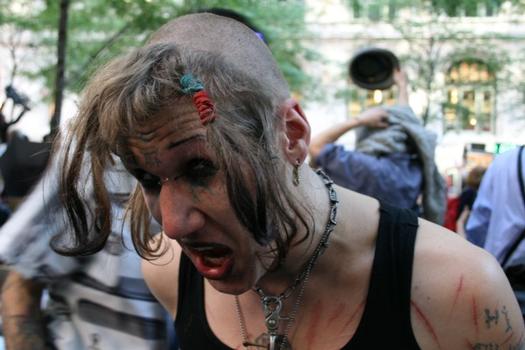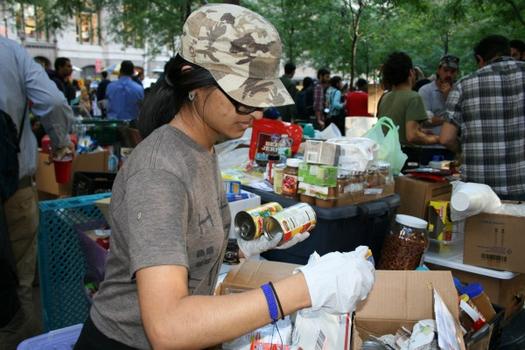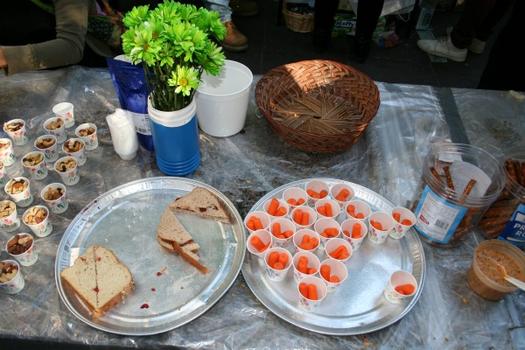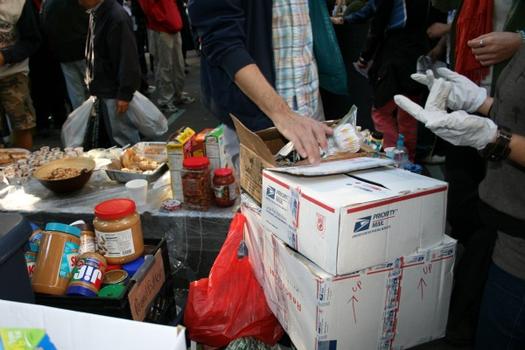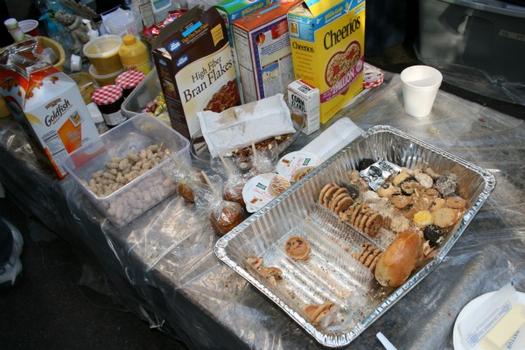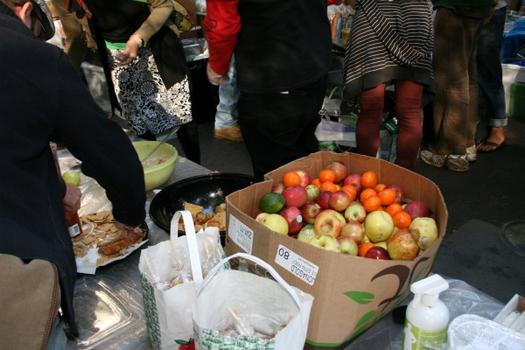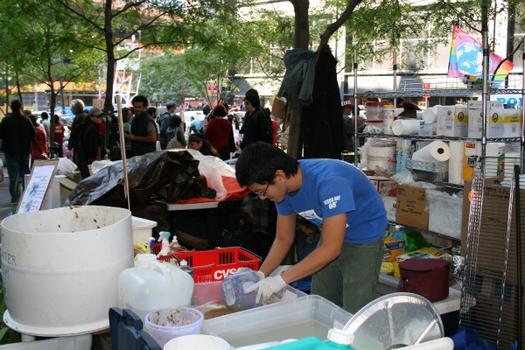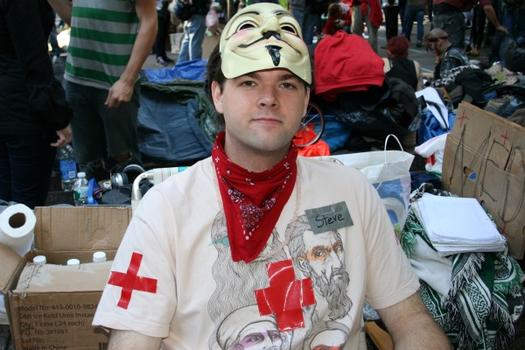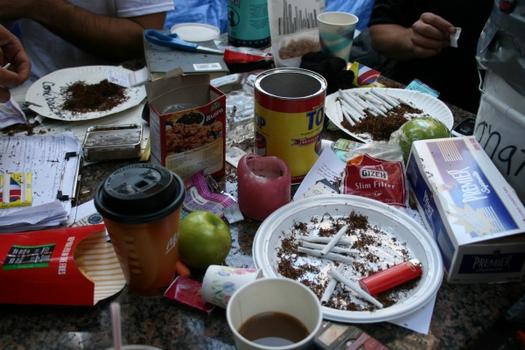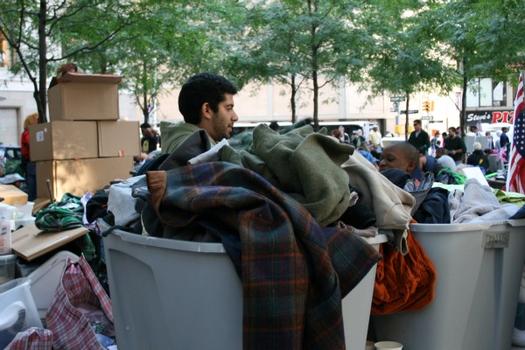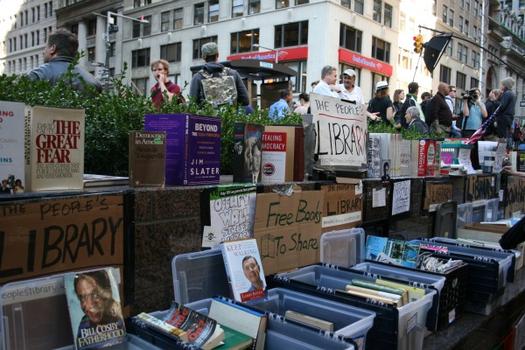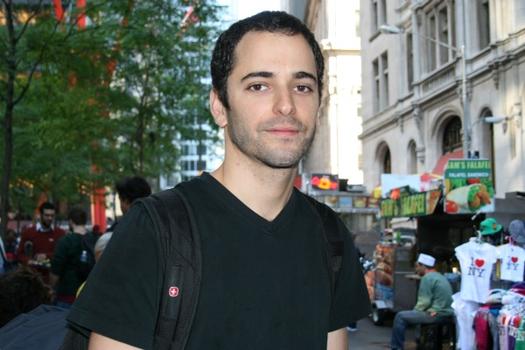 of