From Unions to Anarchists, Wall Street Protests Draw Diverse Support
The Wall Street protests have recent endorsements from interested factions — large and small — making for some strange bedfellows in Zuccotti Park, the protesters' defacto headquarters, as businessmen, union members and anarchists are among the otherwise unlikely to rub elbows.
Major city unions – such as DC 37, 32 BJ, 1199 SEIU — with a background in protesting have recently leant their support to the activists. Many joined the protest Wednesday.
And, lesser known groups, such as the Granny Peace Brigade, visible from their yellow buttons, and white hair, have leant time too.

Others, not household names, roll off the tongue of Occupy Wall Street regulars, like Food Not Bombs and Code Pink, which have also encouraged members to join.

But the denizens of Zuccotti Park are hard to classify and define, which many says is a good thing.

"One rejoices that this movement is like mercury — if you think you can grasp it, it's going to fractionate on all different grounds," said Robert Reiss, a 55-year-old author on stage magic and women's art history. "And that's a testimony to its strength."


On a recent afternoon, David Intrator, 55, stood out from the crowd with his blue business suit and cardboard placard emblazoned with the maroon-colored Harvard seal.

He's a self-described "corporate person," and says he's a graduate of the class of 1978. Intrator is part of a small, loosely organized group called The Harvard Men for Economic Justice.

He said Harvard has not officially sanctioned his group and there are only five members now.

"I'm here to remind people, no matter who you are, if you feel the fundamental fairness of America, the thing that we love, is that things are awry, the ship is not quite right you can contribute and you can really make a difference," Intrator said.

At a nearby table sat two personal coaches, recent graduates of Leadership That Works, a coaching school.


"I came down here, I saw a lot of people milling about seeing something they wanted to be a part of, not quite knowing how they should jump in there and do it," said Michael Badger,  38, a trim personal coach who has been attending marches and offers advice to those in the park.

"So this table is a way of helping them find what they want to do, and then say 'you're the person to do it. Do it.' "

Before Badger ended up in Zuccotti Park he was coaching recently divorced women. He has not been sanctioned by his school, but nine members of his class have agreed to come down to coach protesters.

Terrance Freer, 46, is a member of CWA and works as a cable slicer for Verizon. He joined the protesters at the march on Wednesday. "We believe in this cause." Freer participated in the Verizon strikes this summer. "No matter how you slice it, it affects all of us. We just went through a strike, support means everything."

"As long as ther're here, we'll be right there along with them," said Angela Doyle, 62 a member of 1199 SEIU, also at Wednesday's march. "We're not looking to co-opt the structure, amorphous as it is. These young people will succeed, they have energy and stamina."

Other groups, like Circle A Anarchy, who declined to speak to WNYC, were organizing dozens of members at Zuccotti Park for an off-site meeting, and confirmed that they support Occupy Wall Street.

About 30 small town activists from an Allentown, Penn., group called Rise Up have been making Zuccotti Park home for about a week and a half.

Ellis Roberts, 25, arrived with a backpack of clothes, which has since been stolen. Previously he has protested against school budget cuts, eminent domain and Mumia Abu-Jamal. He said he came to the protest hoping to learn something about organizing.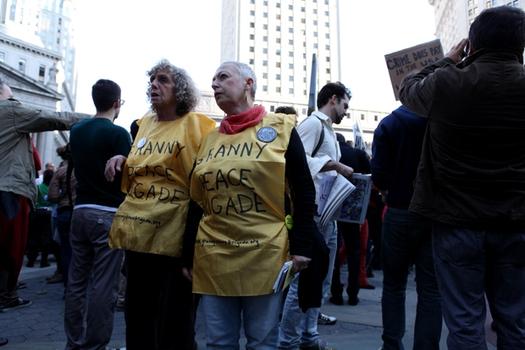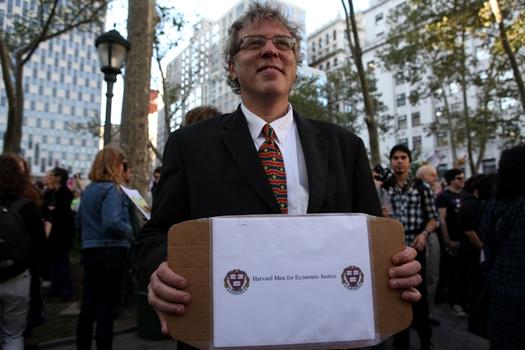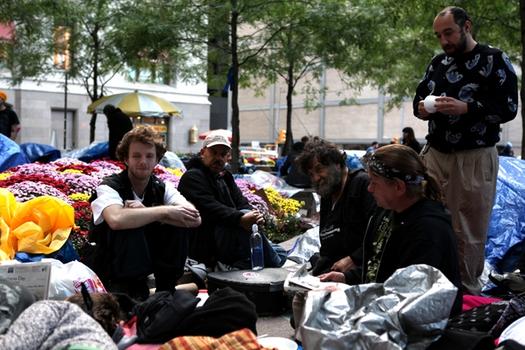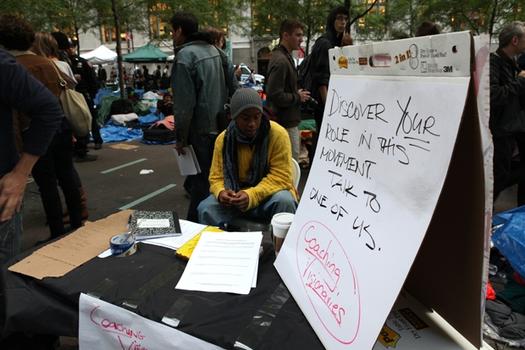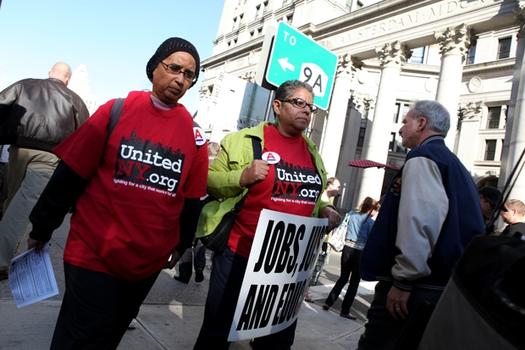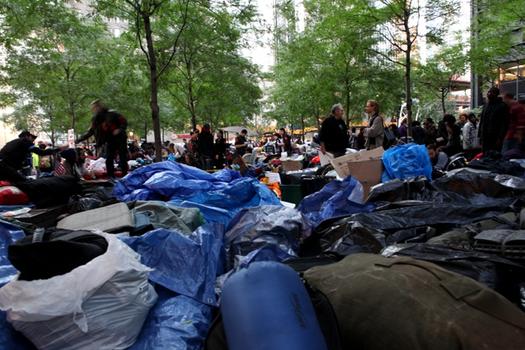 of