Wall Street Warily Eyes the Protests on Its Doorstep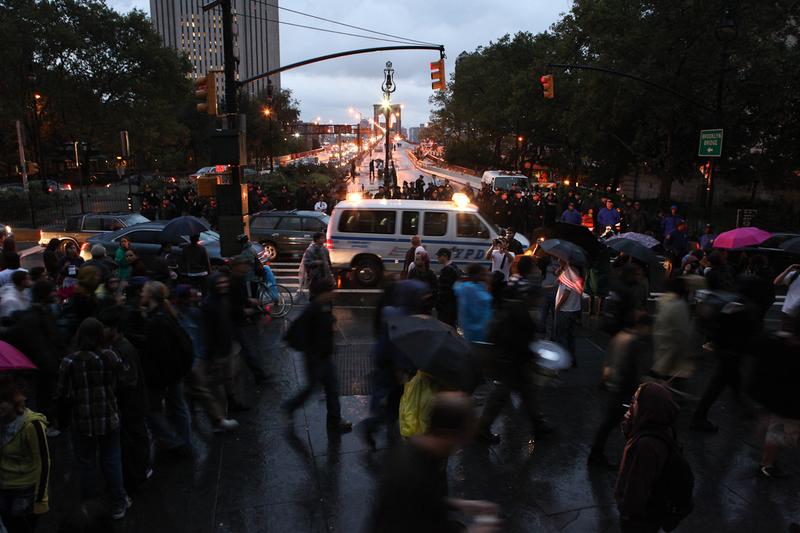 The Occupy Wall Street demonstrations have riveted the nation's attention, and are now spreading to other cities, but it's unclear whether the protesters' message is actually reaching financial institutions and the people who work there.
Walk the perimeter of Zuccotti Park and you'll see people beating drums and raising banners, and tourists taking photos — but precious few men and women in suits.
Two blocks down, and one block over on Wall Street, a pair of stock brokers leaned against a metal police barrier, enjoying a smoke at the end of the trading day. Despite a heavy police presence, there were no protesters here. Broker Rich Schaefer said he's avoided the demonstrations.
"I don't know what platform they're on and there's other ways to go about it. You're not gonna solve the crisis in a day," Schaefer said.
But Schaefer's colleague, Sperry Young sees the protests differently. He said rage is perfectly understandable, if you're not a banker.
"You can't pay your bills, your credit cards are mounting up…If you started your career at 22, at 32 you're done? I understand that they're upset," Young said.
The protests are now in their third week. And banks have had little to say.
WNYC reached out to the major financial institutions in New York. Only Bank of America would comment: "This protest, and others like it, reinforce the urgency of sharing the important work we do and its significant impact at the local level.  America needs strong banks for a strong economy, and we are working to help get the economy moving again."
Many protesters would surely find lots to quibble with there.
But Kathy Wylde, president of the business group Partnership for New York City, said banks and protesters really do have some things in common. Wylde believes the people making signs in Zuccotti Park and the high earners in the office towers above it are all frustrated with gridlock in Washington and the stalled economic recovery.
While instability in Greece may be the most immediate concern to some CEO's, Wylde has spoken with CEO's whose own adult children can't find work.
"You know, recent college graduates who are out of work, [whose parents] are saying, I don't know where my kids are gonna get a job."
2wall_st
Below is a map showing the locations of major financial institutions in relation to the protesters at Zuccotti Park.