He's Out: What Christie's Decision Not to Run Means for the Rest of the Pack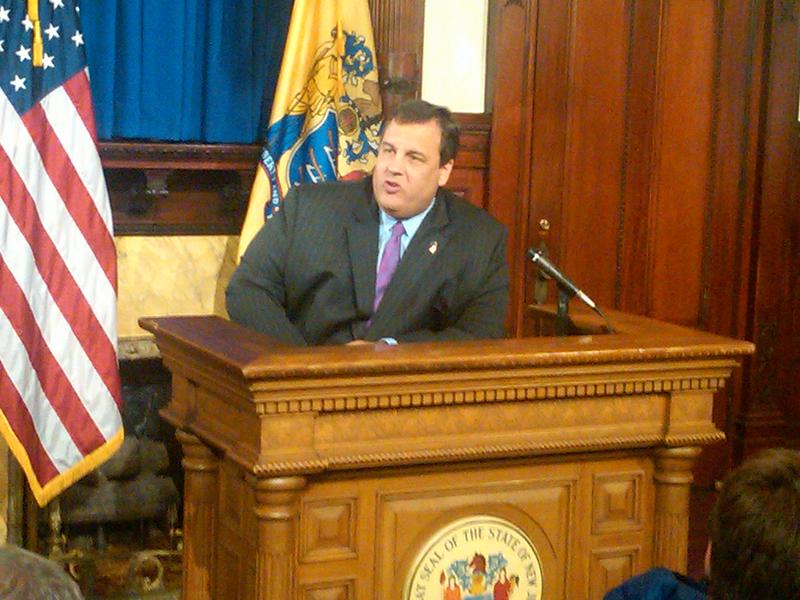 Standing alone at a podium in his office in Trenton, Gov. Chris Christie said that he's not running for president in 2012, once and for all. 
"Now is not my time," Christie said. "I know not everyone agrees with my decision, but my loyalty to this state is what it is." Christie said that his commitment to New Jersey was what overrode the draw toward a presidential bid.
The announcement capped of dramatic pleas for him to enter the race, starting with his extremely warm reception after a speech at the Reagan library speech last week, and grew to include everyone from Bill Kristol, Joe Scarborough, high-dollar GOP donors, and even a farmer from Nebraska making a direct appeal to Gov. Christie's kids, via FedEx. This latest round of speculation started, remember, when the Reagan library crowd rose to its feet to applaud a woman's impassioned plea that "we can't wait another four years."
"We need you," she pleaded. "Your country needs you to run for president." 
It wasn't just northeast Republicans who were pulling for Christie's entry into the race. A Quinnipiac poll found that Christie led Obama by three points, and led the Republican pack at 17 percent alongside Mitt Romney.
 Conservative activists also saw an opportunity with a Christie challenge.
 "I thought he would've broken up the Romney vote," said Ryan Rhodes, the leader of the Iowa Tea Party, who backs Michele Bachmann and sees Romney benefitting from weak competitors for the establishment mantle. "I think there's plenty of conservative candidates breaking through, but the thing is we have more."
The prospect of a Christie campaign sound good to Republican voters nationwide. Just as Christie was preparing to drop out of the race, Quinnipiac released a poll  found that Christie led Obama by three points, and led the Republican pack at 17 percent alongside Mitt Romney.
That out-and-out begging from the Republican establishment had some Republican strategists having to defend the remaining field. "I think Republicans want to get this thing right, and they want to have a big robust contest. And the more robust the better," GOP strategist Karl Rove told Sean Hannity last week. 
And like the Palin and Trump fever before Christie, most strategist expect this week-long fling to burn out quickly without much collateral damage to the field.
"It really won't matter that much frankly in a month from now," said Susan del Percio, a Republican strategist in New York who is not currently working on any campaigns.
Christie dominated political headlines during the last week of the quarterly fundraising period when candidates are looking to impress with their summer hauls, but del Percio said Christie backers were likely not ready to give to other candidates either way.
"The people who are off to the side are not going to all of a sudden pile in money, and they weren't about to pour in money before the filing either," she said. There's money to be spent on Congressional and Senate elections in the meantime, and she expects they'll give once the best investments are clearer in about a month or two.
The big loser from Christie's dalliance is most likely Rick Perry, for whom it just added to a difficult stretch of debate flubs, pushback from the base on immigration policy, and finally, that former name of the land where his family hunts.
Breathless speculation about Chris Christie crowded out some of that bad press, but New York Republican strategist Bill O'Reilly, but it also allowed it to sink in.
"While that was all going on, Chris Christie became the national news story, and it took away the air time that Perry otherwise could've had to repair that damage."
As the calendar gets closer, this may have been the last shot for an outsider to put a serious dent in Romney's frontrunner status.
"It's the old steady wins the race. Mitt Romney's been raising money all along. He's managed to avoid making any big mistakes. So I think Mitt Romney benefits most from Christie not jumping into this."
In a Washington Post poll out today, 23 percent of Republican-leaning candidates favor Mitt Romney with Chris Christie out of the field. But don't forget Herman Cain.
He tied Rick Perry for second in that poll, at 16 percent each. And Cain led the pack when voters were asked who they liked more as they learned more about candidates. 
So as the press moves from the prospect of an outside challenge to Romney, Cain may well try to cast himself as the unlikely Romney foil who's been there all along.