High Price Puts Milk Out of Reach for Low Income New Yorkers
Milk prices throughout the Northeast are 19 percent higher than two years ago, according to data from the U.S. Bureau of Labor Statistics. In New York City, the dairy industry says the average price of a gallon of milk is $4.
The price is out of reach for many low income New Yorkers.

On a recent rainy Thursday, a few dozen people stood in line holding umbrellas waiting for two quarts of free low fat milk given out weekly at the corner of 127th Street and Frederick Douglas Boulevard. According to Harlem resident Robert Matthews, a regular at the milk line, the line is typically three times as long. "Believe me, there's like over a hundred people here every time they come."

Matthews, an out of work elevator mechanic, said the milk was not for him, but for his grandkids in the Bronx. "My son is out of work. My son-in-law is out work," Matthews said. "It's only their wives that are really doing it…things are hard. So I get milk for them every week to take to the Bronx to help them out."
The program, Milk from the Heart, makes weekly deliveries in Harlem and 12 other locations in Manhattan and the Bronx. 
The program is backed by private donors and was originally financed by Leonard and Allison Stern. It is part of the non-profit Homes for the Homeless.
Project Coordinator Jonah Nelson said the purpose of the program was to bring low fat milk to low income children.  

Since its launch in February, Nelson says demand has grown so much the organization can't keep up with demand.  "We wanted to pilot the program, just to see if it would work — if we could go to 3 or 4 locations and hand out a few hundred quarts of milk." Nelson said demand for the milk exploded. "We hand out about 14,000 quarts a month."

Josephina Lopez comes to the Harlem site each week to pick up milk. The mother of two says she's employed as a home attendant and her husband cleans houses, but they still struggle to make ends meet. The milk they get supplements what Lopez already buys at the supermarket where she pays $4.29 a gallon. "That's expensive," she said in Spanish.

A block and a half away at Steve's Deli and Fruit, Manager Malik Alrubay says he buys milk from a supplier in Queens for $3.12 a gallon and sells it for $3.69. "So I'm not making a lot of profit," Alrubay said. "I sell it all because it's a good price…it moves fast."
Prices vary from deli to deli and some charge as much as $4.29.  The state has rules against price gouging and considers $0.58 a reasonable profit margin for retailers. But the Department of Agriculture and Markets has a lot of discretion when enforcing these rules and considers a variety of factors including a store's overhead costs when determining whether a price is excessive.

Another factor in the rising price of milk is how much farmers get paid for it. The federal government sets the price, and exports factor in. Since the dollar is weak right now, demand from overseas is high, and the price being paid to dairy farmers — $2 a gallon —  is at a record high.  

But milk prices fluctuate dramatically. One New York dairy farmer, Tunis Sweetman, says he's still trying to recover from 2009, when exports dropped dramatically along with the price of milk. "By mid 2010 the milk prices did start to recover. However, as the milk price started to recover, the grain prices began an upward spike and the grain prices that we're paying to feed our cows to produce the milk have gone to record levels," said Sweetman whose dairy farm is in Orange County just over an hour from New York City.  

At the milk line on 127th Street, no one was discussing who is to blame for the price of milk.  Instead, people waited patiently in the rain to collect their two quarts.  Some with large families said the milk would be gone in a day. Others were hoping to make it last until next week when the van would return.

It took about 45 minutes to empty the milk van. And workers said, as usual, the milk ran out before the line did.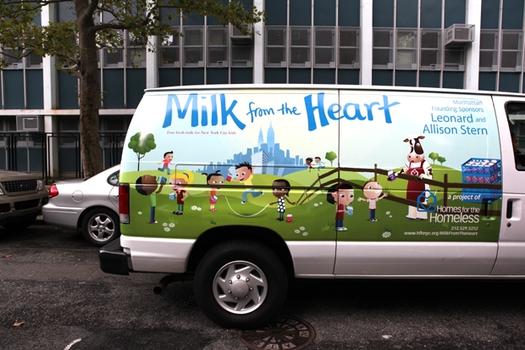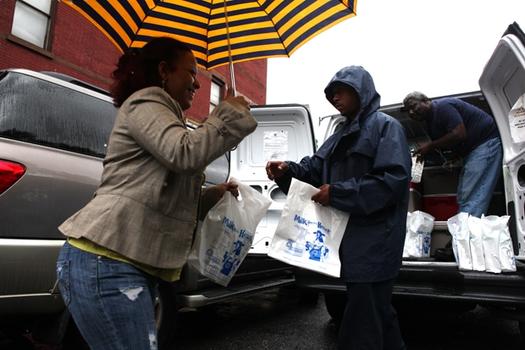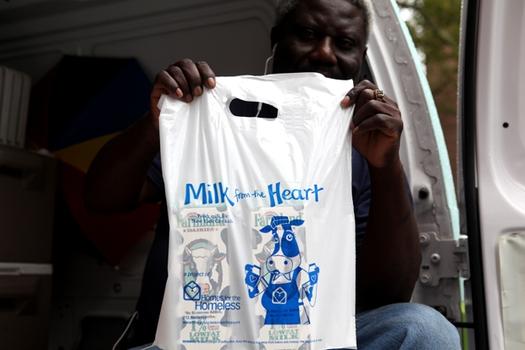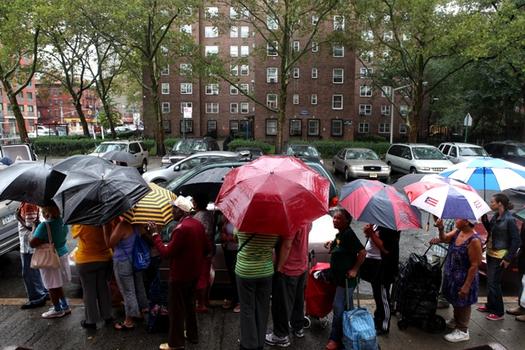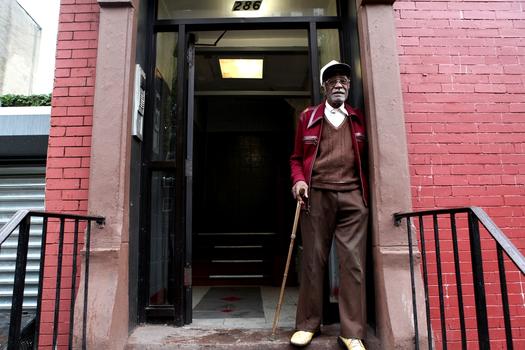 of