Walnut Sauce: Fall's Answer to Pesto
A visit to the Italian imported food emporium, Eataly, is disorienting only for the sheer, 5,000 square-foot size of the shopping hall. Otherwise, it's filled with a lot of familiar products. Cookies. Candies. Canned and fresh fish. Pasta. Soda. And cappuccino and gelato, which are now thoroughly familiar to American palates.
And then my gaze fell upon a little jar of walnut sauce. 
Walnut sauce? I had to try it, even if the little 6.3 ounce jar was going to set me back about $9. 
I'm glad I did. It's delicious, and I want to make my own version next.
For dinner last night, I boiled some penne made with kamut, which I also got at Eataly. (I'm still avoiding refined white flour, and kamut, though not gluten-free, is a great, hearty alternative.)
I made my staple cheap-and-easy pasta sauce: onions sauteed in olive oil, except this time, in the spirit of the walnut sauce, I sauteed my chopped yellow onion in walnut oil. I drained the cooked penne, saving a little bit of the pasta water, and put it in a bowl with the sauteed onions. Then I added a generous dollop or two or three of the walnut sauce, a tablespoon of the pasta water, to thin it a bit, and stirred everything together, coating the penne with the sauce and the onions. 
Molto, molto bene!
Now, I'm going to want to do this myself. As good as this little jar of walnut sauce is, it's expensive. And it's probably better fresh. This sauce, made by Riolfi Sapori, an artisanal Italian food purveyor, has an ingredients list that has fallen victim to bad translation. Even so, there's stuff in it I'd rather avoid, like "milk serum" (huh?), the preservatives lactic acid and citric acid, and a suspicious-sounding item called "aromas."  (Was "fragrance" added?) 
I found some interesting recipes here and here. Or check out Mario Batali's Lungune Alle Novi recipe below from his cookbook Holiday Food. Give them a try and let me know how it goes.
Or make a visit to Eataly. But be forewarned: walnut sauce is probably not the only item you'll take to the checkout counter.
Lingune Alle Noci
Linguine with Walnut Sauce
Courtesy of Mario Batali Holiday Food (Clarkson Potter 2000)

The texture of mixed nuts and bread crumbs makes this an ethereal pasta, When the noodles are cooked and then dressed just right, they taste great even at room temperature.
¼ cup extra-virgin olive oil
3 garlic, thinly sliced
½ cup toasted hard bread crumbs
1 cup roughly chopped walnuts
1 tablespoon hot red pepper flakes
1 pound linguine
½ cup roughly chopped Italian parsley
½ cup freshly grated caciocavallo cheese or pecorino romano
Serves 4 to 8

Bring 6 quarts of water to a boil and add 2 tablespoons kosher salt.
In a 14- to 16-inch fry pan, heat the oil over medium heat till smoking. Add the garlic and cook until light golden brown, 2 to 3 minutes. Remove from the heat and set aside.

Drop the pasta into the boiling water and cook according to the package instructions until 1 minute short of al dente. Just before draining the pasta, add ¼ cup of the pasta cooking water ot the pan with walnut mixture.

Drain the pasta in a colander and pour the pasta into the pan with the walnut mixture. Place the pan over medium heat and continue cooking the pasta is lightly dressed with the condiment, about 1 minute. Add the parsley and grated cheese, stir through, pour into a heated bowl, sprinkle with the remaining bread immediately.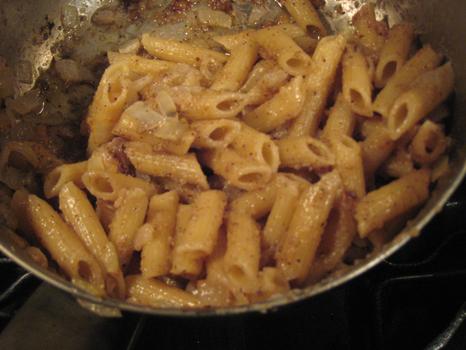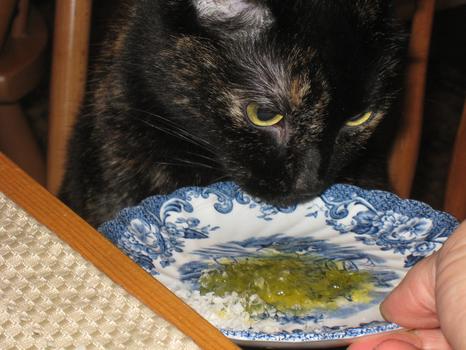 of