The Process is Political: Florida's Early Primary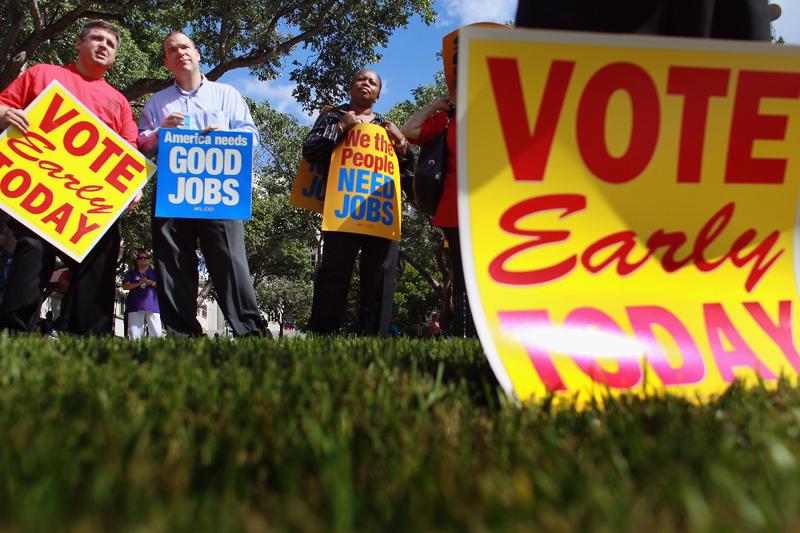 Our daily look at the details that can change everything.
Florida Moves On Up: Remember watching the 2008 Iowa caucus results while you were still nursing a New Year's hangover? Well, it could happen again. State officials are expected to announce this week that Tuesday, January 31, will be the new date for the Republican primary in Florida.
That will likely prompt a dash among early primary states to move up their votes from February to January. So instead of an extra month of campaigning, it'll be Iowa-New Hampshire-South Carolina-Nevada just after the new year. That'll help candidates with the most money and momentum at this point, the Wall Street Journal points out — and put pressure on any stragglers to get in. You listening, Christie? (Wall Street Journal)
Colorado Fight Over Eligibility for Mailed Ballots Falls Along Party Lines: A Democratic county clerk in Colorado says he's been directed by the Secretary of State not to send ballots to military personnel who are registered, but didn't vote in the 2010 election or respond to postcards prompting them to reactivate their status. The clerk in Pueblo County wants to send ballots to both active and "inactive" registered voters, and he says the Secretary of State's interpretation of the law is flawed. Denver County, also led by a Democratic clerk, has already mailed ballots to both active and inactive voters, which prompted the Republican Secretary of State to sue the county, which is a Democratic stronghold. The Secretary of State's office says it's trying to preserve uniformity across the state, but two Democratic Congressman have asked the Department of Justice to review whether the lawsuit violates the Voting Rights Act. If the policy on inactive voters stands, voters who don't vote in this November's election could be considered "inactive" for the 2012 election, when Colorado is expected to be a pivotal swing state. (Colorado Independent)
Electoral College, Class of 2012: A poll out Wednesday showed a majority of registered voters in Pennsylvania favor giving all the state's electoral votes to the statewide winner, as opposed to a Republican-backed plan to divide most of them by congressional district. That's just one potential way the electoral math in 2012 could differ from 2008. The reapportionment of congressional districts is also changing the math. Because of population changes, traditionally Republican states have picked up six additional electoral votes. Still, the electoral math favors Obama, argued Gerald Selb in Tuesday's Wall Street Journal.
Democrats "happen to start with a bloc of reliably blue states that is larger, and much richer in electoral votes, than the reliably red bloc Republicans have on their side," he wrote. But in The New Republic, William Galston countered that Obama doesn't "have the luxury of building his campaign on a solid-blue foundation of 242 electoral votes in 2012." Narrowly targeting key states like Colorado just won't work, when the president is vulnerable in states that he counted on before, like Michigan, Wisconsin and Pennsylvania. The real challenge, Galston writes, is for the president to build up broad, popular support. (The New Republic)