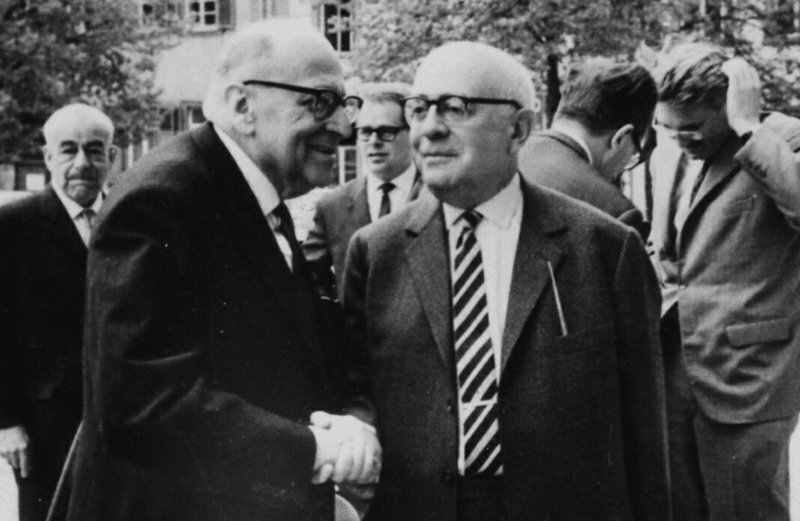 Theodor Adorno was a key figure in the German refugee-led Institute for Social Research when it resettled at Columbia University before the U.S. entry into World War II.  At Columbia he was also associated with the Office of Radio Research and headed up the Music Division of what became known as the Princeton Radio Project (1937-1941), studying the effects of mass media on society. Beginning in late April, 1940 he presented a new series of music programs on WNYC. The announcer introduced them this way:
"We know our listeners have had their fill of music appreciation broadcasts. This isn't another one. Here at the station, at least, we think there is too much talk on the air these days about musical mountain peaks and starving yet immortal masters, with too little assistance in understanding the music itself. We don't want to go to the other extreme and present a series of dry lectures on a subject already in danger of becoming hackneyed…Dr. Adorno believes the mere enjoyment of music is not enough. To him it is more than entertainment; it goes beyond it. The fullest experience comes only from a true understanding of the structure and not from blurred, half-hearted listening, or quasi-analysis. This of course, demands a certain amount of effort from the listener."[1]
The program was produced by Henrietta Yurchenco with Flora Schreiber and Paul Kresh.  It appears there were only five broadcasts, with the last on June 11, 1940. 
Why didn't it last? Well, it appears that on that June 11th program there were works by Alban Berg and Stefan Wolpe performed live by Trude Rittman, piano and Josef Marx, oboe. In an oral history interview, Rittman explained what happened:
"I was supposed to play the [Alban] Berg Sonata, Op. 1, and then to end the program Joe Marx and I played Stefan's [Wolpe] Oboe Sonata. Then a terrible thing happened. I played the Berg Sonata, and nobody knew that I would repeat the exposition part, which I did. And so when Joe and I started the Oboe Sonata and played and played and played, we were not done when the time was finished. So part of it was hacked off, and poor Stefan had a fit. We played to the end, but didn't know they had turned off. Adorno was called out while we were playing, and returned looking very pale and disturbed, and afterwards he told us Mayor LaGuardia had called to say he didn't want any more of that music on his station. He was very outspoken about it…"
[1] Current of Music: Elements of a Radio Theory, by Theodor W. Adorno, edited by Robert Hullot-Kentor, Suhrkamp Verlag, Frankfurt, 2006. pg. 346. Note: Adorno was a friend and colleague of the philosopher and critical theorist, Walter Benjamin.
[2] Trude Rittman quoted in the oral history for German-born composer Stefan Wolpe:  Recollections of Stefan Wolpe . Trude Rittman was a choral and dance music arranger who helped shape such landmark Broadway productions as Carousel, The Sound of Music and Camelot.
___________________________________________________________________________________
Broadcast on WNYC Today in:
1924: Thomas Jefferson High School dedication ceremonies, with Mayor John F. Hylan.
1939: The New York World's Fair celebrates Czechoslovakian Independence Day.
1948: The Institute for Democratic Education presents the series Stories to Remember. In this episode, "The Lesson" by Mary Harrison, with Geraldine Fitzgerald as narrator.
1956: Campus Press Conference interviews U.S. Senate Candidate Jacob Javits.
1962: Composer and President of Columbia Records, Goddard Lieberson, talks about the making of records of musicals at an American Society of Composers, Authors and Publishers seminar. 
1996: Worlds of Music explores the lyrical music of Spanish and Native American cultures in a rich array of styles.  We hear the Ecuadorian harp of Atahualpa Poalasin, Grupo Aymara of Bolivia,  and songs from Peru and Colombia too.
2003: Rookie reporter Allison Jones spends her time in two very different Brooklyn neighborhoods: Brooklyn Heights where she works and goes to school, and Bedford-Stuyvesant (Bed-Stuy), where she lives with her family and gets teased for "talking white." Allison's friends at school accept her and her academic goals, but Allison feels the black people in her neighborhood conform to negative stereotypes and expect her to do the same. Before Allison leaves both neighborhoods to go to Haverford College, she is exploring what it means to her to be black.