Natural Disasters Reshape Animal Rescue
Catastrophes unite us in our courage, our challenges and our grief. But they also provide a blueprint for our future.
The terrorist attacks of 9/11 fore-grounded the concept of disaster preparedness, but it was Hurricane Katrina, four years later, that redefined rescue. Sept. 11, 2001 gave us the Department of Homeland Security; Katrina, the Pets Evacuation and Transportation Standards Act (referred to, inevitably, as the PETS Act), which was passed with notable dispatch by a bipartisan majority in Congress and signed into law in October of 2006.
At the time, there was widespread criticism of the Federal Emergency Management Agency (FEMA) in its handling of the situation in New Orleans. The agency had no protocols for mass animal rescue and evacuation, and so forced many families to leave their pets behind, while simultaneously turning away qualified help for lack of accountability. An estimated 15,000 animals were displaced by the disaster.
Animal welfare groups had been promoting the need for animal emergency response for years, according to Tim Rickey, senior director of the ASPCA's (American Society for the Protection of Cruelty to Animals) Field Investigation and Response Department, "but it just had not caught on."
Katrina changed all that.
The PETS Act requires that local and state governments take animals into account in their emergency planning. As a result, disaster response has now become a high-profile priority for a number of national humane organizations for whom the events provided a window of opportunity. The ASPCA was among the first responders to Katrina, as was the Utah-based sanctuary, Best Friends Animal Society.
"Katrina really was a defining moment for a lot of people around the country and a lot of agencies and organizations as well," said Senior Animal Care Officer Jeff Popowich. "Best Friends was one of those organizations that was affected pretty heavily by it. Our efforts there showed that we really can handle doing work like that and we really can make a difference. It's something that's simply stuck with us."
The change was as unexpected as Katrina itself. Paul Berry, who was then CEO of Best Friends and who is from New Orleans, traveled to the stricken city thinking to lend a hand for a couple of days and provide some monetary support to local rescue groups. And then the levies broke.
"And then, you've got a soup sandwich," said Popowich (pictured left), wryly. Like Chief Brody in "Jaws" — "I think you're going to need a bigger boat" — Berry called his staff in Utah saying, "We're going to have to do more."
"And that's what started the whole emergency response and our philosophy behind it," concluded Popowich.
Members of Best Friends quickly assembled a rescue team (that included Popowich) and stayed in Louisiana for almost a year. The team handled over 4,000 rescues and placements. The organization came away with a sense of accomplishment — and a new sense of mission.
Already well known as a caring destination for animals in need — Best Friends bills itself as the country's largest no-kill shelter and is perhaps most familiar to the general public from the National Geographic series "DogTown" — the team's disaster planning raised Best Friends' profile nationally. And recently it has begun a series of training initiatives designed to establish beachheads in markets it hopes to enter (like New York) and to empower animal welfare volunteers at the local level.
Do-it-Yourself
This past July, some 40 people, myself included, gathered together at two facilities in Westchester to take part in a weekend workshop on emergency response for animals. The workshop consisted of one day of presentations and demonstrations by Best Friends staff on various phases of ERT (Emergency Response Team) procedures and techniques, followed by, on the second day, a simulated disaster scenario. 
This type of workshop is only one stage in a multi-stage certification process, which is now required in our more sophisticated post-Katrina environment.
To hear Jeff Popowich tell it, Katrina was the Wild West of disasters, with self-proclaimed heroes pouring in from all over the country. He remembers gazing in amazement at a rickety van toting a mysterious 55 gallon drum and decorated with hand-lettered Red Cross and caduceus signs.
"And I thought — really? And of course we put the people to work because at that time you didn't need any training, qualifications," he said. "It was like 'OK, come on over, we've got some stuff over here for you to do.' But those days are gone." 
Now, would-be rescuers have to take two FEMA courses ("Introduction to the Incident Command System" and "Animals in Disaster"), complete a basic first aid and CPR course (that includes how to give CPR to humans and animals), get a tetanus vaccine and carry medical insurance.
"It's good, and it's bad," said Popowich. "It's bad, because it was a lot of fun. It's amazing how everyone just showed up and pitched in and it was really amazing how people just came together. It's good, because the more we come at it from an organized standpoint and pool our resources ahead of time, makes it so that we're more effective, but we're also safer."
He explains that the job of an animal emergency responder requires a different skillset from that of a Best Friends caretaker.
"A lot of us have EMT certification and it's something that's paid off," Popowich said. "I mean there's a lot that translates from dogs and cats to humans and vice versa. But having that training means that when you actually get out in the field, doing that rescue work, you can help the people and the animals at the same time."
FEMA's Incident Command System is national, so all of its operations follow the same chain of command. Still, individual rescuers may find themselves dealing with situations on their own. Workshop participant Jennifer Bianco said the certification training made her feel more prepared.
"We learned about recognizing things like bloat or other life threatening situations for the dogs, and how to handle it," she said. "Because for the most part, you really can't call anyone to help you, like you can with 911."
Untrained volunteers are clearly a hazard at a disaster site, says Popowich: "No rescuer is effective when they're a victim; they're actually a burden."
Another potential pitfall is the "too many cooks" syndrome, so one of Katrina's legacies, in addition to the PETS Act, is the National Animal Rescue and Sheltering Coalition (NARSC). 
"I think that as a movement, animal welfare has come a long way since Katrina," said Tim Rickey of the ASPCA. "During Katrina, it wasn't very well planned out because nobody was thinking about many national organizations and local organizations ever responding to one event. But we all did, and we worked through it. NARSC was really designed to bring the national groups together and sit down and develop a cohesive way we would work together. And in fact, we work together continuously now on many disasters."
NARSC member organizations include the ASPCA and Best Friends, as well as the American Humane Association, the International Fund for Animal Welfare, the National Animal Control Association and RedRover.
At the workshop, the Best Friends staff demonstrated the growing professionalism and synergy in animal rescue by describing — with the aid of a PowerPoint presentation— recent emergencies for which they have deployed teams.
The participants gasped at dramatic scenes from the Iowa and South Dakota floods (where Best Friends worked in cooperation with another NARSC member, Code 3 Associates) including at one shot of an attempt to wrangle a pig to safety. (Companion animals are not the only ones placed at risk in disasters — domestic livestock are often extremely vulnerable.)
The workshop manual depicted its reluctant poster boy for efforts like this, the former Marine Ethan Gurney (pictured above right), rescuing a kitten from chest-deep flood waters in Iowa.
"That kitten looks very calm," joked Popowich. "Ethan is the cat whisperer."
It's Just as Hard as It Looks: Working the Disaster Beat
Since Katrina, specialized training for water rescues has become increasingly common. The ASPCA stepped up its water rescue resources and now owns four boats. Most of Tim Rickey's team are water rescue technicians and some even know how to handle horses in flood waters.
"We can go in and perform these rescues safely," said Rickey, "the end result being getting these pets reunited with their families."  
The Best Friends presentation is designed to educate us about just how complicated that simple goal can be. Referring to the almost Biblical scenes of chaos on the video screen, Ethan Gurney remarked laconically that, "the pre-shelter environment can be a very equipment-intensive environment." For example, there are those HazMat-certified dry suits (HazMat clearance is necessary in any situation where there is government oversight).
"No Gortex, no breathability," said Gurney. "It's really fun in 90 degree heat [you're] wearing a big garbage bag, basically."
It's scenes like these that most people have in mind when they hear the word "disaster" but Best Friends staffers point out that the most common type of rescues are from puppy mills and hoarding situations — less glamorous, but equally, if not more, devastating to the welfare of animals over time. When these photos flashed up on the screen, the admiring gasps turned to empathetic murmurings of shock and disgust at the effects of a pernicious industry (puppy mill breeding) on the one hand, and disordered minds (hoarding) on the other. 
One significant change since Katrina, Popowich said, was the cooperative spirit displayed by government agencies. Even when the human and humane rescuers aren't specifically working together, there is much more of a shared sense of mission.
"These are people who don't necessarily live, breath and sleep animal rescue, you know?" he said. "But they're still there to help out."
Popowich said he didn't hold with demonizing government officials or ignoring them.
"If anybody shows up thinking they're the white knight there to save the day for animals, they're probably not going to be let into any type of event like that," he said. "It may seem that it's more bureaucratic — that there's more red tape — but in the end, it's a more effective approach to those types of situations."
By way of example, he mentions one of the South Dakota initiatives.
"We got help from FEMA and the local department of health services, they came by and they were bringing us some supplies, like gloves and scissors — things that are normal for them," Popowich said. "And then, they get out their notebooks, 'OK, what do you need? What are your immediate needs?'"
During a break, participants introduced themselves. A number are from local animal care organizations; others are volunteers hoping to step up their skills. Brenda Reider, a long-time Best Friends volunteer, feels that emergency training is a natural response to an increasingly fragile world, one in which disaster is localized. 
"Everyone's become more aware …" she said. "It's no longer, 'Oh, it's happening over there; it's happening here as well.'"
In the afternoon, Gurney (pictured left) and another staffer, Keely Floyd, who had just returned from a spay-and-neuter deployment on Tangier Island in Virginia involving more than 600 hundred cats, take us through various kinds of deployment protocols and demonstrate useful skills. One key focus is animal body language.
"That has to become second nature in these types of situations," said Floyd, running down a list of priorities. Be on your toes; watch everything they do; loud noises and sudden movements are frightening; animals don't understand the concept of travel and find it stressful; they don't trust you — they don't know you.
For their demonstration of equipment such as crates, leads, and muzzles that are in constant use at shelter sites, Gurney and Floyd were aided by a therapy dog, a Siberian Husky named Beau.
Owner Carole Loevner got Beau's predecessor, Nicky, also a Husky, from Bideawee after his owner was killed in the 9/11 terrorist attacks. Nicky had been traumatized by the experience.
"I actually lived through 9/11 myself," said Loevner, a Battery Park City resident, "so I know what he was going through, how it's possible to be so scared."
The experience adds an edge to Loevner's volunteerism. She already visits hospitals with Beau, as part of the Angel on a Leash program, but, "if there is anything else I could possibly do and be certified, I would love to do it, so that's why I'm here today."
Day 1 of the workshop ended on a sort of "Law and Order" note, with Jessica Gotthold, an agent with the Bureau of Alcohol, Tobacco, Firearms and Explosives (ATF) speaking about the special situations arising from animals put at risk by more familiar, urban situations such as high-rise fires and drug busts.
Don't Try This at Home: A (Simulated) Hoarding Rescue Effort
The following day, the training moved to Yorktown Heights — to a grange hall with an outdoor open storage shed. This would be the scene of our simulated rescue effort. The staff tells us we've responded to an extreme hoarding situation, and that we'll be processing 30 animals.
The key tasks ahead of us are determining where to place our compound; building it; setting up cages and crates for the animals; and in-taking. As our motley crew — all ages, shapes, and sizes — began to haul out prefab fencing and dog crates, I was reminded of those team-building Sierra Club weekends.
Jeff Popowich, overseeing our efforts, reminded us that if this were actually the site of a natural disaster, we might be building this compound at a location where flooding would be a real concern, and after some group-think, the consensus was that we should build on top of a slight hill.
Volunteers set to work screwing the walls of the compound together — they look like oversized metal crating, and are designed to house dogs. Handiness helps; the sides are clunky, and are joined by a bewildering welter of nuts, bolts, and twist ties. There is some dithering, but a couple of people quietly begin putting the pieces together, and the rest of us eventually follow suit.
According to Popowich, natural leaders always emerge in times like this, even if the overall operation is keeping to FEMA command protocols. And in fact, he says the exercise is as much about team building as building up construction skills.   
Soon, a relatively sturdy structure was in place, one that could probably hold up to 20 dogs. Cats would stay in separate carriers in the shed.
Then it was time for processing. Participants cast as field workers began arriving with the "rescued" animals — in this case, a collection of well-loved plush toys are role playing along with us. Each animal was tagged with a fictitious backgrounder that established its breed, sex, possible age, noticeable health issues, and temperament. 
I'm one of two people filling out forms (Best Friends uses a form designed by another NARSC humane group, RedRover), and immediately I feel one of the key stressors in situations like these: the tension between wanting to work quickly and the need for accuracy and clarity. There's lots of detail, and all of it may matter later. Was the rescue requested by the owner, or another? Where was the animal picked up? Is it spayed or neutered?  Distinguishing marks? Collar? Tags? Microchip or tattoo?
No matter how many animals need processing, and how intense or desperate the conditions — not, as in our case, a mild summer day at a recreational facility — clear records improve an animal's chance of being housed and treated correctly, and, most important, of being eventually placed in a home or reunited with a family.
I try to pay attention to detail: this cat is pregnant; this beagle is aggressive around other dogs; this Siamese has a red ribbon around her neck; this boxer (it's a rainbow-striped giraffe, but by this time my suspension of disbelief has kicked in) is fearful; this tabby has bloat.
The form also includes the melancholy notation "dead on arrival."  Not all outcomes are happy, and part of yesterday's session dwelt on how to acknowledge the sometimes overwhelming feelings occasioned by this type of work. Surprisingly, it was the former Marine, Ethan, who most strongly emphasized the need not to bottle up emotion.
During the intaking process, I am very aware of being part of a chain. If I don't fill out a form correctly (an older woman with a long history of volunteerism has my back) then the person who is next in line to deal with the animal won't be able to make the right decisions. Basically, this is triage: "M.A.S.H meets "All Creatures Great and Small."
At the end of the exercise, the three staffers came around to inspect our efforts — we did OK. And just in time. A persistent drizzle picked up its pace. Of course, if this were a real-world scenario, we'd carry on regardless of the weather, but instead we moved thankfully back to the main grange hall for an earnest vegan lunch. Then there was a modest "graduation" ceremony, and we are all presented with certificates that say we have successfully completed the Emergency Response Basic Sheltering Course. So now I'm only two FEMA exams, a CPR course, and a tetanus shot away from being any use in an emergency. 
I asked Jeff Popowich if the weekend lived up to his expectations.
"I'm really pleased," he said. "I'm glad everyone is going away from this hopefully a little more educated on ways they can help animals and a little more confident about how they can help them."
Now It's Our Turn
At the time I took the Best Friends course, in late July, large-scale disasters seemed remote, and I think I wasn't alone in having the romantic notion that, fully accredited, I would be mobilized to some other part of the country to have an adventure.
Instead, a little over a month later, I was reading reports of the onset of Hurricane Irene, and was on the phone to Best Friends, the ASCPA, and the New York City Office of Emergency Management (OEM) to find out how the New York animal care community planned to cope, and what its citizens should do.
During the hectic Friday leading up to Irene's arrival, I had gleaned enough information to put some advisories on our Web site — particularly the good news that a significant number of New York City shelters would be accepting pets as well as humans.
This, as it turns out, was not a last-minute reprieve, but the result of literally years of planning by the OEM's Animal Planning Task Force. By early the following week, I had caught up with the OEM's Robert Van Pelt, whose title is Shelter Plan Lead, and Tim Rickey, who is one of the ASPCA's liaisons to the task force, to get some details.
While the humane movement heralded the PETS Act as a blow for right of animals to the same concern and outcomes as people, it's clear from the supporting documentation that the Act was first and foremost designed to make human evacuation go more smoothly. People who will not leave their animals vastly complicate rescue efforts.
Van Pelt's first words confirm this: "We have an animal plan, but it's really largely a plan for people, because we know that people won't evacuate, or they will evacuate, and then they'll go on and put themselves in harm's way to rescue their pets." 
The Animal Planning Task Force is comprised of various stakeholders in New York City animal welfare system: The ASPCA, NYC Animal Care & Control (AC&C), the Mayor's Alliance for New York City's Animals, Bideawee, and NYC Veterinary Emergency Response Team, or NYC/VERT, among others. There are some 20 organizations at the moment, but, says Van Pelt, "Any agency that has the capability and the knowledge is more than welcome, I mean, the more the better."
That "capability" and "knowledge" are the same that have been the building blocks of NARSC — experience from around the country in large-scale disaster deployment, and/or in other key aspects of animal welfare such as sheltering or search-and-rescue. As a result of its members' expertise, city shelters were equipped from the Task Force's stockpile of supplies (cages, food, food bowls, leashes, medical supplies) ; directives to city agencies were prepared (the transit system, for example, was instructed to accept people traveling with pets), public information language was developed, and the task force penned a preparedness brochure for city residents called "Ready New York/Pets."
Members of the Task Force meet once a month.
"It's great that they know each other," said Van Pelt, enthusiastically, "because in an emergency such as this hurricane, they were really able to fill in and work together, seamlessly." 
One reason for this seamlessness, said Tim Rickey, has been the team's constant and vigilant  review of its master plan, the primary focus of which was getting animals comprehensively and efficiently co-housed in city shelters: "As with any task force, once you develop a plan, then you have to constantly review that plan, make sure it's updated, make sure it's current, and make sure it's really going to work … you sit down, you brainstorm, you run through scenarios and you identify holes in your plan and you fix them."
One of those holes, says Van Pelt, was the realization that veterinary care should be readily available at all the co-shelter sites.
"There may be problems if an animal shows up and it's not vaccinated, or an animal injures another animal, or if there's an illness, those types of things, and we thought, that's something we can address, that wasn't currently in the plan," he said.
As a result of this last-minute adjustment, during the period of evacuation some 30 veterinarians made the rounds of shelters.
When I asked how they felt things went during the emergency, both Rickey and Van Pelt evinced dignified jubilation, as if Hurricane Irene was opening night after a prolonged series of out-of-town try outs.
"I'm proud that our organization was part of the planning," said Rickey, "and I think that New York has really shown the rest of the world that this can be done very effectively, and I hope that other states, other cities will take our lead."
"Well, it was a lot of work going through that hurricane," admitted Van Pelt, "and it really does feel good that we were able to shelter 10,000 New Yorkers, with their pets. [An estimated 200 pets were taken into city shelters.] It's a really great feeling. At the same time I don't want to get too cocky because there could always be another storm out there or something else, so we always have to be prepared."
Be Prepared
Animal ERT work is indeed the Boy Scout motto, "Be Prepared," writ large, and has signaled a shift in the animal welfare paradigm. I began researching this story with the expectation that it would primarily be an experiential piece about response training, but it has also turned out to be a story about the changing face of the humane movement — from passive shelterers of the piteous to proactive, interventionist agencies determined to create, not await, change.
"We recognize that there's a huge need for disaster response," said Tim Rickey. "We've seen in just this year alone with multiple disasters all over the U.S., and many catastrophic disasters, this is something that we're going to be continuously called upon [to do] so we're really looking to professionalize this aspect of our work. And it really does fall right in with our mission. Our mission is the protection of animals." 
There is mission, and there is also marketplace. The PETS Act empowers FEMA to incentivize state and local governments to implement its provisions, and that comes down to money — providing reimbursement for special services.
The humane movement is as politicized as any other forum where there are disputed means to the same ends (universal healthcare, anyone?) and the need to effect change throughout a complex infrastructure. Nevertheless, there seems to be more cooperation than competition, and in fact disaster planning has clearly had a unifying effect on a sector often sharply divided on issues of animal control and care. Best Friends and the ASPCA, for example, have differing perspectives on fraught topics such as euthanasia, but in the context of NARSC are effective allies.
And the OEM's Van Pelt remarked on the same spirit of cooperation when I asked about territoriality among the Task Force.
"You know I really don't see that," he said. "There's not one organization that could handle the entire response themselves, so they all really depend on each other, and some have different strengths than others. I really don't see them as being competitive; they all are very much into this mission."
Tuesday is the Feast of St. Francis; many churches observe this holy day with a "Blessing of the Animals." After this year of hurricanes, floods, earthquakes, and significant anniversaries (the 10th anniversary of the 9/11 attacks and fifth anniversary of Katrina) the idea of petitioning God to look after "all creatures great and small" may resonate especially strongly.
And Jeff Popowich has a word for all the would-be saints among us — those hoping to receive a call to join a rescue effort: "As far as preparing you for stuff like that — if you can save one life every day, it doesn't matter what else happens, you've saved one."
Check out a slideshow below.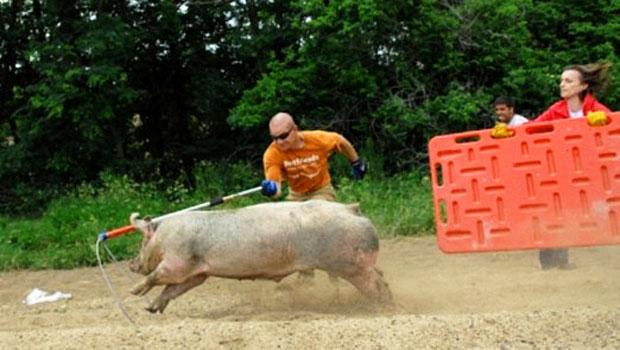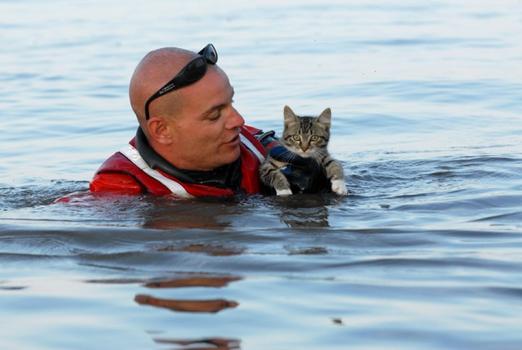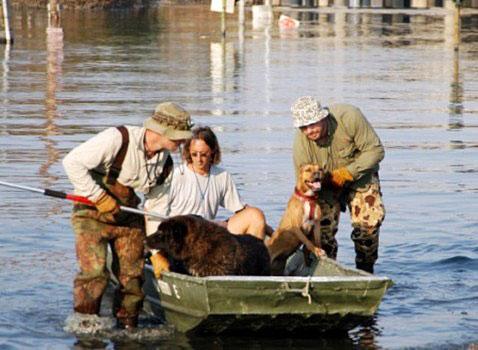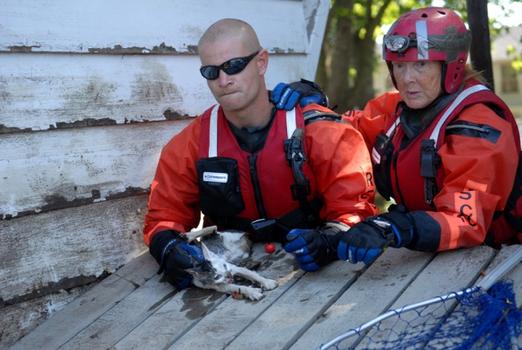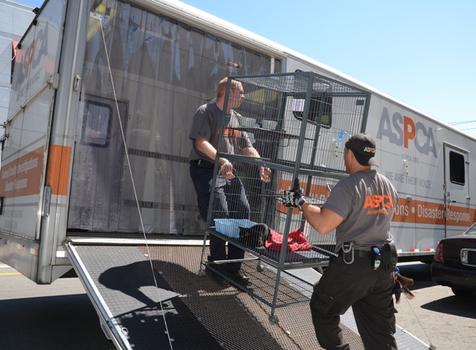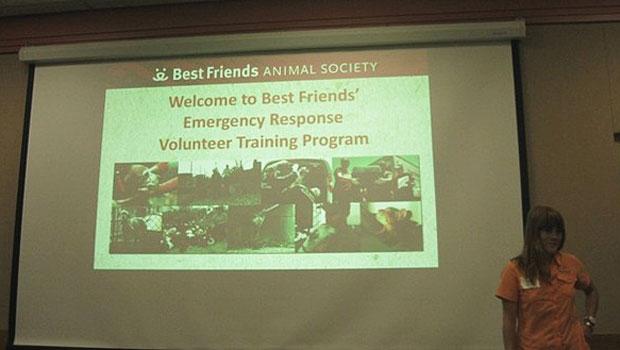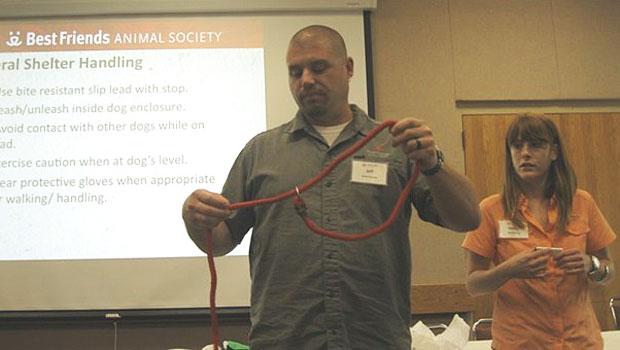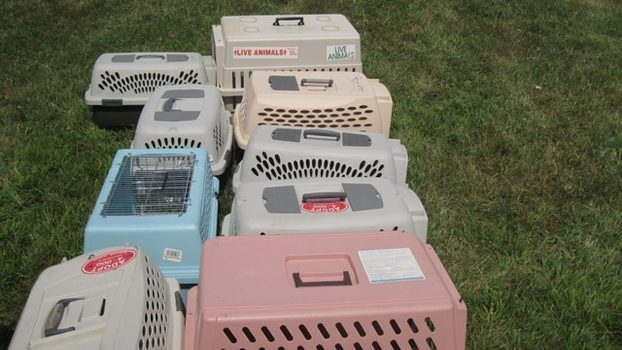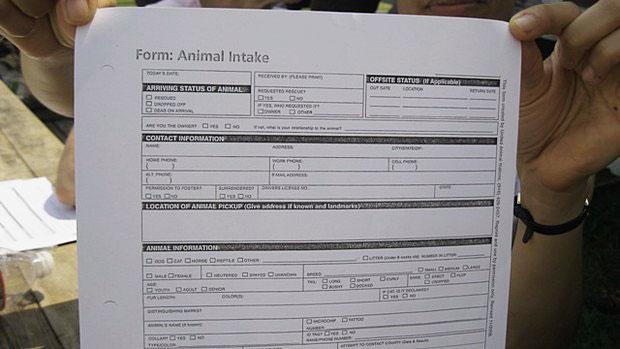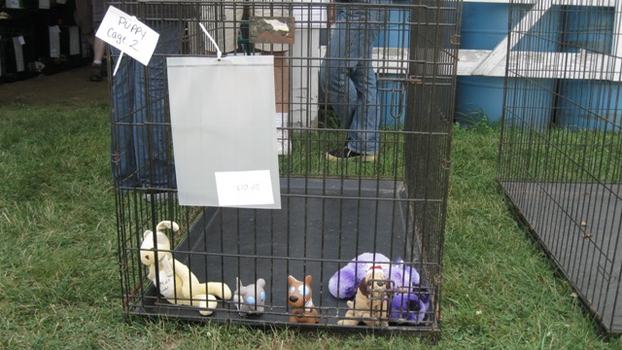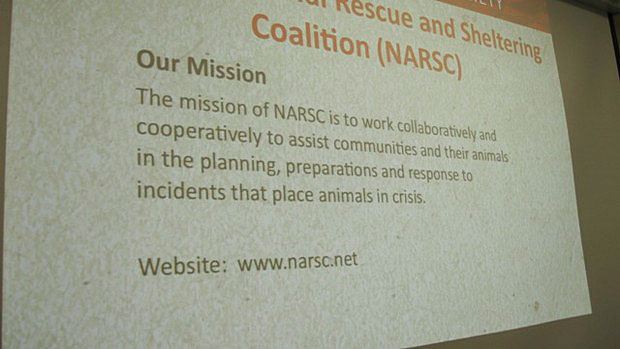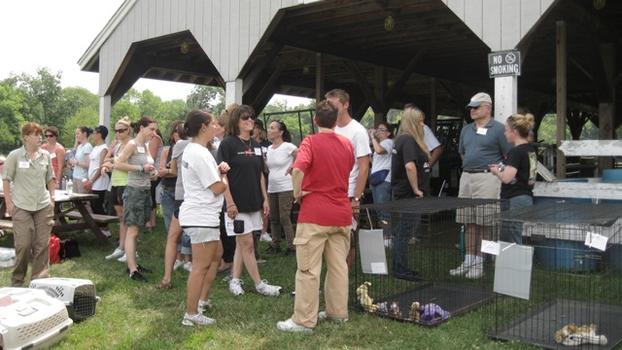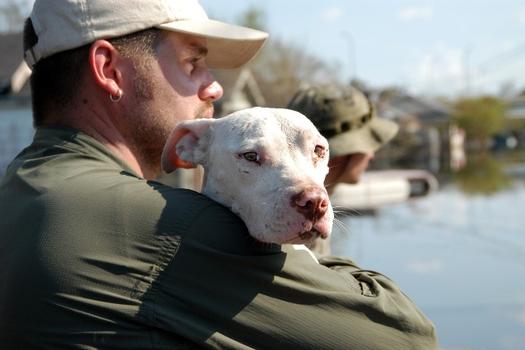 of