Cuomo Schedule Shows Few Transportation Meetings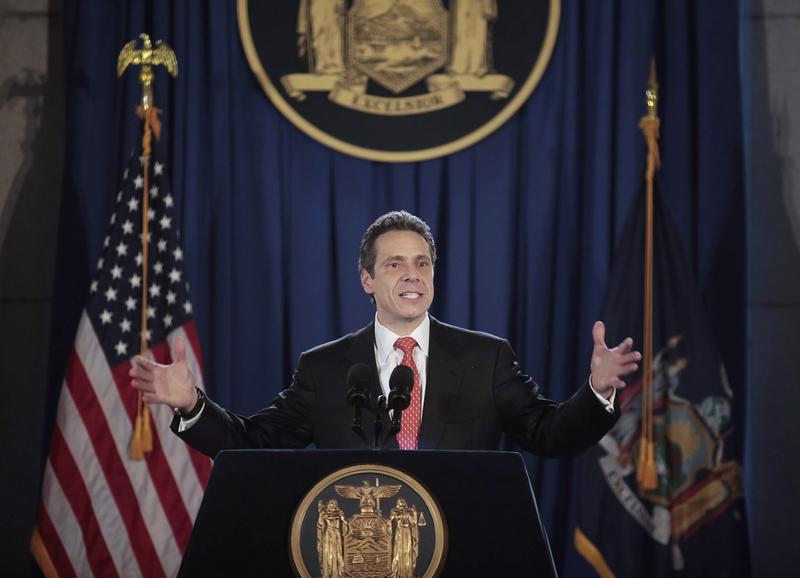 New York Governor Andrew Cuomo met repeatedly in the first eight months of the year on marriage equality, the property tax cap and even farmer's markets.  But his schedule from January 1- August 31, made available online Thursday, showed no meetings or phone calls with Port Authority chief Chris Ward or Metropolitan Transportation Authority CEO Jay Walder.
The Governor did meet with Transportation Commissioner Joan McDonald, on more than one occasion, on the Tappan Zee Bridge, which is in need of replacement.  He held a meeting in March on unspecified "Transportation and Infrastructure" issues, and had several appointments and public events surrounding an initiative to crack down on texting while driving.
The New York Times reported last month that Walder and Cuomo only met once, but the schedule reveals in fresh detail a governor consumed with issues other than transit and transportation. He held dozens of meeting on marriage equality, the budget and ethics reform.  His public schedule lists in detail attendees at meetings on economic development and Medicaid reform. When he meets with local legislators, religious leaders or union brass, every name is detailed.
To be sure, the Governor's schedule does not indicate every individual staffer he met with or every issue he discussed. There are numerous entries that just say, for example, "conference call with staff." 
But reading through the documents, which show his prepared schedule and are not a complete record of actual events, shows issues that have held his sustained attention, including the budget, property tax caps, and especially, marriage equality. There are no entries that say "transit," and just one that listed MTA — a call on August 26 on preparations for Hurricane Irene.
An MTA spokesman referred questions on the schedule to the Governor's office. The Governor's spokesman, Joshua Vlasto, would only say, "the Governor and his administration spoke with officials at the MTA and the Port Authority frequently." Vlasto did not respond to a follow-up question on how frequently the Governor personally spoke or met with MTA or PA officials.
The schedules include the period when Walder announced he was leaving for a job in Hong Kong and the Port Authority of New York and New Jersey raised tolls for Hudson River bridges and the PATH train.  They also show a dinner with NJ Governor Chris Christie at Beacon Restaurant on July 29, two weeks before the toll proposal was announced.
Both governors initially denounced the proposal, then came around to supporting it in modified form. Tolls were raised last weekend.
Cuomo has appointed a wide-ranging search committee to replace Walder, who is leaving next month.   The Governor has kept thoughts about the replacement to himself, saying only he'd like to announce a replacement before Walder leaves on October 21.  He has appointed a real estate executive, Howard Millstein, to head the NY Thruway Authority, and has appointed two real estate executives,  Scott Rechler and Jeffrey Lynford, to the board of the Port Authority of New York and New Jersey. Cuomo appointed former Bronx Borough President and democratic mayoral nominee Fernando Ferrer to the MTA board earlier this year.