The Magic Behind the Scenes of 'Boardwalk Empire'
Season Two of "Boardwalk Empire" premieres this Sunday on HBO. The series, starring Steve Buscemi in a Prohibition-era Atlantic City, won eight Emmys this year. Seven of them were announced off-camera at the Creative Arts ceremony and were for costumes, visual effects and art direction.
The buzz around "Boardwalk Empire" began last season, when HBO announced the cast and director of what many imagined would be the network's first, post-Sopranos blockbuster. The series was Martin Scorcerse's foray into directing for television and he did not disappoint. The pilot landed him an Emmy. But if the awards are any indication, the sets and production design of "Boardwalk Empire" are what make the series a hit.
WNYC's Jillian Weinberger spoke with a member of the award-winning creative team: Bill Groom, who has imagined and created dozens of sets for "Boardwalk Empire" in Long Island and across the city's five boroughs. She learned what goes into researching a period show, how to scout a location and other movies Groom has designed sets for (Milk; A League Of Their Own; Eat, Pray, Love).
WNYC's Jillian Weinberger: How do you begin to design a set for a series as complex as "Boardwalk Empire"?
Bill Groom: You begin with the script. And you respond to a number of things. [In "Boardwalk Empire"], the story's continuous and moves ahead from one episode to another, so you respond to the characters involved, who those people are … and what their world might be. Many times there's a theme that's woven through these shows … Here, we're talking about prohibition, corruption, betrayal. As the designer, I either help reinforce that or go directly against it. These are all things to be aware of.
JW: Tell me about the research process for a period series like "Boardwalk  Empire." How do you ensure that your sets are accurate for the place and time?
BG: In every project … there's a certain amount of research, whether it's set in the modern day or it's a period project. In a period project like this, I have to research everything from the doorknobs to the paperclips. There are thousands of little details you have to get right…
One of our research assistants thinks we have a million pages of research ... A lot of my "down time" is spent on research. I find myself researching pencils, paper, cardboard boxes — you name it … What you discover is how many museums there are in the world. There's a museum for even the most obscure things!
We probably this season have had 200 sets, maybe 250. And those sets are all full of books, tea cups, and all the staplers and pencil sharpeners — all of those things that you see in daily life in a room …
JW: What objects do the characters on "Boardwalk Empire" use that are still the same today?
BG: Some of the surprises is finding out how much stuff has really been around for quite some time … In fact, there are certain things that I wouldn't put on the screen because it would be too jarring for viewers — it would take them out of the world of the show because it would look too contemporary...
What separates us from that period is technology, but the idea of what was required for the everyday is much the same … For example, it was interesting to figure out that [the] ring binder goes back to 1850s, but it took the manufacturer so long to figure out that a two- or three- ring binder is more efficient than a one-ring binder. The desire to hold loose-leaf paper in a book has been around for at least 150 years or longer … but the way to do it hasn't been quite as elegant as it is today.
JW: Let's talk about the "Boardwalk" sets in Season Two. This season, we see the home of Chalky White, the gangster character played by Michael K. Williams. You filmed these scenes in an actual New York home (see below). What did you do to prepare this set?
BG: This is an example of a place where we did almost not work (laughs). We scouted, scouted, scouted and then when I saw this, I thought it was just the kind of house Chalky White would own. It's been really tastefully restored by the owners, down to the wallpaper. It's a family home so it makes accommodation for that, but otherwise it's very close to a museum restoration. It's a slightly eccentric house and slightly showy … You'll see it a few times this season.
JW: What about the house where the main character, Nucky Thompson, lives with his family?
BG: That house is in Vinegar Hill. It's on the Brooklyn Navy Yard property, and it was the commandant's house at one point. We did a huge amount of work to restore it — rebuilt doors, windows … We redecorated and did a lot of restoration on the parlor floor. We built a period kitchen in what was a storage space. (Check out the upstairs of the Vinegar Hill house below.)
But the bedrooms for that house were built onstage, in the studio, so we have a transitional hallway that exists in both places [the actual house and the studio]. The hallway is identical in both places. That way, the directors can overlap the shooting … It reinforces the connection to the rest of the house. 
JW: What's your favorite set in this season of "Boardwalk Empire"?
BG: Some of the most interesting sets for me can be some of the simplest … We built Van Alden's apartment [Agent Nelson Van Alden is played by actor Michael Shannon] and I like that set very much. You'll see it in the first episode — our director of photography did a beautiful job lighting it…
We left room for a little alley between two sets where there's an airshaft about eight feet wide … and then we built another apartment on the other side of the airshaft and lined all the windows up, so you could see through one to the other. You can see into the neighbors' apartment where there were actors going about their business. In that particular set, it was important for the writers to get a sense of that apartment's place in the neighborhood. 
JW: You started out designing sets for "Saturday Night Live," and then moved into feature films before going back to television. Out of all the sets you've designed, which one is your favorite?
BG: I have a few favorites … but it's like asking which is your favorite child. They're all unique! And they all have their own special memoires attached to them.
There's a set that I did for The Pledge, a movie directed by Sean Penn. We built a gas station from the ground up. We built the interior and the exterior set for the first floor. It was a particularly evocative set in a particularly evocative landscape.  
I loved designing all the sets for Milk. And then there's this movie I did, A League Of Their Own. We built a baseball stadium for that. And that was — that was kind of special. It wasn't my first feature, but it was my first big feature…
A movie that I did recently which is kind of perceived as not a success in this country, but made over $200 million internationally, is called Eat, Pray, Love.  I'm very proud of the way that movie looks … I think it really works for the show and it's sort of romantic in the way it should be and we shot in four different countries … I spent a year traveling from one continent to another, staying in nice Four Seasons Hotels (laughs). Those jobs don't come along too often!
I do love doing period movies. They're a lot of fun and especially challenging. There is so much to learn. The one thing I've always loved about this work is the period of time I've always called the "time of discovery" … you start to learn and feel what the movie's about. With period movies, that discovery process just goes on and on and on. Every day you learn new things that express the story and express the characters in a new way.
Click below to see a slideshow of more scenes from Season Two of "Boardwalk Empire."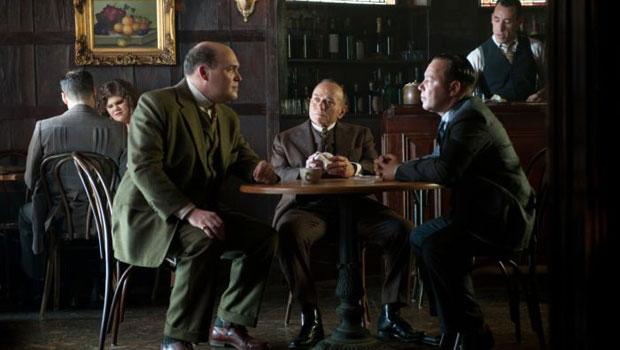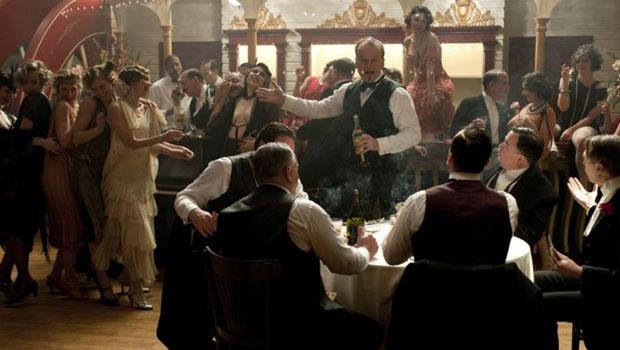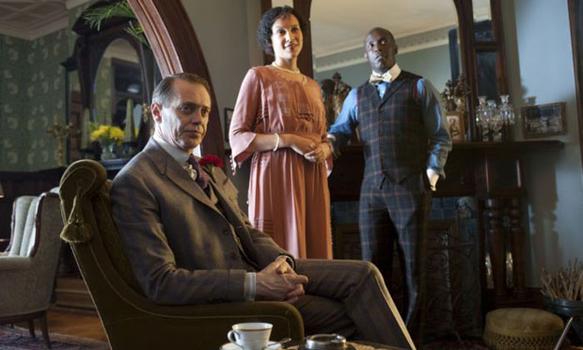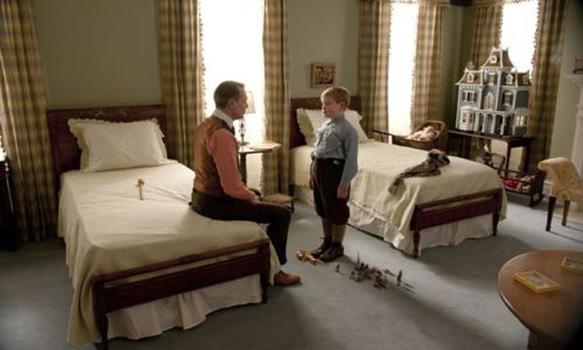 of