In a Growing Number of City Stores, iPads Are Replacing Cash Registers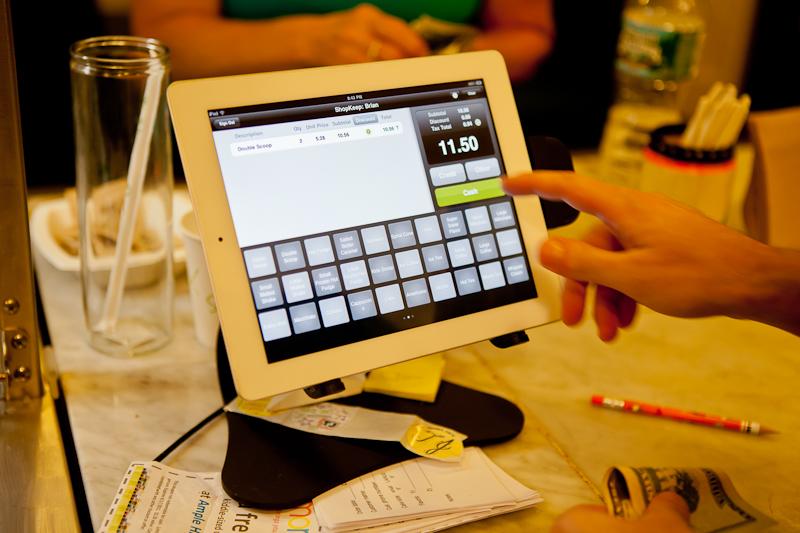 At Ample Hills Creamery in Prospect Heights, Brooklyn, everything is made the old fashioned way. As a certified dairy, they even pasteurize their own milk. So patrons of the shop — where milk shake mixers, wall posters and table mats pre-date most of its clientele — may be surprised to find an iPad on the counter where a vintage brass cash register might sit.
"I was looking for something that was more elegant, less clunky than a cash register," said Brian Smith, 41, the owner of the ice cream shop. We have limited counter space here so I wanted something that just had a cool factor, a wow factor."

Like dozens of newly opened businesses in the city, Smith opted for the iPad cash register, rather than the traditional Point of Sale (POS) system. Though the POS uses digital technology, it also requires purchasing a bulky terminal, servers and costly monthly subscription fees.
Making the switch
When Smith prepared to open his shop, he found POS terminals would cost as much as $3,000, as opposed to about $500 to $600 for an iPad. And once he tested the app ShopKeep, a program designed to replace traditional cash registers, he was hooked.

"And there's the elegance of how it works," Smith said. "My 19 and 20-year old employees could train me on it after 15 minutes. They intuitively understand how it functions."
The cash register has seen remarkably few changes since it's creation in the late 1800s. It wasn't until the 1970s that cash registers made any evolution from the old model, the mechanical register, according to Joe Finizio, president and CEO of Retailers Solutions Providers Association.

Finizio estimates POS systems, which first came on the market in the 1980s, are about a $60 billion industry, but none of the traditional players have developed one "killer app" that can run on tablet computers or smart phones.

"In essence what you're carrying in your hand today, whether it's a tablet or a smart phone, probably has more processing power than the Apollo capsule that went to the moon," he said.
There's an app for that

Jason Richelson, 37, is the founder of ShopKeep, the app used at Ample Hills and dozens of other city shops.

The app officially launched at the beginning of August, and Richelson said they have about 50-100 downloads a day of the trial version. And it's far cheaper than a POS system. For $1,000, retailers can get a cash drawer, credit card reader and wireless printer. The ShopKeep subscription is about $49 a month.


But there are limitations. Right now, ShopKeep can keep track of 270 items on the iPad and an unlimited number on a Mac and PC version, but a small inventory is where it works best. It can show 30 items on one page.

At Ample Hills Creamery, Eric Wu, a former employee of Yahoo, loves the fact that ShopKeep makes it easy to analyze their data. He can do things like figure out how many scoops they've sold since the store opened and whether a promotion is successful.  

"We've also been able to change up our scheduling of employees," Wu said, "because we know it's slow from 12-3 and picks up around 3 when school gets out. It slows down 4-6 and picks up again after 8. That thing we've been able to graph, since there's a time stamp on every transaction."

"Super simple, really, a cave man could do it sort of thing," Wu said of the ease of use.
(Photo left: Jason Richelson, founder of ShopKeep and co-owner of The Greene Grape, The Annex and Provisions.)

The hold outs

But not everyone is ready to make the leap. Many retailers are comfortable with familiar technology and still might not trust cloud computing to keep track of their data.
At Penny House Café, a small coffee shop and deli in Prospect Heights, manager Jackson Franklin, 29, stands by his sturdy Samsung cash register.

"The screen doesn't freeze, I don't need to call a tech to fix it," he said. The most maintenance he has to do is change the paper once a month. "Old fashioned is better."

Glenn Hudson, 34, is planning to open a pizza shop in Crown Heights, Brooklyn, that relies on locally sourced ingredients, and is just beginning the arduous task of choosing a POS system.

He's had demos of various products that would start at $1,500- $2,500, not including a monthly bill, and he's still not confident about any of them.

"You're stuck in a situation where you don't know what happens if it goes down," he said, "or how to get a new one and usually on the cheaper system the rates are much higher on the expense over time."

That's why the iPad appeals to him, but he has yet to see anything that would work well in a restaurant. His partner Peter Enter, 25, likes the idea of having an iPad in their shop though. "We want the new and hip, and everyone is using it now. And plus they're small and tiny; they're chic right now, they look good," he said.
This story has been updated from its original version.
(An Android Tablet running ShopKeep at The Annex, in Fort Greene, Brooklyn.)