Obama in NYC: Diplomat by Day, Partisan Fighter by Night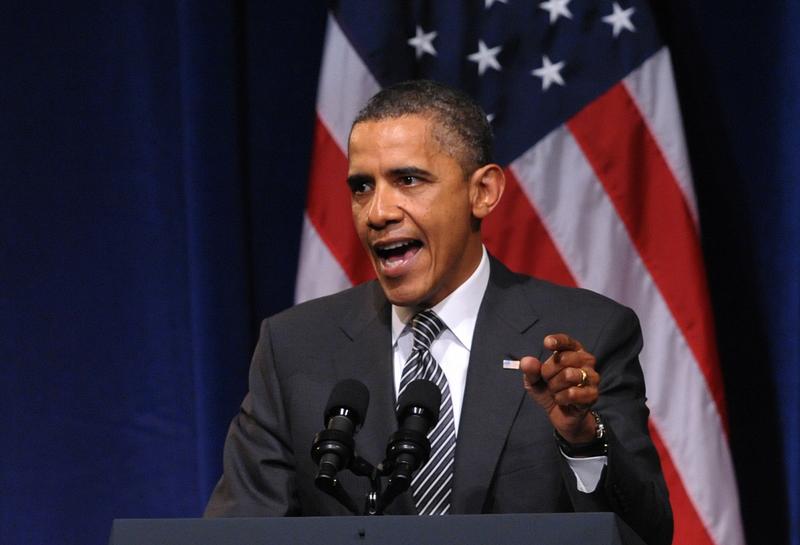 President Barack Obama started the week in the Rose Garden where he forcefully laid out his case for raising some taxes on the wealthy to help pay for his jobs bill and cut the deficit. The annual United Nations General Assembly has forced the president to abandon that push during daylight hours as he met with heads of states and worked to stave off an embarrassing UN vote on Palestinian statehood.  
But once night fell on his first two evenings in New York this week, the president returned to his aggressive pushback against Congressional Republicans at two campaign fundraisers.
Speaking at a private fundraiser on Monday night, he called "the moans and groans from the other side" predictable, with "the usual scripts" that charge him of class warfare and populism.
Tuesday night, he was even more explicit that he was willing to fight it out with the GOP over the course of his reelection campaign.  
"Maybe some people in Congress would rather settle these differences at the ballot box. I'm ready to settle them at the ballot box," President Obama told a group of about 400 supporters who paid at least $2,500 to attend the fundraiser. "I intend to win this next election because we've got better ideas."
The day after House Speaker John Boehner told a crowd in Ohio that "class warfare isn't leadership," President Obama said he's ready to embrace the label if it's coming from Republicans.  
"If asking a billionaire to pay the same rate as a plumber or a teacher makes me a warrior for the middle class, I wear that charge as a badge of honor," he said. "The only class warfare I've seen is the battle that's been waged against middle class folks in this country for a decade now."
The president's more strident tone won hoots and applause from the Manhattan audience Tuesday night, but even he laughed at one point that this was not a "completely unbiased sampling."
But even when you look to less biased samplings, Obama also has an edge polls when it comes to his jobs bill. By a margin of 45-32, Americans told Gallup they wanted their member of Congress to vote for the bill. In a separate survey, 70 percent of Americans said they support eliminating some tax breaks for corporations, including 53 percent of those who self-identified as Republican or Republican-leaning independents. Raising taxes for families earning over $250,000 was also popular—66 percent say they support that idea—but here, Republican and Republican-leaning support for that fell to 41 percent.
It should be noted, though, that all of these surveys were taken before Obama's remarks on Monday morning, so we don't know yet how Americans are absorbing the president's revved up fight.
Hear Obama rally the crowd in his closing remarks at a Manhattan fundraiser on September 20.