Obama Speaks at Clinton Global Initiative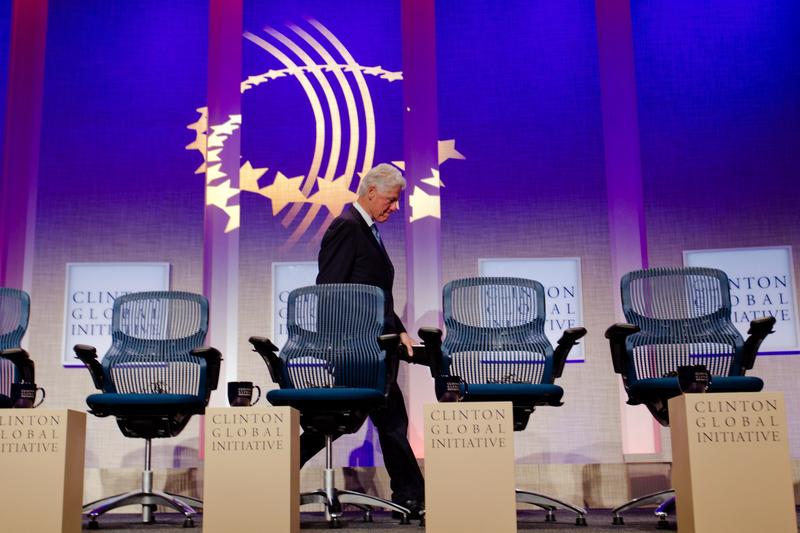 The Clinton Global Initiative will draw at least one VIP speaker from the United Nations General Assembly meeting across town on Day No. 2 of the annual gathering: President Barack Obama is scheduled to address the meeting Wednesday.
Obama made his third visit to CGI since becoming president.
Former President Bill Clinton introduced Obama saying the president, "believes in what we're trying to do. In his former life he was a walking NGO. He also is one of those American who believe climate change is real and deserves a real response."
President Obama said he came to the meeting for two reasons: show his appreciation for the work done by CGI and to discuss the global financial crisis that unfolded three years ago and the "economic pain" that followed.
He said that America is still the biggest economy in the world, and the best thing the U.S. can do for the global economy is get its economy going. "When America's growing," he said, "the world is more likely to grow."
He used the appearance to tout his American Jobs bill saying it "answers the urgent need to create jobs right away." He added he's fighting to make sure Congress passes this bill.
Nothing that President Clinton oversaw job creation while he was in office, President Obama thanked him for his support of the American Jobs bill saying, "as President Clinton said every idea in there has been supported in the past by both parties and everything's paid for. there's no reason why we shouldn't pass it right away."
He also told the crowd that if the economy does not grow, it becomes that much harder to sustain critical development assistance and the partnerships across the globe. "This is important, again not just to the United States, it's important to the world."
The annual meeting focuses on three topics: jobs, consumption and engaging girls and women in all sectors of development work.
Nobel Peace Prize-winner Aung San Suu Kyi and Archbishop Desmond Tutu, who are slated to begin the day, are set to speak on human rights, and former President Bill Clinton will be on a panel that tackles the recent political upheaval in the Middle East.
Former British Prime Minister Tony Blair will be on panel discussing sports as a tool for social good, while Martha Stewart will on a panel discussing sustainable food systems.
Clinton's three-day summit for VIPs with deep pockets began Tuesday with a frank discussion about addressing global climate challenges, co-hosted by Mexican President Felipe Calderon and South African President Jacob Zuma.

There was a sense of frustration among the world leaders over the failure to create a legally binding world agreement on carbon emissions. Clinton said the main issue with green energy is a lack of proper funding.

"This has to work economically," Clinton said. "You have to come up with the money on the front end."
You can watch President Obama's address to the CGI. It starts 40 minutes into the panel.