In Shadow of the UN Debate, Perry's NYC Message Focuses on Israel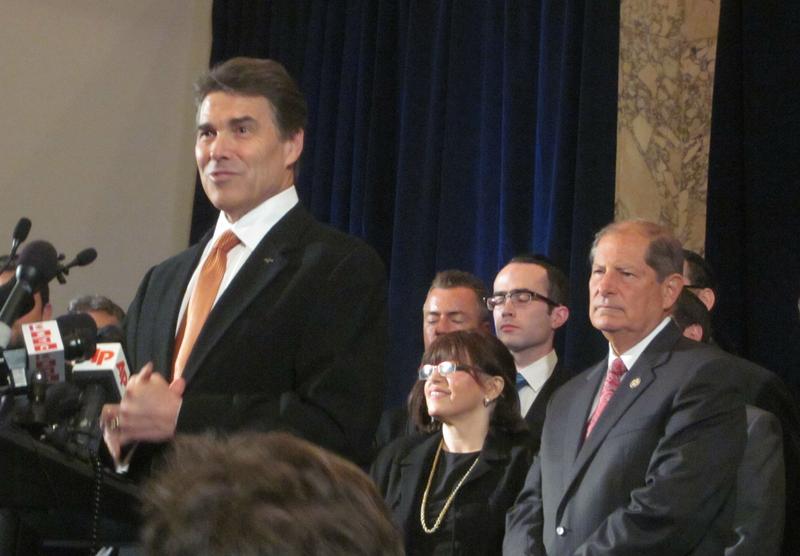 Texas Governor Rick Perry took time out of his first major fundraising swing in New York City to blame the Obama administration's "policy of appeasement" for encouraging Palestinians to seek statehood recognition in a United Nations vote this week.
"We would not be here today at the precipice of such a dangerous move if the Obama policy in the Middle East wasn't naïve, arrogant, misguided and dangerous," Perry said, standing in front of assembled local Jewish leaders and American and Israeli flags.
The vote on Palestinian statehood is scheduled for Friday at the United Nations. It comes a week after Republican Bob Turner won a special election to fill Anthony Weiner's vacant seat in New York's heavily Jewish and heavily Democratic Ninth Congressional district. Rep. Turner stood with Perry, who called the new Congressman "a leading voice" on the Israeli Palestinian issue.
Rep. Turner picked up on that, explicitly warning that his victory in New York shows President Obama's position on Israel will make him vulnerable at the polls. 
"The message that the voters sent is that this administration has been vacillating and at times even hostile to Israel, and it is not accepted and it is not acceptable," Bob Turner said. "And if it continues there will be a very high price to pay."
A Gallup poll last week found that Obama's support among Jewish voters has fallen, but that the decline is in proportion to his overall slipping approval ratings. But it's clear the Palestinian statehood vote this week, and Turner's win in Democrat Anthony Weiner's former district, have the Obama administration on the defensive.
"President Obama are in the middle of a two-week period in which they have been obsessed with supporting Israel and opposing a Palestinian resolution to create a Palestinian state," said former Democratic Congressman Robert Wexler, who now leads the S. Daniel Abraham Center for Middle East Peace. He said particularly at this moment, the American security relationship with Israel has never been closer. "With all due respect to the new Congressman and Governor Perry, what do they know that Prime Minister Benjamin [Netanyahu], [President Shimon] Peres, and [Defense Minister Ehud] Barak don't?" 
The Mideast Peace process wasn't the only thing on Perry's agenda on Tuesday. He was also scheduled to attend a fundraiser hosted by former AIG chairman Stan Greenberg. President Obama is also attending a number of campaign donors while he's in town for the UN General Assembly, including at a fundraiser tonight in midtown featuring R&B singer Alicia Keynes.