NYPD Plays Key Role in Securing UN for General Assembly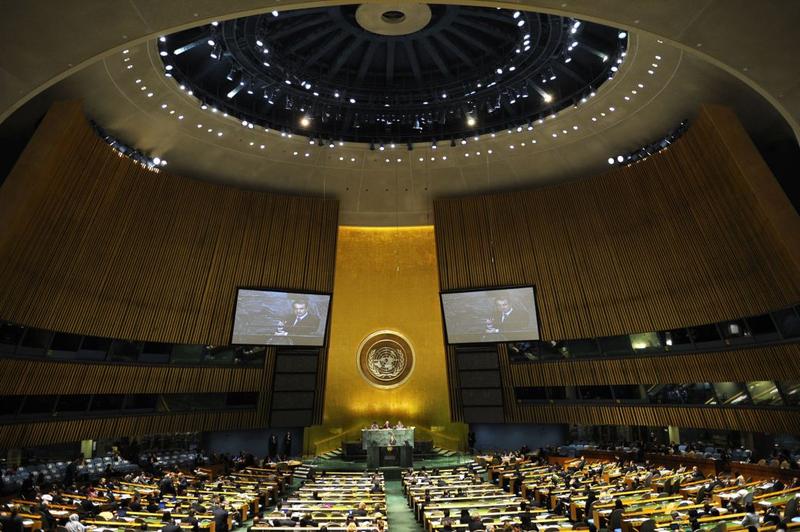 The NYPD plays a central role in helping secure the annual United Nations General Assembly meeting, including working closely with the Secret Service and policing dozens of protests sponsored by a myriad of groups all looking to make their case in the court of international public opinion.
This year, 130 heads of state, including President Barack Obama, are scheduled to attend. The Secret Service provides security for all foreign heads of state while the Diplomatic Security Service, a branch of the State Department, protects lower ranking foreign dignitaries. The NYPD will work closely with both.
Close to 50 demonstrations for causes around the world have been permitted to protest right across the street from U.N. Headquarters.
 
"Most of the demonstration interests is going to be Palestine, but it runs the gamut  from very familiar Free Tibet to a host of environmental and other international interests," Deputy Police Commissioner Paul Browne said in an interview at One Police Plaza.  "If you just think of really any area of contention around the world every year they are usually represented at Dag Hammarskjold Plaza in some form of protest."

This year, UNGA convenes as the geo-political fall out is still settling from the mass protests that sparked the "Arab Spring" and the overthrow of governments in Tunisia, Libya and Egypt. It will also be the setting for a diplomatic battle over the future of the Palestinian territories.

Police say they expect a pro-Israeli rally on Wednesday to attract as many as 10,000 supporters. On Friday, the Palestinian American Congress is hoping to draw 1,000.

Donna Lieberman, executive director with the New York Civil Liberties Union, said there is an international expectation that the city will accommodate freedom of expression, even on controversial issues.  
 
"Being able to protest at the U.N. is a critical piece of our democracy at least in the eyes of the rest of the world," Lieberman said.  She added having the protests be within the clear view of the U.N. is important.

For the NYPD, the high profile international confab is also a great opportunity to leverage the Department's multi-cultural and multi-lingual diversity. More than 20 percent of the department is foreign born and officers can speak 80 different foreign languages.

In anticipation of additional foot traffic generated by UNGA at the new World Trade Center Memorial, the NYPD is planning to deploy additional multi-lingual officers to assist non-English speaking visitors from around the world.

As in past years, the city plans to apply to the U.S. Department of State to get compensated for the additional municipal costs related to policing the annual U.N. event.