Snapshot | Picnicking in Parking Spots
Friday, September 16, 2011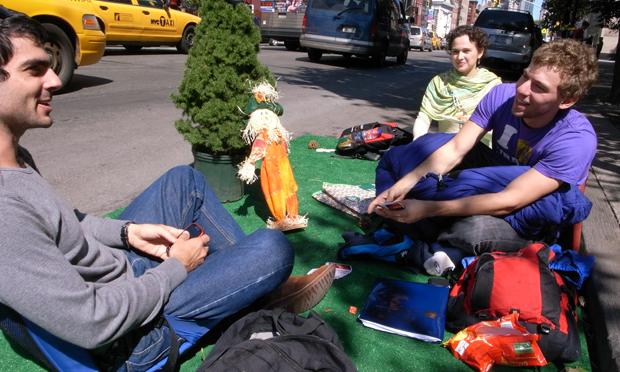 (Stephen Nessen/WNYC)
In an effort to raise awareness about using public space, participants in Transportation Alternatives' Park(ing) Day are taking up city parking spots to have picnics and stage theater performances.
On 6th Avenue, three N.Y.U. students laid a strip of Astroturf in a parking spot, flanked by a Yuengling deliver truck and a parked SUV. Passerbys stopped to gawk, while Jeremy Safran, 24, dealt a game of Uno, and Linmea M. Palmer, nibbled on a slice of pizza at their parking spot picnic.
They were joined by Drew Goldsman, 26, who described picnicking in the street as, "a bit scary."
Park(ing) Day NYC, began in 2005 when Transportation Alternatives occupied one spot on Bedford Avenue in Williamsburg, Brooklyn, and in 2007 it became an official event, according to its website.
The parking spots have Street Activity permits from the mayor's office, so they will not be ticketed.
Check the map below for the nearest spot.
Drew Goldsman, 26 (L), Jeremy Safran, 24, (C), and Linmea M. Palmer Paton, (R), all N.Y.U. students participating in Park(ing) Day on 6th Avenue. (Stephen Nessen/ WNYC)
NYU students create a green space at a parking spot near the university. (Channon Hodge/WNYC)

View Park(ing) Day 2011 in a larger map
More in:
Stephen Nessen reports for the WNYC Newsroom and can often be heard live on Morning Edition.