Niche Market | Chess Shop
New York is a city of specialists from foodies to academics, laborers to shopkeepers. Every Wednesday, Niche Market takes a peek inside a different specialty store and showcases the city's purists who have made an art out of selling one commodity. Slideshow below.

The Village Chess Shop
230 Thompson St.
New York, NY 10012
It's four o'clock in the morning, you've only got $3 in your pocket, and you're itching to swiftly knock down a rook. Press your face up to the door of the Village Chess Shop, knock gently, and there will be an opponent laying in wait.
"Sometimes guys, myself included sometimes, we break the day playing each other," Tariq Rockmon said. Rockman, 65, works the graveyard shift at the chess supply shop, which is open 24 hours a day, 365 days a year.  The serious players come at night, he said, and "it can get real intense."
During your lunch break, you might walk in and sit down at an empty table prepared with a vinyl tournament board and plastic pieces ($12.95), and your opponent could be four-year-old Noah Baumslag, after he finishes his chess lesson. His favorite piece? The knight. 
As you leave you might see Rob King wheel his suitcase in, fresh off the bus from Massachusetts, looking for an opponent. He traveled to Manhattan to visit his girlfriend, but came here for a few games first.
The Village Chess Shop opened in its Greenwich Village location in 1972, in the "chess district," just south of Washington Square Park where to this day, street chess players hustle their skills.  The shop sold both cheap and collectible chess sets, while preserving most of the real estate for rows of tables for cigarette puffing, coffee drinking — often gambling — chess fanatics to congregate. Michael Propper, 50, and Russell Makofsky, 26, bought the place a few years ago and, with the exception of the tobacco residue they scrubbed away, preserved the character of the spot, while baptizing it the new hub and home for their organization, NYC Chess.
Propper, who considers himself more of a chess "facilitator" than a chess player, calls the shop "the coolest place on earth" with tangible pride. He got involved when he saw an opportunity in the chess world for somebody "normal" to organize things.
"I'm a believer that there's a lot more genius in the world than there is common sense, and I consider myself a member of the common sense community, not so much a genius, and chess kind of needed something like that to mainstream it." Propper said, sitting below a chalkboard sign where the house rules were scrawled, "$3 an hour to play, $3.50 an hour to play with a clock, and $1 an hour to hang out."
Propper estimates that they sell between one and two thousand tournament sets a month, plus travel, antique and one-of-a-kind chess sets, clocks and a few other games. They offer lessons and host tournaments, but most people who come through the doors are there for one thing: a game of blitz, in which each player has five minutes and can win by checkmate or by their opponent running out of time.  That's why Jimel Johnson was there recently playing an opponent he had met for the first time that day across the checkered board. "At $3.50 an hour, you have to get as many games as you can," he said.
"You get hooked, it becomes something that you can't do without," said Michael Bloom, a self-described "chess junkie" who has been coming to the shop for fifteen years. But Propper's business partner, Makofsky, suspects it is more than chess that brings people back over and over again.
"I think chess is secondary to the community here, the friends and the environment where they're hanging out. Chess is the vehicle by which they connect with each other," he said.
Rob King (l) and Robert Holyfield (r) face off over a game of chess. (Sarah Kate Kramer/WNYC)
Interview with Michael Propper
What does this place signify in the New York Chess world?
It's a social place and everybody knows it. Everybody's welcome here. It's a public club. They play for pennies. They play a few dollars an hour to play chess here. Coffee's a buck. Everything is designed to be attainable. We get everyone — everyone from multimillionaires and movie stars and ballplayers and fighters, who come in here, to homeless people with one tooth left and they might be the best chess player in the house at that point when they walk in the door. It's really, it's about the coolest place on earth. 
Who are your customers?
This shop is everybody. In the summer time, in the spring months, guys they go out and play on the street for free, and they come back to us and begrudgingly pay us our lousy $3 an hour when it gets cold or inclement outside. And in the winter we're jammed because this is where you play chess. We have a lot of regulars, a lot of students, a lot of performers, artists, a lot of crazy people. I would say we know 30 percent of the people who walk in here by name, but when we chart them on the sheet to make sure they're paying, if we don't know them, they're "blue jacket with sunglasses."
How is chess faring in popularity in an era where there are so many other strategy games, video games, to compete with?
I think it's growing. We emphasize a game here called blitz, which is chess on a clock. And the way you play is you have five minutes on each side and you can either win by checkmate or your opponent running out of time on their clock. So you can sit down for a couple hours and play twenty games of chess. It's totally different. That's what I would have played, if somebody showed me as a kid. How I could play ten minute chess — not Monday to Friday chess. And blitz is really exciting and it's growing.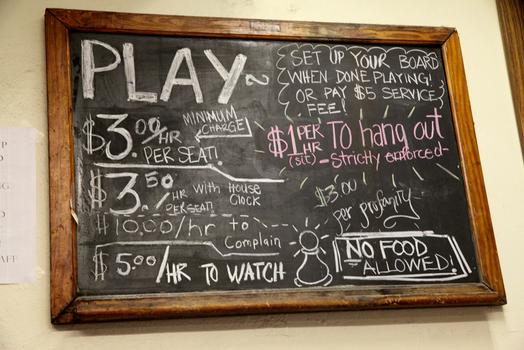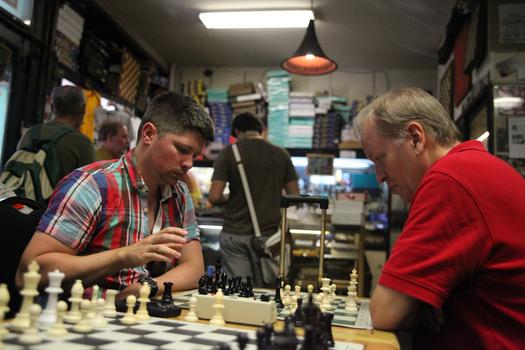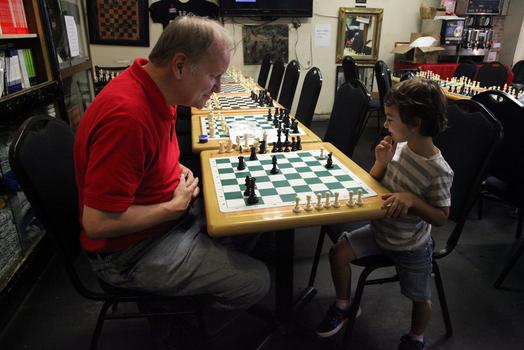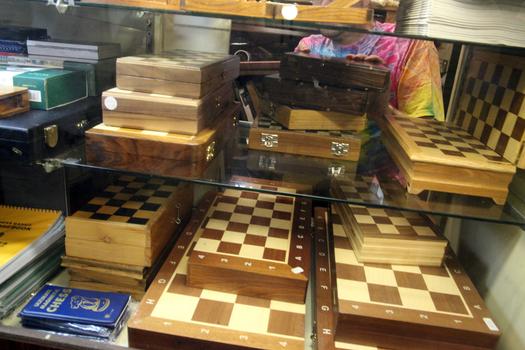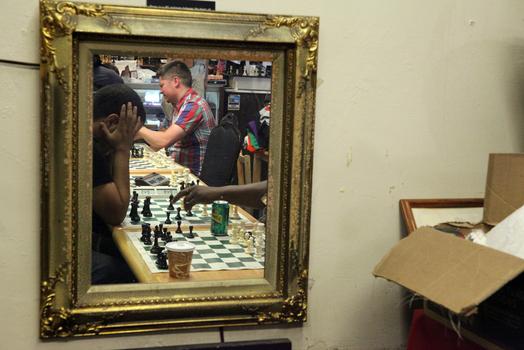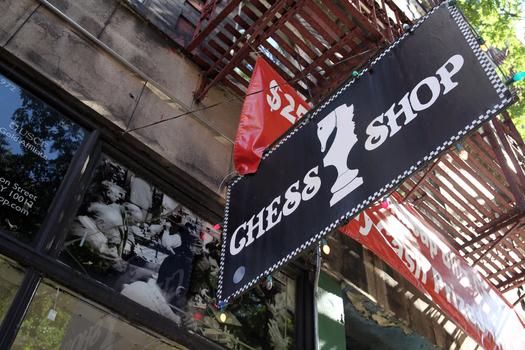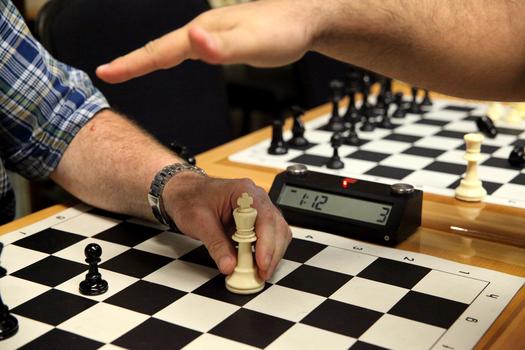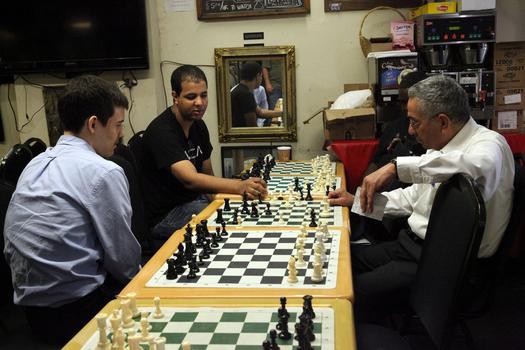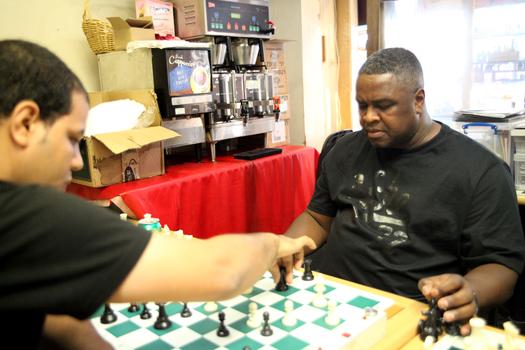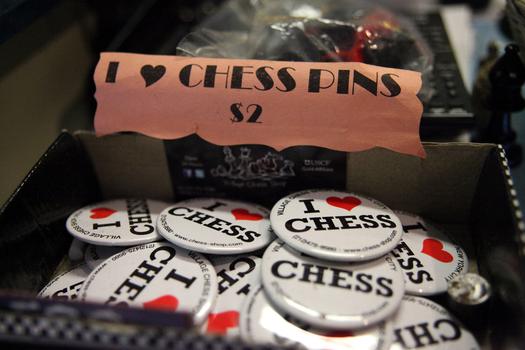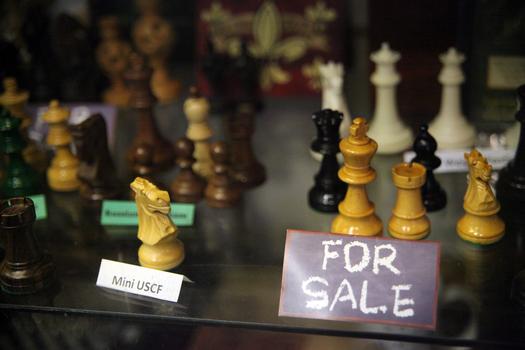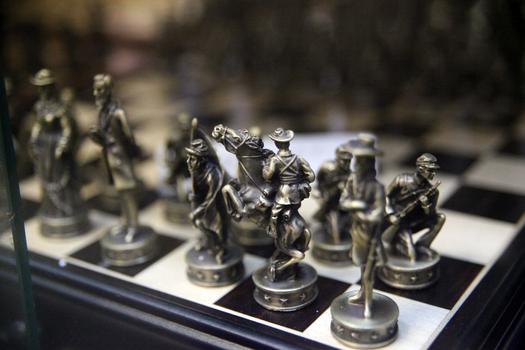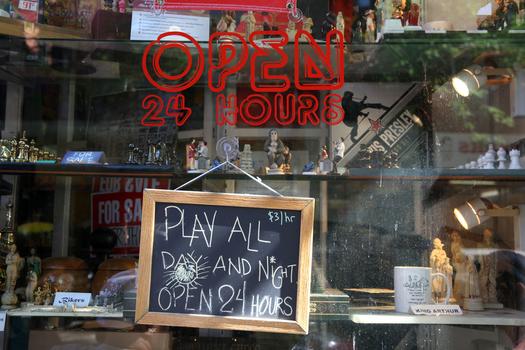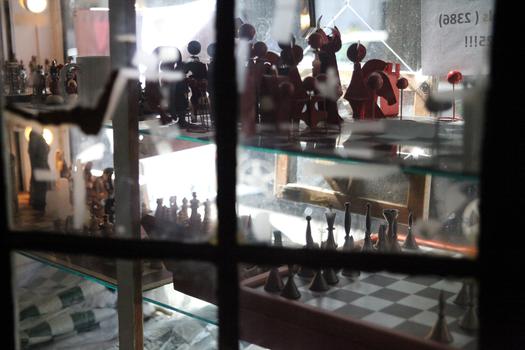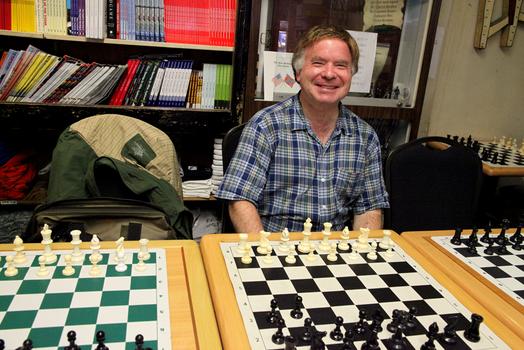 of