A Snapshot of the City: New Yorkers Reflect on 9/11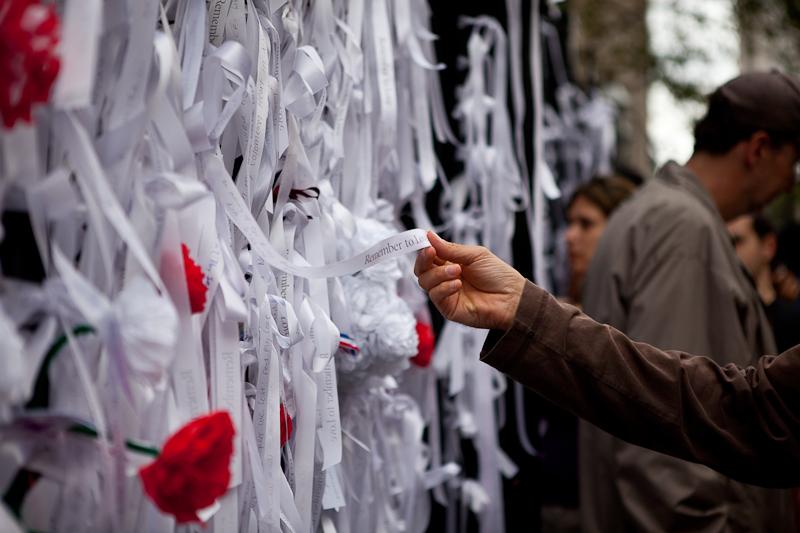 New Yorkers throughout the city marked the 10-year anniversary of the September 11 attacks in myriad ways — crowding into coffee shops, attending church services, sitting in the park. Here are three snapshots from the the city where many reflected on the events that forever changed the world.
The Egyptian Coffee Shop, Astoria, Queens
On Sunday, men in this Astoria, Queens, coffee shop were smoking shisha and drinking tea. Many were watching a soccer game between Egypt and Morocco streaming over the Internet, but shop owner Labib Salama had his mind on the 10th anniversary of the terror attacks. In the days after the World Trade Center fell, he said, the shop was rampaged by four American men seeking retribution.
"Some people think I'm a Muslim," said Labib Salama, who is a Coptic Christian, "and they come they break a lot of thing here. So, I understand, I understand the feeling."
Reflecting on the decade that has passed since the attacks, Salama, who decided not to press charges, said the men later returned to apologize, but their actions spoke of something more ominous.
"I feel sorry not only for you but for me," he said. "I changed my citizenship from Egyptian to American citizen, but I cannot change my face."
Ady Khalil, who came to the coffee shop to watch the soccer game, said he hasn't felt any backlash against Muslims. He said September 11 didn't change his relationship with his American friends.  
"We still go out together, we have fun together, a lot of people have open minds. I don't feel racist or anything," he said, adding: "I feel safer here than in Egypt."
Ashraf Gomaa, who manages a store near the World Trade Center site, sat at the back of the cafe, watching Egypt score a goal in the soccer game.
"I've seen the families over there since 2001, and I feel sorry for them," he said.
Ali El Sayed, who owns the Kebab Cafe across the street, stopped by to smoke shisha outside the coffee shop and talk with friends, something he does daily.

"My heart goes to the victims of September with all kind of groups — Jewish, Christian, Muslim — lots died there. We have to pull our nation together and look forward for tomorrow," he said.
Taking a drag of flavored tobacco, El Sayed said he was optimistic about the future of the city.
"I think New York is going to be strong, we're going to keep going, nothing is going to affect us — not terrorist groups, not even stupid political decisions we make in our nation," he said.
Times Square, Manhattan
The neon center of the city was filled with tourists on Sunday — many of whom came specifically to mark the anniversary. Firefighters from Fort Worth, Texas, rode motorcycles 24 hours in order to attend the firefighter's memorial in Riverside Park.
"We ride for those that lost," said Tim Russell, who rode to Times Square on his Harley. "To give honor to the 343 that died here, to represent our department and show the rest of the country that we did care about what happened up here."
Carol Vance, visiting from Iowa, noted the high security presence in Times Square, where NYPD stood on every corner, some with guard dogs.
"It's a very emotional weekend. Lots of activity that seems strange to me. I'm not sure if it's because of 9/11 with all the police officers in the streets," she said, sitting in the pedestrian plaza at 42nd street.
Gilbert Garza, who walked through the square wearing a T-Shirt imprinted with the American flag, said he and his family had gone down to ground zero earlier in the day to pay tribute.
"I still feel for those families," he said. "You can just see how difficult it is for all of them to still be getting through this."
Brooklyn Bridge Park, Brooklyn Heights
For months after the attacks, Leigh Loranger couldn't bring herself to look at the remaining buildings, but on this anniversary she wanted to take photographs of them. Standing on the promenade in Brooklyn Bridge Park facing the rising freedom tower as helicopters circled overhead, she said
it's like staring at a different city.

"It's a new New York," she said, staring over the river. "It's interesting to look now and really try to see where they were. I can, in a way. But it's almost like they never existed at this moment, it really was a dream."

Some New Yorkers came to the park with its gravel paths to reflect on the anniversary, and others came to forget.
Michael Cantor, who lives in Brooklyn Heights, had a first-hand view of the towers falling, and said he was spending the day outside, tuning out.

"I don't want to watch TV, listen to the radio or read commemorations in the newspaper," he said. "It's all in my brain already. I saw it when it happened, and I don't need to be reminded how horrible it was."

On any day of the year, it's hard to go down to the waterfront without running into newlyweds taking photographs in front of the skyline. Yesterday was no different.
Thirteen-year-old Jenny Yao was in the wedding party for her brother, who was getting married on September 11, 2011, to correspond to a specific date in the lunar calendar.

"I feel like it's a pretty nice day, but the day 10 years ago is pretty sad too," she said, standing with the wedding party on the rocks at the water's edge as trains rumbled across the Manhattan Bridge and kayakers rowed down the river below.