Cup For Sale: A Historic Trophy Could Go to Highest Bidder
Because of intense rain at the National Tennis Center in Queens last week, the U.S. Open men's singles final will be held on a Monday for the fourth-consecutive year. The match-up will also be a repeat of last year's final: Rafael Nadal and Novak Djokovic will duel it out for the winner's trophy. But regardless of what happens inside Arthur Ashe stadium, both players could take home a champion's trophy — but one will have to pay for it.
In the early days of the U.S. championships, players would have to win the tournament three times before they could take the trophy home. In the 1922 final billed as "A Match For Greek Gods," world No. 1 "Big" Bill Tilden squared-off against world No. 2 "Little" Bill Johnston for the trophy. Each had won the tournament twice, but after a grueling five-set marathon it was Tilden who got to lift the cup.
Today, this same cup is up for sale.
The trophy is 15-1/2 inches of sterling silver, with an engraving that reads, "Perpetual USLTA National Championships - Men's Singles Cup." The trophy was nearly captured by at least three legitimate contenders who had won the title twice. The names of champions from as far back as 1911 all appear on the cup — early greats like William Larned, Maurice McLoughlin a.k.a., "The Comet," R.N. Williams (a survivor of the Titanic), Lindley Murray and, of course, the Bills.
"It is considered by experts to be one of the finest and most historic tennis trophies in existence," said former president of the Tennis Collectors of America Ken Benner, who also represents the seller.
The trophy was immortalized in Frank Deford's biography "Big Bill Tilden: the Triumphs and the Tragedy." Many experts consider Tilden to be the inventor of the modern pro game, but the tennis star lived a tortured life. He was reportedly a closeted homosexual and twice served jail time for allegedly wrongly influencing minors.
According to Deford, Tilden's final years were spent living as a broke and destitute outcast in Hollywood, California (where he played his last tennis match on Charlie Chaplin's home court.) At times things got so bad for the former tennis great, he allegedly took to pawning many of his hard-won trophies and other sentimental keepsakes.
Eventually, Tilden's storied cup found its way into Benner's lap. He said, the owner — who wishes to remain anonymous — is currently entertaining selling it.
"If someone names the right price," Benner says, "he's willing to part with it."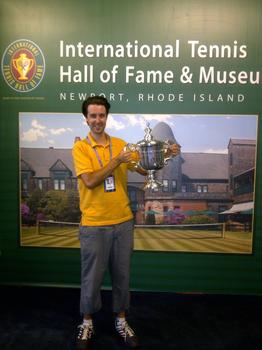 of