Ten Years Later, A Couple Still Finds 9/11 to be the Tie That Binds
It sounds weird, but Beth Kronk and Jim Horch owe their relationship to the terrorist attacks of September 11. Beth and Jim met on a subway in the sad, chaotic week that followed.
Beth, 59, is a dog groomer. Jim, 54, is an ironworker, a welder. He was in a deep funk after seeing his first body on the pile. She noticed, and started talking to him, to pull him out of it.
In  a story on the couple that first aired on WNYC in 2002, Beth said that, when she saw Jim, she thought," This is how I can contribute. I can give my friendship to someone whp's working there. That's a start. Little did I now I'd give my heart too." 
Jim spoke of a charged, supernatural atmosphere on the pile, where he was helping in the recovery effort. "You could feel the people. At least, I thought I felt them," he said then. "And there were days when I walked away where I felt like I took people with me. And there was one day I went to Grand Central Station. I didn't have to. I just felt that whoever followed me out wanted to go."
It was this comment that musician Mary Chapin Carpenter heard while listening to the story on WNYC. It inspired her to write a song. She released "Grand Central Station" in 2004.
"I love the song," Beth says. "It's the best part of him. And it's amazing that somebody that's never met him had gotten it. The words, 'I ain't no hero, I'm a working man'....it gets me."
The song, and a story CNN did about it in 2005 for the fifth anniversary of the attacks, changed something for the ironworker. His ability to absorb the emotional blows from September 11, 2001, finally collapsed.
"It's hard for me to deal with it," he said.  "Anymore, I just don't want to look at it on the TV, I don't wanna listen to it. I just, I try really hard to avoid it. I think that I've taken all that I can and I can't take anymore."
Beth, too, has had her fill. On September 11, she was living on Nassau Street, two blocks from the World Trade Center. Three years later, she moved to Secaucus, New Jersey, driven away from Lower Manhattan by despair and anger.
"I couldn't take it anymore. Every day you walk outside and see that hole in the ground and see the people gawking. It was just overwhelming. The tourists and everything."
Jim moved in with her. They were together, but they had doubts about whether to stay that way, fueled in part by ongoing stress and trauma from the collapse of the World Trade Center. He got counseling for post-traumatic stress disorder. They both received couples counseling, too. And something shifted.
They were married in 2007, nearly six years after their paths collided on that subway train after September 11.
"It's hard to be around people who weren't a part of it and who don't understand just how overwhelming it was," Beth said.  "I don't know how to say this, but it definitely is part of the glue that keeps our relationship together."
And 9/11 — for as much as it pains him now to think of it — is a glue that keeps Jim Horch attached to Ground Zero. The responsibility he felt for guiding souls off of the pile in 2001 now motivates him to rebuild the World Trade Center.
Jim has worked at projects there, including the Freedom Tower. He's laid up now, with a severe ankle injury he got while doing welding at the Fulton Street transit hub. He said he doesn't miss the work. But you can tell he misses the site.
"If I only go back to work for one more day, the rest of my life, I want it to be at the Freedom Tower, when they get to the top, I want to go up there," Jim said.  "I felt that, when we were down there cleaning the place up, I thought, I need to be here when they build it back up."
And Jim's fellow ironworkers are building it back up. The Freedom Tower — now officially called One World Trade Center — is now 80 stories tall, on its way to 105 stories. It's supposed to be finished in two years, and when it is, it will top out at the symbolic height of 1,776 feet, and once again be the tallest building in the city, if not the country.
Jim is happy about that — as he puts it, it will "help take the scar up."
But both he and Beth are disappointed that it's been taking so long.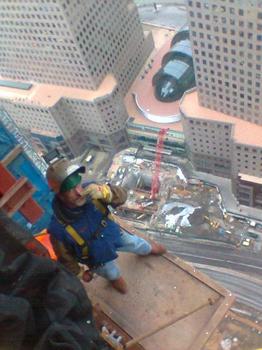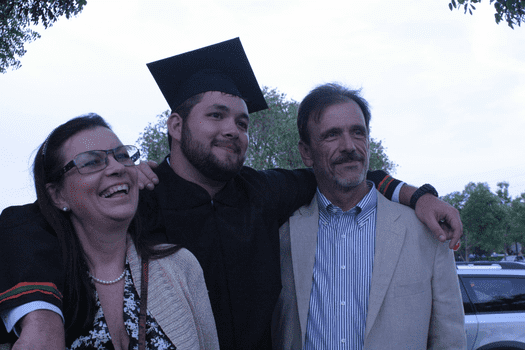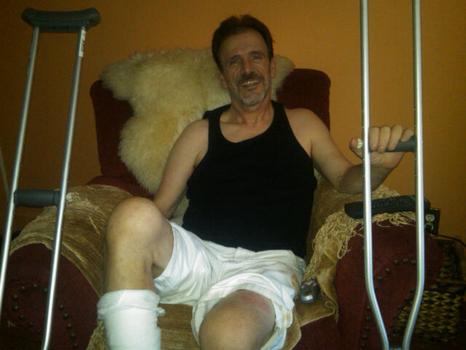 of