New York is a city of specialists from foodies to academics, laborers to shopkeepers. Every Wednesday, Niche Market takes a peek inside a different specialty store and showcases the city's purists who have made an art out of selling one commodity. Slideshow below.

Boarders
192 Beach 92nd St.
Queens, NY 11693
About 5,000 miles from Hawaii, but less than ten miles from Long Beach, where the Association of Surfing Professionals is hosting a world championship competition this week, 61-year-old Steve Stathis' eyes twinkled as he considered the growing enthusiasm for surfing off New York shores.
"You have locals, you have locker locals, you have bungalocals, then you have what we call D-F-Ds, Down For the Day," the proprietor of Boarders said fondly, describing the surfer population on Rockaway Beach, two blocks away.
Surfing in the Rockaways may be a novelty for the Brooklyn and Manhattanite hipsters who now buy, rent or store boards at Boarders, but there's been a solid community of local surfers on the beach for a half century.
Stathis, who counts himself among the "groms" (beginning surfers) of '63 in the Rockaways, was approached by his two sons in 2004 about buying a surf shop. He thought it was a dumb idea, but his sons, one of whom is a firefighter and the other a tow-truck driver (both grew up in the neighborhood surfing), eventually swayed him by appealing to history. "They said, 'C'mon Dad, you were one of the guys who pioneered surfing in the Rockaways,'" he recalled, while standing in the outdoor changing area behind his store. He did buy the surf shop and now runs it with one of his sons.
To Stathis' surprise, the business, which retails hand-shaped surf boards (between $500-$900), wetsuits, bathing suits, wax and skateboard gear, did not fail — though he's still happy to have his pension from Con Edison. Boarders happily tapped into the new found popularity of the Rockaways, where outer-borough restaurateurs have re-opened the concession stands on the boardwalk to sell fish tacos, vegan desserts and gourmet pizza. On a recent afternoon, the store had a steady stream of sandy, sun-tinged young people coming through.
Fernando Limonic was in to purchase a roof rack for his car, so he and his two friends would have an easier time mounting boards for their daily trips from Williamsburg. "If, by 9 a.m., you've gotten into the water and you're sitting on a board looking around you, you've already had a successful day. It's beautiful out there," Limonic, a public school teacher, said.
Boarders is a space where the usually divergent worlds of Williamsburg hipsters and Queens teenagers overlap. There's a skate park up the street where local concrete-surfing kids fly down half pipes and stop at Boarders to purchase new wheels and borrow tools.  Chris Coleman came in with a group of friends, placed his skateboard on the counter and asked to borrow a wrench.
"I'm fixing my trucks because they're unthreaded and I don't have a tool at home, so I just came here," explained the 16-year-old skater who lives in Far Rockaway.
There's also a set of local adolescent 'groms,' who hang at the store in between ripping waves. For Stathis, born and raised in the neighborhood, the changes he's seeing in the Rockways are evidence of how things come full circle. "When I was a kid we had what's just coming back now," he said, recalling the ice cream sandwiches sold on the boardwalk (though they weren't vegan). And you can't ignore the economics of the Rockaways compared to the Hamptons, he said. A subway ride and renting a board for $35 is "a cheap date."
Looking forward, Stathis wants the city to expand the sections of the beach where surfing is allowed. He himself still loves the water, though these days he does more stand-up paddling than surfing.  "You can ride waves, and it's a very good core work out," he said.
Steve Stathis puts a surfboard away behind his surf shop, Boarders. (Sarah Kate Kramer/WNYC)
When did you start surfing?
I started surfing in about 1963. We followed up the guys who were a year or two older than us that were surfing. We were the 'groms' of '63. Groms are beginning surfers, and anywhere those guys went, we followed them. We borrowed their boards, anything they did we wanted to do, and we picked up surfing pretty quickly because we put a lot of time into it. Some of us got pretty good. My friend Dennis was the first sponsored kid from New York, as far as I know.
Have you surfed in other places?
I've surfed in other places. As kids we used to wait because the older guys would take us out to Gilgo beach on Long Island and maybe Montauk, that was really exciting. "Oh, we're going like 100 miles away!" And you'd have to get permission from your mother. Later on, I believe it was in 1968, a group of us went to Puerto Rico.
Who are your customers?
They come from about every continent — I guess not Antartica, but all over the world. Some new to surfing, some experienced surfers. They'll tell their friends that they had a great day at the beach and then their friends want to try it. Once you get bit by the surfing bug your life changes. The local people from the neighborhood come here because they know me and my son and they support the shop. The people who come here, the transient people, what we call "D-F-Ds" (Down for the Day) those people come from all over — typically, they're coming now from Brooklyn and Manhattan. The fact that we have places for them to store their boards makes them almost part of the community here. This way they're not going to be on the subway with a 9-foot surfboard and inconveniencing everyone else. 
I get people in here that come from say Australia or Hawaii, some other big surfing location who can really surf and they'll go down and they'll have a great day and they'll come back and they'll be happy. And then I'll get somebody else who's just stood up for the first time, and I think they experience the same happiness. So there's different levels of talent and experience, but I think the satisfaction is the same, the gratification is the same.
Did Hurricane Irene make for good surfing?
Irene was a bit of a disappointment in terms of surfing. Sunday when it hit, it was not rideable and it passed through very quickly, the waves dropped almost immediately, so it really didn't stir anything up. Not to sound — we flooded here, so I had to experience it. Thank God nobody around here was injured or hurt. I had a place that I had three feet of water in, I had to clean it up and put up with that stuff also. But that said, we like to see hurricanes come this way to make the waves bigger. Obviously we don't want anyone injured or killed, but as far as surfers go, we live for days where we can get out on big waves.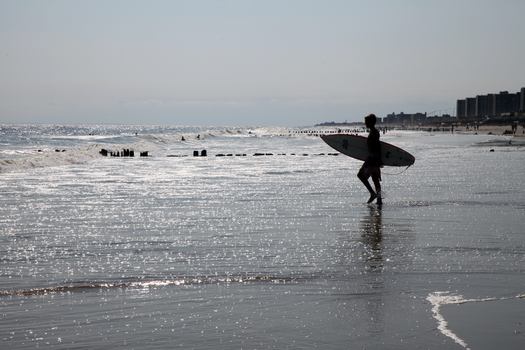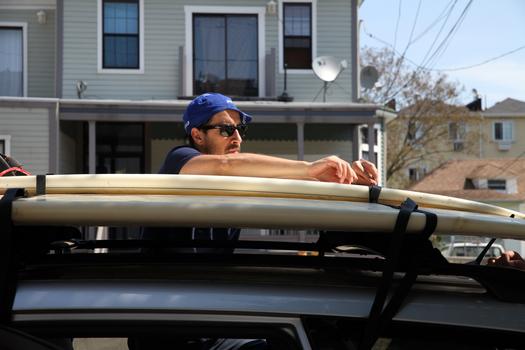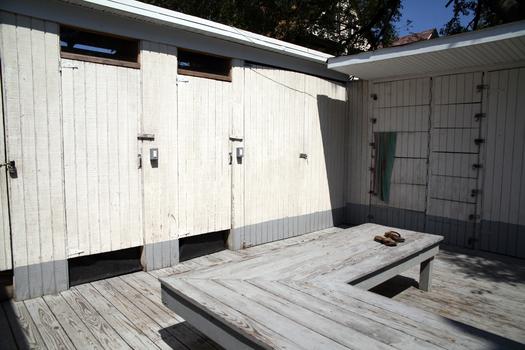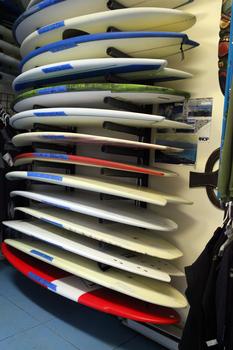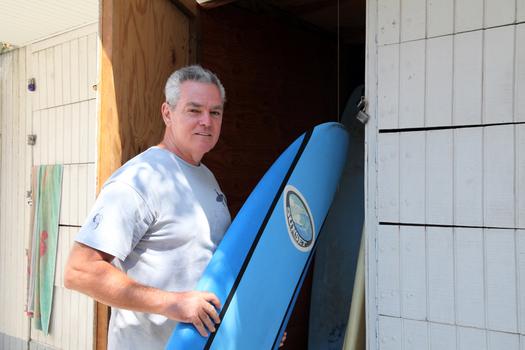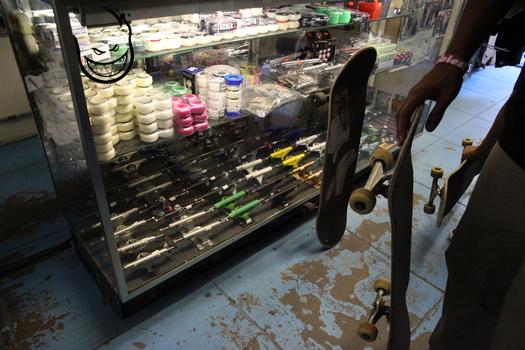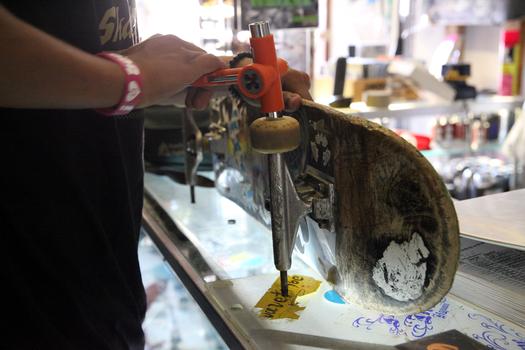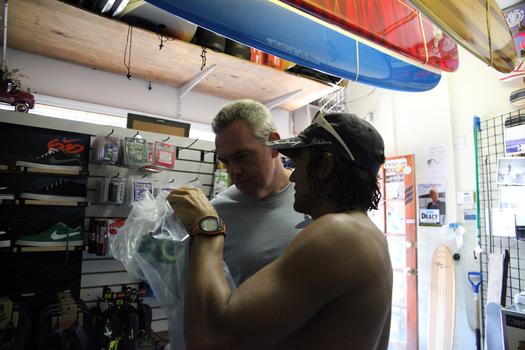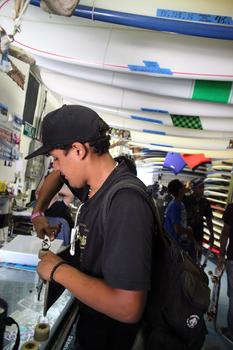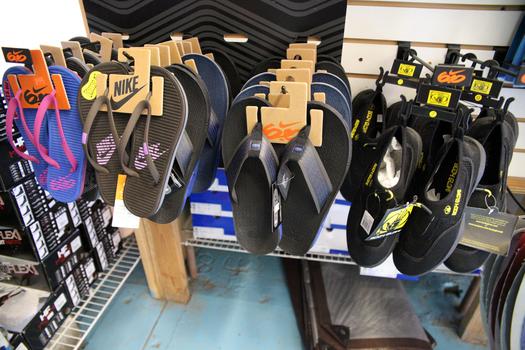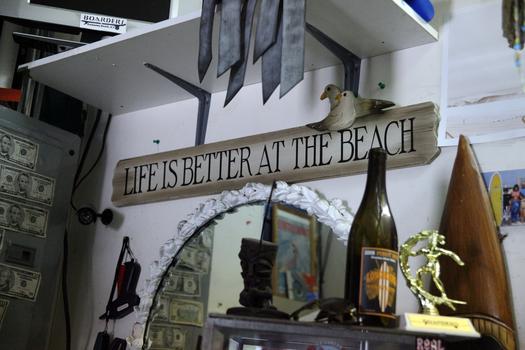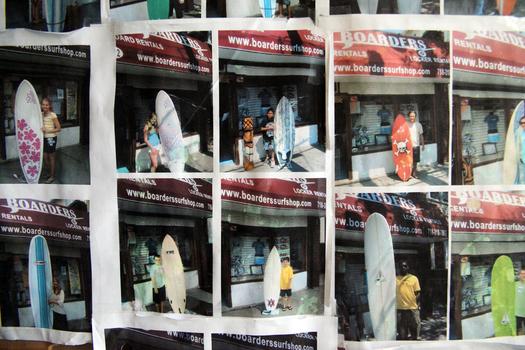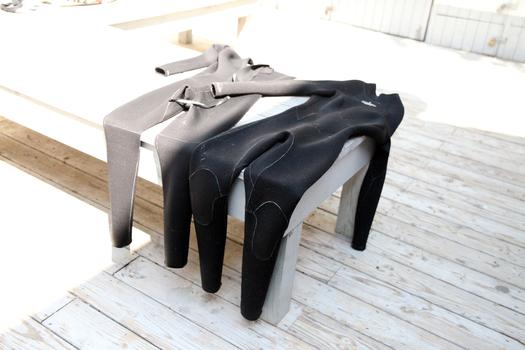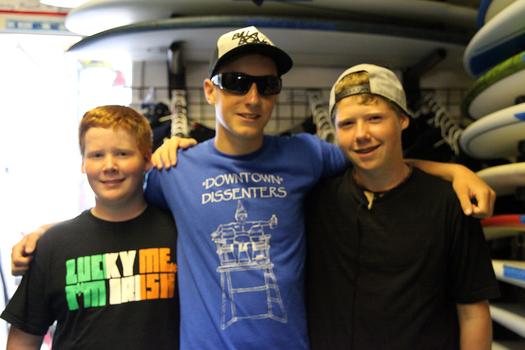 of