Setting the Week: Palin, Perry, and the Prospect of Austerity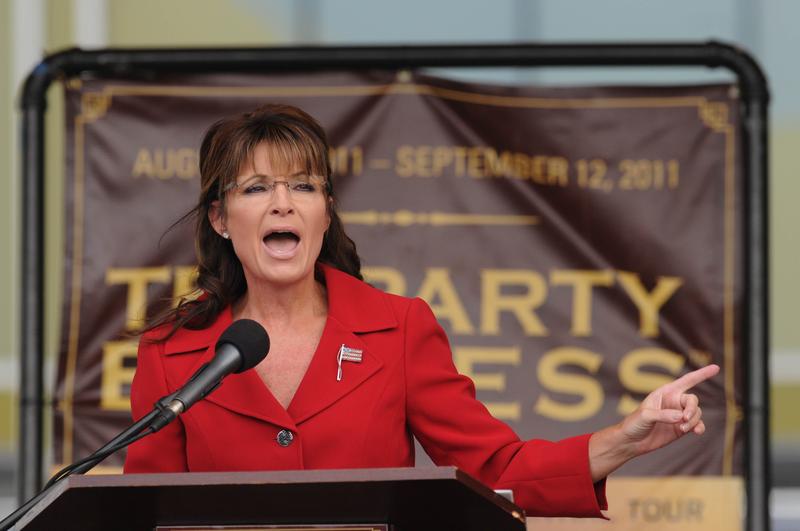 Welcome to Politics Bites, where every afternoon at It's A Free Country, we bring you the unmissable quotes from the morning's political conversations on WNYC. Today on The Brian Lehrer Show, David Dayen, writer at Firedoglake.com, joined public relations consultant, blogger at Alarming News, and contributor to It's A Free Country Karol Markowicz to talk about the latest political news.
Closer to a Palin run?
The holiday weekend saw President Obama speaking to organized labor, Republican candidates answering to Sen. Jim DeMint, and Sarah Palin doing everything a presidential hopeful does besides show up to a debate.
There's been speculation about a Palin run for the White House ever since the 2008 elections. As she tours the country on her freedom bus giving speeches and stealing spotlights along the way, the media follows, desperate for her to define her intentions. It's a Free Country's own conservative blogger Karol Markowicz recently penned a defense of Palin's attention-getting ways, but she thinks the former governor will ultimately forego the race.
As soon as she runs she becomes a target for everyone, including Republicans in the primary field. She has too much power and she's making so much money that I don't see her running.
Perry and the 'Pawlenty position'
Turning to those who are running for president, both Markowicz and David Dayen agreed that Rick Perry was the one to beat. Unfortunately for his supporters and debate junkies on both sides of the aisle, wildfires in Texas have taken the governor away from participating in yesterday's forum in South Carolina, and possibly tomorrow's more formal debate.
It may be unfortunate for the rest of the candidates too. Dayen cited Tim Pawlenty's failure to go after Mitt Romney earlier this year; he missed too many opportunities to bash the front-runner. Now that Perry has jumped into the lead, Romney needs to do what Pawlenty couldn't.
Not having Perry on the stage will probably hurt everybody else. There will not be that target to shoot for. It's not necessarily about whether Perry is going to go on attack, but whether anyone else will go on attack against Perry. Mitt Romney is in the Pawlenty position right now.
Austerity narratives
As for the substance of these speeches and debates, the focus is on jobs and the economy. Deeper spending cuts? More public investment? Higher taxes? No taxes? What's a country to do.
Both bloggers looked to European nations as cautionary tales. David Dayen said that austerity measures across the pond did more to kill recoveries than aid them.
They've gone through these austerity programs, they've massively cut spending—even if they've raised taxes in those austerity programs, they've led to practically zero growth. It's pretty clear empirically from the data that when you cut spending in the middle of a jobs crisis, in the downturn, in the middle of a demand crisis, you're going to reduce demand that much more and end up hurting your economy in the process.
But Karol Markowicz saw a different culprit for the calamity.
The problem with Europe is because they raised taxes, not because they cut spending during these times. When you raise taxes you reduce the amount of money people are taking home, you reduce the amount they're spending and you hurt economy even more.