Grandstand: Crowd-Pleasing Matches in a Crowd-Pleasing Venue
You make friends when you're sitting in the seats behind the baselines in the Grandstand Stadium at the U.S. Open — because those who score these coveted seats rarely give them up.
Such was the case over the weekend, when my husband and I finally scored two prime seats, together, at Billie Jean King National Tennis Center where some of the best matches are played at the U.S. Open.
All seats in the Grandstand are general admission, with the exception of reserved seats for the media and for players' guests along the west sideline. There are 6,000 seats.
It's smaller and more intimate than the 22,547-seat behemoth that is Arthur Ashe Stadium, or the 10,200-seat Louis Armstrong Stadium that is right next door.
There are plenty of good seats at Grandstand, but the best, in my opinion, are right behind the baselines, and the jockeying for them begins early. 
For 18-year-old Chas Crawford, whom we got to know over the course of seven hours on Saturday, his strategy is to arrive at the Tennis Center when the gates to the grounds open, at which point he's "running to get here."
He was sitting at the far western side of the stadium in the second row. I found an open seat next to him during the final set of the third round match between No. 7 seed and 2010 French Open champion Francesa Schiavone and Chanelle Scheepers.
Mark was still several rows behind me, in an upper section. We were taking turns descending into the baseline section and making inquiries during the changeovers: "Are those seats taken?  Are there any seats available? Oh, your husband has gone to get food?" (And we've noticed he's been gone for nearly an hour!) "Oh, okay."
I had my foot in the door. Now, I had to watch, wait, and, perhaps, cajole or bribe to push it all the way open and get a seat for Mark. That opportunity came during the next changeover. That's when Chas Crawford conceded that the other empty seat beside him was for his dad, who had disappeared with his sister about 45 minutes ago to check out another match and who didn't appear to be coming back.
I motioned frantically to Mark to come down and join me.
Crawford is from Atlanta. It was his fourth year coming to the U.S. Open. 
"I love Grandstand because the greatest matches always are here," he said. "The players they put in here are not high ranked, they're in the middle of the draw in terms of level."
Meaning that they're competitive, not the complete blowouts that you see in Ashe, where a tennis great like Roger Federer plows through his early round opponents.
Another Grandstand baseline section neighbor, Frank Weisslinger of Maine, told us he paid $3,600 for a seat in the loge section of Ashe for the entire two-week run of the tournament, but so far this week, he's only sat in that seat twice.
"All the best matches are in Grandstand," he said.
So far, fans in Grandstand were treated to upsets by two American teens. Christina McHale ousted eighth seed Marion Bartoli, and Sloane Stephens defeated 23rd seed Shahar Peer in their second round match-ups on the court in Grandstand. (They both went on to lose in the third round.)
We saw Schiavone fight off a match point in the second set against Scheepers to win the set, and eventually, the match, 5-7, 7-6, 6-3.
And Mark got a hug from a sweaty and elated Andrea Petkovic of Germany. The 10th seeded German had just done one of her little victory dances on court, after thumping Roberta Vinci, 6-4, 6-0. 
You can't get this close at Ashe for a $50 grounds pass, that's for sure.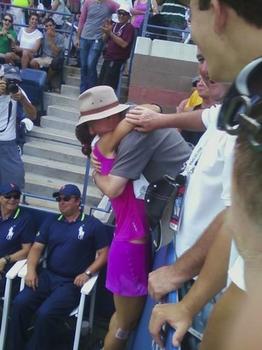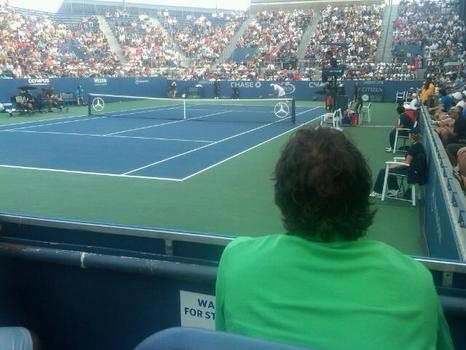 of