Officials Plan Repairs for 150 Upstate Roadways
State officials have pledged to clear and quickly repair more than 150 roads closed upstate flooded and ripped apart by Tropical Storm Irene.
Thoroughfares like Route 73 in the Adirondacks and Route 23 in the Catskills — shut down due to road buckling, collapsed bridges and washouts — are lifelines for upstate residents, business people and farmers.

"It's not going to be months for these major arteries to be open," said Howard Glaser, operations director fro Governor Andrew Cuomo. "We're very, very focused on getting the contractors up there."
Many upstate farms are still inaccessible by car. Preliminary damage assessments show 140,000 acres of farmland lost to flooding with 4,000 in 26 counties damaged.
The governor has requested federal assistance to help farmers recover from Irene damages totaling at least $45 million.
Earlier this week, Cuomo requested a natural disaster designation for the following counties (in red below): Albany, Broome, Clinton, Columbia, Delaware, Dutchess, Essex, Greene, Lewis, Montgomery, Oneida, Orange, Otsego, Putnam, Rensselaer, Saratoga, Schenectady, Schoharie, Suffolk, Sullivan, Ulster, Washington and Wayne.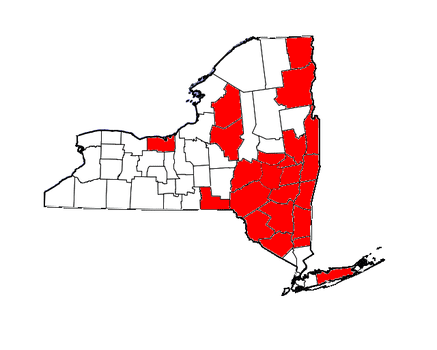 of