New York's Only Gay Square Dance Group Dances On
It's a warm Tuesday night, and in the air-conditioned auditorium of the great hall at the Fashion Institute of Technology, the room is decorated with cascading white paper streamers. Small clusters of white balloons vibrate softly in time to the music professional square dance caller Dale Hodge is playing on his laptop.
Dancers swing their partners and do-si-so, all the while laughing and occasionally getting tangled up in each other. Most are casually dressed, in white shirts and jeans or shorts, though one member sparkles in strappy heels and slitted white leggings with a wide brimmed hat.  Members of the group dance two or three songs, then take breaks, sitting at the folding tables and nibbling snacks and catching up.
The dancers are part of New York City's only gay and lesbian square dance group, the Times Squares. The Times Squares started in 1984 as an extension of a gay adventure group organized by New York's Lesbian & Gay Community Services Center, now known as the Lesbian, Gay, Bisexual and Transgender Community Center. The group would get together regularly for hiking and camping trips, and at the urging of a few members branched out into square dancing. 
Twenty-seven years later, through massive cultural changes, through the AIDS epidemic, through the trials of growing older, the group dances on, holding weekly dances, flying to conventions and even offering a yearly square dance school to bring in new dancers.
There are about thirty-five dancers here tonight, for the group's summer White Party. They are mostly men — only two women are present — and mostly older, with the youngest dancer tonight in his forties. They represent a diverse collection of nationalities, including Central America, South America, the UK, and Egypt, as well as boroughs like the Bronx.
Shep Wahnon has been dancing with the group since 1987. He dances at the advanced level, he said, but "not very well." He said he loves how upbeat square dancing is.
"It's intoxicating. It's a special kind of dancing. It requires a lot of learning. It's not intuitive. When it works out, it's pretty." He shrugged and smiled. "It's exhilarating a little."
Wahnon, who lost his right arm, said he became disabled after he had started square dancing. "I was worried it wouldn't work out," he admitted, noting that the dancing includes a lot of hand and arm contact, but the group "just accommodated me."
He was joined by another dancer named John, who asked that his last name not be used. ("He's in the closet," Wahnon cracked, "about being a square dancer.") John, 64, has been dancing with the group since 1988, though he dropped out briefly in the 90's. Asked why he came back, he grimaced.
"Arthritis. The doctor told me I need to keep active, and this is an activity that I like, so..." he trailed off and looked over at the other dancers. "And I missed it."
(Photo: Shep Wahnon takes a break from dancing./Alec Hamilton for WNYC)
John first saw the club performing out on the Christopher street piers. He said since that time there has been a serious decline in enrollment. When he took classes in the 80's, he said, there were usually around 80 people in a class. "Now we're lucky if we have ten or twenty." He blames the decline on a failure to interest younger people. "We've already reached everybody of our generation."
Both he and Wahnon agree that square dancing has a bad reputation among younger people, as being, well, kind of nerdy. 
But Wahnon thinks the anachronism of square dancing in a large urban center only makes him enjoy it more. "You know it's contrarian to square dance in the greatest city in the world. None of my friends are into it. They say  'square dance! Are you crazy?'"
Both Wahnon and John said the time commitment discourages people from getting involved. Because of the complexity of square dancing, if learners miss a class they miss a whole series of calls. Yet Wahnon also cautioned against getting intimidated by the complexity.
"People say they have no rhythm, and I say, 'then this is the class for you!' It's dancing by direction."
The dancer in the glamorous outfit turns out to be the club president, Emad Heikal.  He has been dancing with the group for eight years.
"A friend who square danced called and told me about it. I thought, square dancing, what are you talking about? I'm from Egypt, we never square dance in Egypt. But eight years later," he flashed a smile, "here I am."
He said efforts are underway to recruit more dancers. The club just held a series of open houses, and classes will run from October through February. This year, classes have been shortened in order to make them easier to attend. 
Nick Martellacci is the caller for the classes. He is the third caller the club has had since it's founding, and he said he worries about the future of the group.
Martellacci said back in the earlier days of the club, the Times Squares would go around to gay clubs to recruit more dancers. "We'd dance for ten minutes, get them to dance, and then go home. Now people don't have the energy they had twenty years ago. "
As the group trends older, Martellacci said it follows that they tends to attract older people. But Martellacci professed to love a challenge-- including the challenge of changing people's preconceptions about square dancing.
 "There's a number of misconceptions people have about square dancing. You don't have to like country music. Saturday night there will be no country music. They will be dancing to Lady Gaga."
Out on the dance floor, Alain Buzzard, 82, is clearly having a great time.  A huge smile on his face, he twirls, steps, and claps with energy and elegance. As the caller finishes his final call, Buzzard steps back and, still smiling, bows to his partner.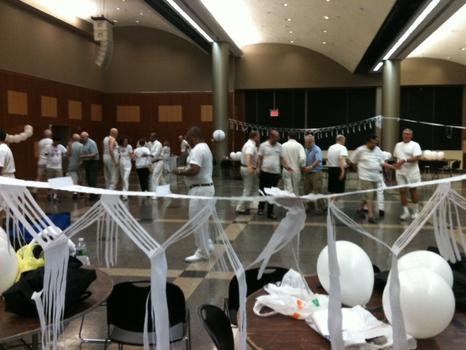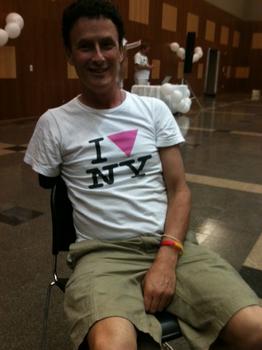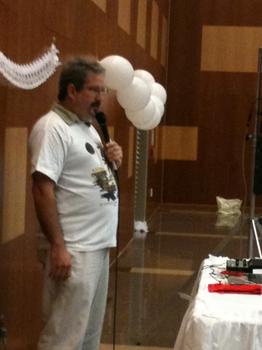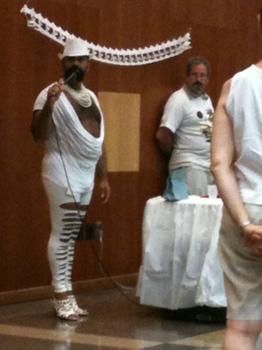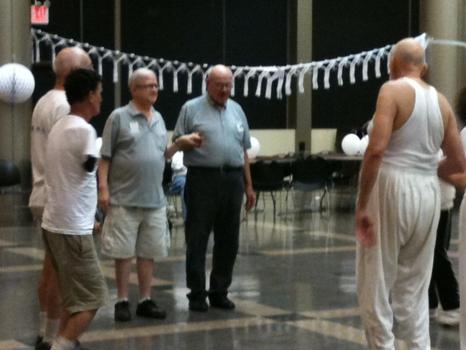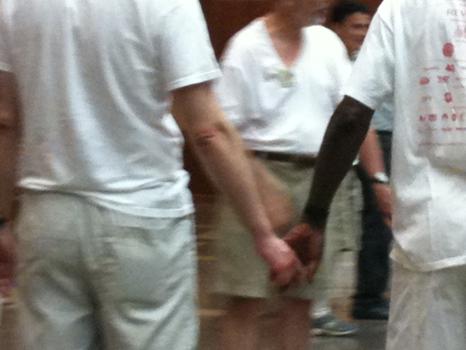 of