Queens Threads: Having a Ball With Stylish Tennis Duds
Thursday, September 01, 2011 - 01:17 PM
As hard as it may be to imagine, there once was a time when women's tennis wear was a trendsetting fashion. From the 1950s through the '70s, a Ted Tinling dress was simply a must-have for any woman with style.
Tinling was an English tennis umpire-turned-fashion icon. He designed Billie Jean King's famous dress for the 1973 Battle of the
Sexes match against Bobby Riggs. He made Chris Evert's wedding dress in 1979 — the year she married John Lloyd. And Wimbledon is still talking about the lace panties he fashioned for '50s sex-pot Gussie Moran.
(Photo: Maria Sharapova's dress/by Nate Chura)
Today, however, tennis threads are passé — except in Queens for the U.S. Open. During these two weeks at the end of each summer, the world's sexiest tennis stars bust out their most daring dresses and do battle.
While many fans fall over each other snapping pictures, others take it a step further and visit Mason's, the famous tennis boutique on East 53rd Street, just off Madison Avenue. It's the best place to shop in the city for the clothes the pros are wearing.
Dana Mason, who does all the buying for the women's department, didn't bat an eyelash when asked what dresses were flying off the racks as she raced around the store during a recent visit.
"Serena Williams," she said.

It seems the dress is so popular they don't even have it displayed.
"It sells very well," echoed Penny Wetter, a sales assistant at the shop.
(Photo: Maria Kirilenko's dress/by Nate Chura)
Kathleen Lawlor, visiting the city from Boston for the U.S. Open, was making her way through the narrow aisles and said whenever she's in town, she and her friend drop by the tennis shop and scope out the fashion.

"We like to look at some of the different lines that we see people wearing," Lawlor said.

When asked if she would wear any of the dresses to a cocktail party Lawlor laughed, and said, "No."

Tara Petrozelli, another sales assistant at Mason's, said she loves Serena's dress, and might be behind part of its disappearing act.

"I always try to sell it," Petrozelli said.

She doesn't own the dress yet, but told me she will soon. As for whether she would wear it to a cocktail party, Petrozelli has no reservations.

"I always tell people," she says, "You could just go off the court and just go to dinner."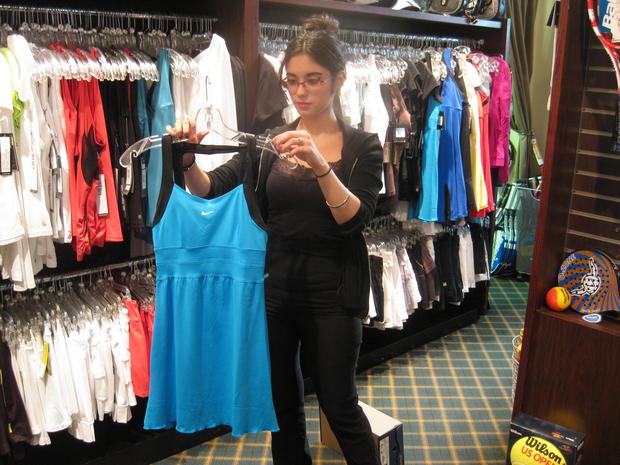 More in:
Nate Chura is senior tennis pro at the Heights Casino in Brooklyn and covers the U.S. Open for WNYC.