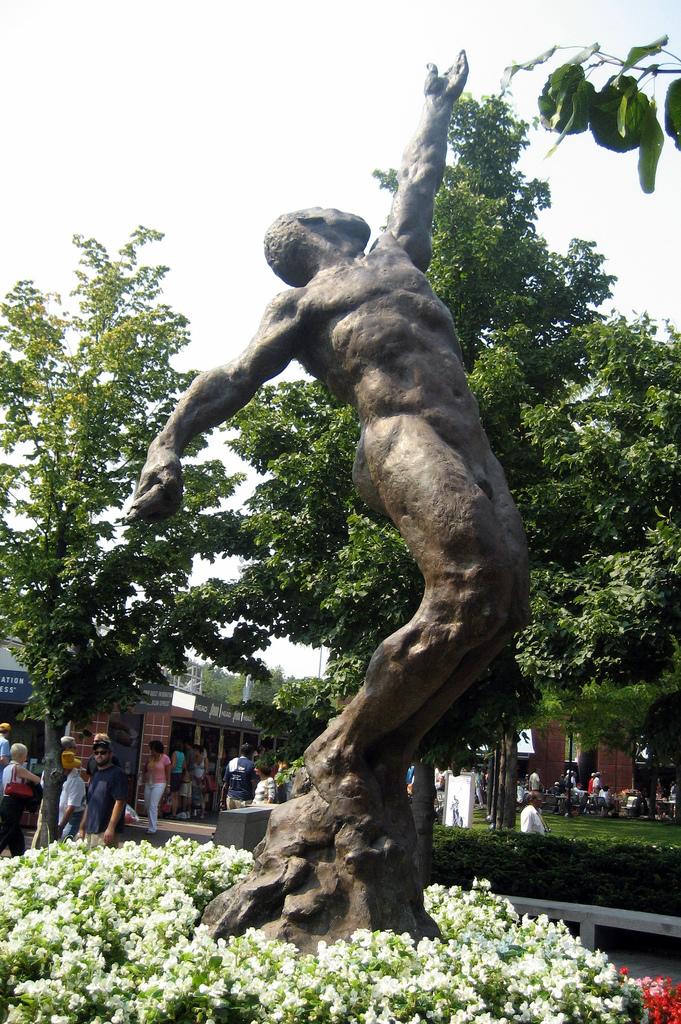 The largest court in the United States Tennis Association's complex in Flushing Meadows, where the US Open has taken place since 1977, is named after Arthur Ashe, one of tennis's great ambassadors. Today we give you a chance to listen to the late Ashe, in a 1987 installment of WNYC's broadcast of Voices at the New York Public Library, where he spoke about his upcoming book on racism in sports.

A man of firm convictions but gentle demeanor, Ashe was a celebrated figure and a fierce competitor. He won the US Open in 1968, the Australian Open in 1970, and Wimbledon in 1975.
The 1987 New York Public Library brochure offered the following biographical sketch:
'It is controlled cool,' says Arthur Ashe of his legendary demeanor on the tennis courts. This same credo helped him in his 1975 triumph over Jimmy Connors at Wimbledon. The source for this self-control has its roots in discrimination, which Ashe endured in the 1960s and 1970s when he was regularly excluded from tennis tournaments while at UCLA and as a Davis Cup team member. In his 20 year career, Ashe won some of the most coveted singles championships in the game. A near-fatal heart attack ended his professional tennis career in 1979. Ashe is author of four books, including Off the Court, and, most recently, the three volume A Hard Road to Glory: A History of the African-American Athlete, just out from Dodd, Mead and Amistad Press.
Less than six years later, Ashe would die at 49 from complications due to AIDS. Voices at the New York Public Library drew from lectures presented orginally at the NYPL's Celeste Bartos Forum and broadcast over WNYC in 1993. 
Bonus:  A 1947 audition for "Ladies' Day", with uncannily talented athlete Mildred Babe Zaharias (who speaks about her short tennis career) and Elyse Knox Harmon, wife of football star Tommy Harmon. Sponsored by Budge-Wood Laundry Service --the innovative company started by the late tennis champs Don Budge and Sidney Wood.