Endorsementpalooza Rolls On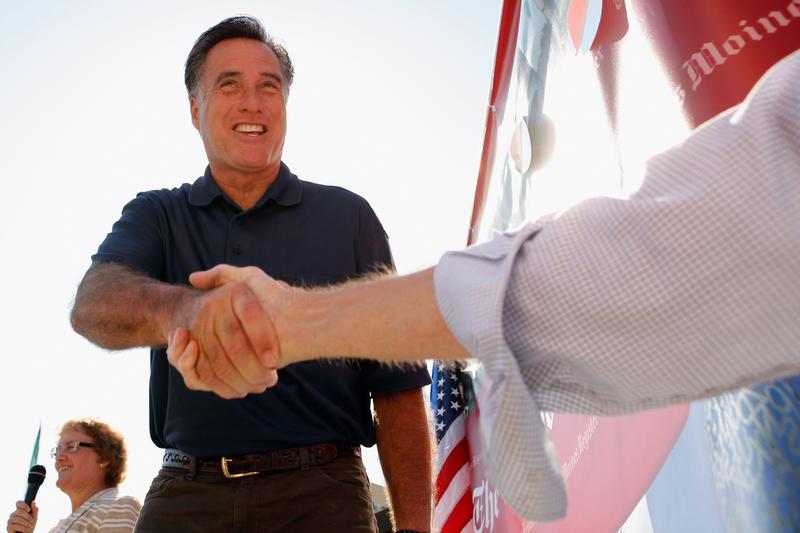 Big endorsements most recently from New Jersey Governor Chris Christie and Louisiana Governor Bobby Jindal, who are backing Mitt Romney and Rick Perry, respectively.
Here's an updated look at who's for whom.
As of October 24th, 2011
Mitt Romney
New Jersey Governor and 2012 almost-ran Chris Christie
Idaho Governor Butch Otter
Nebraska Governor Dave Heineman
Former Minnesota Governor and 2012 candidate Tim Pawlenty
Former New Hampshire Governor John H. Sununu
Former New Hampshire Governor and U.S. Senator Judd Gregg
Former Minnesota Representative and former national co-chairman of Tim Pawlenty's campaign Vin Weber
Alaska Lieutenant Governor Mead Treadwell
Sen. Orrin Hatch (UT)
Sen. Roy Blunt (MO)
Sen. Thad Cochran (MI)
Sen. Jim Risch (ID)
Rep. Joe Heck (NV)
Rep. Rodney Alexander (LA)
Rep. Michael Grimm (NY)
Rep. Greg Walden (OR)
Rep. Mike Simpson (ID)
Rep. Todd Rokita (IN)
Rep. Jeff Flake (AZ)
Rep. Tim Griffin (AR)
Rep. Mike Rogers (AL)
Rep. (and former 2012 candidate) Thaddeus McCotter (MI)
Reps. Jason Chaffetz and Rob Bishop (UT)
Reps. Buck McKeon, Darrell Issa, John Campbell, Wally Herger, and Mary Bono Mack (CA)
Reps. Judy Biggert, Tim Johnson, Don Manzullo, and John Shimkus (IL)
Reps. Howard Coble, Virginia Foxx, and Patrick McHenry (NC)
Reps. Hal Rogers and Ed Whitfield (KY)
Reps. Ander Crenshaw, Connie Mack, and Tom Rooney (FL)
Thirty-five New Hampshire State Representatives
Sixteen Alabama legislators and party leaders
...as well as a handful of state politicians in Florida, Georgia, Washington, and many, many more.
Rick Perry
Louisiana Governor Bobby Jindal
Kansas Governor Sam Brownback
Nevada Governor Brian Sandoval
Sen. James Inhofe (OK)
Rep. Sam Graves (MO)
Rep. Mike Coffman (CO)
Rep. Candice Miller (MI)
Rep. Mick Mulvaney (SC)
Rep. Steve Scalise (LA)
Reps. Jeb Hensarling, John Culberson, John Carter, Mike Conaway, and Mike McCaul (TX)
Iowa State Senator David Johnson
Iowa State Senator Rick Bertrand
Former New Hampshire Rep. Chuck Douglas
Twenty-seven New Hampshire lawmakers
Twenty-one South Carolina legislators
Six state Agriculture Commissioners
Forty Maryland legislators and party leaders
Twenty-four Arkansas elected officials and GOP leaders
Business mogul Steve Forbes
...as well as state politicians in Iowa, Florida, South and South Carolina. And Gene Simmons.
Ron Paul
Sen. (and son) Rand Paul (KY)
Rep. Justin Amash (MI)
Rep. Walter Jones (NC)
...and while they aren't all endorsements, per se, this Ron Paul supporter (also a fan of Gucci Mane and Ol' Dirty Bastard, judging by his wall decorations) has compiled a video of prominent media figures saying good things about the candidate.
Michele Bachmann
100 Iowa pastors and Christian leaders
Iowa State Sens. Jack Whitver and Kent Sorenson
Founder and chairman of Iowa Tea Party Ryan Rhodes
Iowa State Reps. Mark Brandenburg and Betty De Boef
Former Iowa Family Leader Chairman Danny Caroll
...and Glenn Beck
Jon Huntsman
South Carolina Attorney General Alan Wilson
South Carolina state Sen. John Courson
Former South Carolina Attorney General Henry McMaster
Rick Santorum
Iowa Republican National Committeewoman Kim Lehman
Failed Iowa congressional candidate Ben Lange
Iowa State Rep. Walt Rogers
Newt Gingrich
Georgia Governor Nathan Deal
Reps. Jack Kingston, Tom Price, and Phil Gingrey (GA)
Reps. Joe Barton and Michael Burgess (TX)