Last Chance Foods: St. Joseph's Day
Saint Joseph's Day hits the calendar right between Saint Patrick's Day and Passover, and it often gets lost the spring holiday shuffle. It honors the patron saint of Sicily. For many of us, the fried Sicilian pastries alone are cause enough for celebration.
WNYC's Amy Eddings headed to Villabate-Alba Bakery in Bensonhurst to chat with owner Manny Alaimo about Saint Joseph's Day for a special edition of Last Chance Foods.
Alaimo, who is a third-generation baker, explains that the sfingi is filled with ricotta, while the zeppole di San Giuseppe (of Saint Joseph) sports a creamy custard middle. He says that zeppole is the less traditional of the two and mainly created for those who didn't like the sfinigi's cannoli-type ricotta filling.
The zeppole at traditional Sicilian bakeries like Villabate-Alba are nothing like the greasy sponges of fried bread found at street fairs. These are made from a firm dough piped into swirls. The zeppole and sfinigi are both garnished with powdered sugar and maraschino cherries.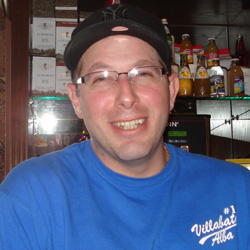 The sfingi stands out, though, because it's also topped with a slice of candied orange. According to Alaimo — or at least the priests who taught his Sunday school classes — the story about the orange goes like this: As a child, Jesus liked to tease the camels that carried baskets of the fruit on their backs. The animals would get flustered, and the oranges would roll onto the ground. Joseph would come by pick then up, and Mary would bake small loafs of bread to give to the camel keepers as an apology.
Alaimo notes that the sfingi at Villabate-Alba are filled with sheep's milk ricotta imported from Sicily. He insists that ricotta found in the states is often from cows, heavier and more coarse.
Bensonhurst native Diane Mingoia prefers sfingi, and she stopped in to pick some up for her cousin Joseph. She explained that the holiday is particularly special for those named after the saint.
So for all the Joes and Josephines out there — or dessert-lovers in general — today is a good day to stop by the local Italian bakery and wish everyone a happy Saint Joseph's Day.