Irene Says Goodnight Just in Time for Tennis in Queens
I'm heading out to the Billie Jean King National Tennis Center in Flushing Meadows on Monday.  It was Venus Williams against Russia's Vesna Dolonts and Roger Federer against Santiago Giraldo of Colombia.
Williams and Federer were likely to make quick work of their opponents, but it didn't matter. It's still exciting to be watching tennis under the lights on a gorgeous summer night — especially after a weekend of rain.
I was at the tennis center on Saturday, when rain and the approach of then-Hurricane Irene had canceled Arthur Ashe Kids Day, and had suspended many pros' practice sessions on the outer courts.  It was quiet. So quiet, I had a chance to wander out on the rain-drenched show court in Arthur Ashe Stadium.
It seems so larger-than-life on TV, but, of course, it's the same size as the courts mere mortals like me play on every day.
It also seemed strangely intimate, given that it was surrounded by 23,000 empty seats.  Perhaps it's more daunting, once those seats are filled with fans.
Anyway, it's an experience I will never know as a tennis player.  Just one I got to savor briefly as a tennis reporter.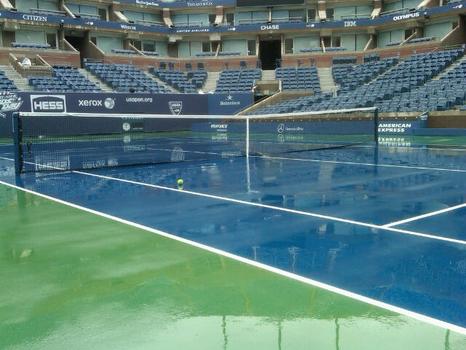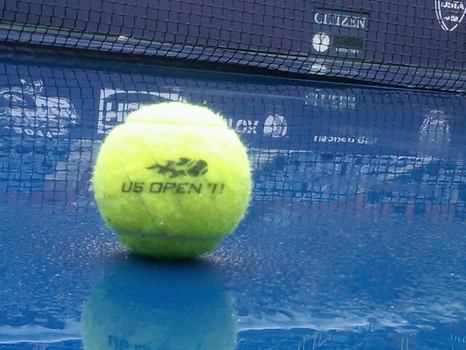 of